Zombies are a race of un-dead humans.
History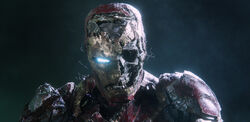 After Peter Parker discovered that the Elementals he fought were just illusions created by Quentin Beck, he went to Berlin to inform Nick Fury about the matter. However, Beck had already arrived there and was waiting for Parker. He trapped Parker inside an illusion, where he mocked and threatened him. Beck told Parker that it was his fault that Tony Stark died, and created an illusion of zombie Iron Man, which scared and disturbed Parker.[1]
Appearances
Appearances for Zombies
In chronological order:
Trivia
In the comics, zombies are a race that a person becomes if they are infected by a certain virus. A zombie version of each superhero exists in an alternate dimension, Earth-2149.
References
Community content is available under
CC-BY-SA
unless otherwise noted.