Boba Fett Returns - The Loop
Play Sound
Yondu Udonta is the Captain of the Ravagers who had been hired by Ego to deliver his child to him but when the Ravagers accidentally kidnapped T'Challa instead, Udonta decided to raise him as his own son. With T'Challa joining the ranks of the Ravagers, the entire organization changed, turning their attention to restore the balance in the galaxy by helping the weak. Udonta joined the Ravagers in the mission to steal the Embers of Genesis from the Collector, however, during the mission, T'Challa had found out that Udonta lied to him about Wakanda's demise. Later, Udonta helped T'Challa to take down the Collector and they both escaped Knowhere before T'Challa made a decision to return to Wakanda, together with his new family, the Ravagers.
Biography
Early Life
Failed Abduction
In 1988, Yondu Udonta tasked Kraglin and Taserface to retrieve the offspring of Ego from Earth. However, they abducted T'Challa from Wakanda by mistake. Admiring the coolness of the young Wakandan and his desire to explore the galaxy, Udonta decided to keep T'Challa with him, offering him to explore far beyond a single world.[1]
Helping T'Challa
To be added
Planning A Heist
To be added
Visiting The Collector
To be added
Arrested By The Collector
To be added
Freed By Nebula
To be added
Reuniting with T'Challa
To be added
Fleeing Knowhere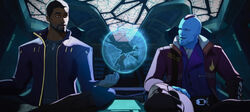 "Seen a lot of space travelers in my day, kid. And if I've learned anything from watching you, on any planet, among any people, there ain't no place in this galaxy where you don't belong. Where you want to be, that's the question, isn't it? You're just gonna have to follow your heart on that one, Mr. Star-Lord."
Managing to escape aboard the Wakandan ship, Udonta noticed the presence of Cosmo, remarking that they had a stowaway, before apologizing to T'Challa for lying to him. T'Challa then expressed that he did not know where he belonged until Udonta assured him that there was not a single place in all the galaxies where he was not at home, the question being where he feels in his place.
Following this, the Ravagers travelled to Earth in Wakanda so T'Challa could be reunited with his family. The Wakandans had a celebration for T'Challa's return where Udonta was introduced to T'Challa's father and mother.[1]
Personality
To be added
Powers and Abilities
Powers
Cybernetic Enhancements: To be added
Abilities
Expert Combatant: To be added
Arrow Mastery: To be added
Master Thief: To be added
Equipment
To be added
Relationships
References
External Links