Yardies' Hideout is the warehouse in Brooklyn which was previously used by the Yardies and then by the Stylers.
History
Shades' Visit
After death of Nigel Garrison, Bushmaster asked Gideon Shaw to obtain Yardies' warehouse in Brooklyn. Shaw purchased warehouse and Bushmaster used it as a hideout for the Stylers.[1]
As instructed, Shades went into the hideout to speak with Garrison. However, he was instead greeted by Bushmaster who insisted that all of Garrison's businesses was now his business. Unsure by Bushmaster, Shades explained he represented Mariah Dillard. Bushmaster told Sheldon to throw Shades the bag of money. Still remaining on guard, Shades walked over to the bag and opened it up. Opening the bag, he discovered that not only was all the money in there, but also Garrison's severed head with the eyes having been brutally slashed.[2]
Soon after, the Stylers' hideout was visited by Luke Cage who have been looking for Nigel Garrison. However, Cage was confronted by Bushmaster, as Cage asked Bushmaster not to harm Harlem, and Bushmaster offering an alliance to fight Mariah Dillard in return. Unable to work together. he ordered the Stylers to attack Cage. As his men fought against the enhanced individual, Bushmaster made sure to observe his fighting style and Sheldon was recording the fight.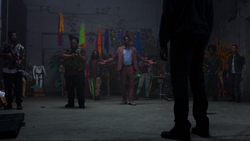 Cage had left when he believed that he had intimidated the Stylers enough. Once Cage left the hideout, Bushmaster began making preparation for his fight against Cage. Inside hideout, he inhaled another batch of Nightshade as he trained while observing Sheldon's recording of Cage during the fight. Once he was sufficiently prepared, he left to confront his opponent in Harlem.[2]
Investigation
Next day, Cage met up with Misty Knight to investigated Bushmaster. They both went to search for him in the hideout. They found the place abandoned and they located the corpse of Garrison. Knight called for Tomas Ciancio and Brooklyn's part of New York City Police Department to recover the body.[1]
Gallery
References
Community content is available under
CC-BY-SA
unless otherwise noted.