Spider-Man: No Way Home Trailer Dropped - The Loop
Play Sound
The Yakuza (ヤクザ) is an international organized criminal organization originating from Japan.
History
Ties with Noriko Sato
Noriko Sato, as well as her family, had ties to the Yakuza. Due to Sato's connection with the Yakuza and her possible psychic powers, she triggered the attention of S.H.I.E.L.D., however, she was rejected from the Index.[1]
The Hand's Disguise
Upon Murakami's orders, Nobu Yoshioka led the Hand members in New York City, disguised as the Yakuza. Under the Yakuza disguise, the Hand cooperated with Wilson Fisk and his criminal organization[2], and infiltrated into the Roxxon Corporation.[3]
Attacked by Scythe
Several Yakuza members attended the karaoke room where they were attacked and brutally massacred by Scythe. Performing a karaoke version of A-ha's "Take On Me," Scythe then strangled the last Yakuza member with the microphone cord.[4]
Attacked by Ronin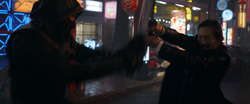 In 2023, one Yakuza faction, which survived the Snap, were tracked by Ronin in Japan. In Tokyo, Ronin eliminated multiple Yakuza members, despite the great numbers and rapid gunfire. As all hostiles were killed, Ronin made his way to Akihiko, as the two then drew swords and began to fight. Ronin was able to cut Akihiko twice, causing him to beg for his life, however, Ronin ignored his cries for mercy and then finished off Akihiko.[7]
Appearances
Appearances for Yakuza
In chronological order:
References
External Links