"If you attack Davos, it ends with you and your men dead or arrested. Or you can take what you have here and do what no one else has been able to do. End the fighting."
"I know you don't trust us. I let you down at the parley. It won't happen again."
"We simply can't let this situation continue."
"Then let us end it."
War Without End is the ninth episode of the second season of the Netflix exclusive television series Iron Fist, and the twenty-second episode overall.
Synopsis
Facing a life-changing decision, Danny and Colleen debate their next move. Meanwhile, Davos' contempt for mercy grows stronger.
Plot
Danny Rand tries to convince Colleen Wing to take the power of the Iron Fist, telling her that he needs to know who he is without it. It is not that he does not want the power, but Colleen tells him no – he is the Iron Fist, not her.
BB hides out at Bayard Community Center. He is called by Crank who pretends that he and the squad want out as well, telling him about Ryhno's death, but not that fact that he killed him. Crank gets BB to tell him where he is. Davos interrogates Joy Meachum about her role in the theft of the bowl. After Crank tells him that BB is at Bayard and both the Yangsi Gonshi and Golden Tigers are there looking to take Davos down, he pushes Joy over a railing in an attempt to kill her.
Misty Knight contacts Danny and Colleen to tell them she has police support to go in and get the bowl from Davos, having gone over William Pike's head and spoken directly to Priscilla Ridley. Misty also managed to find out where Frank Choi is, and persuaded the FBI to bring him to the apartment so Colleen can talk to him about the box she found. Colleen questions Frank about the box and he says the woman who gave it to him told him the story about Pirate Queen of Pinghai Bay. Colleen realizes that her mother – who she believed to be dead – had travelled to New York City and used the box to pay for her passage.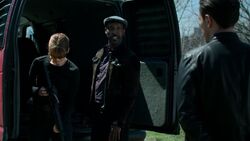 Ward Meachum secures Walker's redacted file. Before heading to rescue Joy, Walker takes them to obtain ordnance from Turk Barrett. Walker buys an assault rifle, and Ward buys a pistol.
At Eden Towers, Joy is injured but alive. Chen Wu is surprised, believing that she would be dead. Joy offers him money to let her go, but Chen is a changed man and believes in Davos.
Danny and Colleen arrive at Bayard after being told that Sherry Yang and her alliance are preparing to take on Davos. Colleen confronts them and manages to talk them down, and is then approached by BB and given the bowl they need for the ceremony. Davos' students show up outside and all assembled realize that Davos is on his way. Danny and Colleen try to evacuate Sherry Yang and her forces out of the basement entrance, but they are met by Davos. Liu buys time with his life for them to escape back upstairs. BB tries to reason with his crew, and is stabbed by Crank.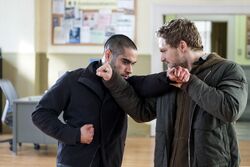 Upstairs, Danny and Davos fight. Danny pretends that his injury is worse than it is to gain the advantage and manages to tranquilize Davos using ketamine that has been confiscated by Bayard from the homeless who use the center. Colleen fight Davos' students and tries to keep BB alive until the emergency services arrive but she is too late.
With the bowl in hand, Danny and Colleen take Davos to the apartment where the Crane Sisters start the ritual. Recent events convince Colleen to take the Iron Fist, and they begin tattooing her arm in preparation.
Misty heads to rescue Joy. Ward and Walker arrive, and Ward shoots Chen Wu in the neck, thinking he was Davos. Ward gets Joy topside, while Misty tries to save Chen Wu. Walker, knowing that he would die, kills Chen Wu then knocks out Misty, intending to lay a trap to kill Davos.
With the tattoo finished, Danny guides Colleen through the transfer ritual, but Davos wakes halfway through and interrupts it. Despite the interference, Colleen manages to summon the Iron Fist.
Cast
Main Cast:
Guest Stars:
Appearances
Locations
Events
Items
Creatures
Vehicles
To be added
Organizations
Mentioned
Trivia
Music
References
External Links
Community content is available under
CC-BY-SA
unless otherwise noted.