The War Against the Chronicoms was a conflict between S.H.I.E.L.D. and the surviving members of the Chronicom race led by Atarah, who intended to force S.H.I.E.L.D. into revealing the secrets of Time Travel so they could save their home after it was destroyed by Izel and the Shrike.
After a mutiny led by Malachi, who killed Atarah, the Chronicoms objective turned from restoring their home to establishing Earth as Chronyca-3. To accomplish this task, the Chronicoms sent Hunters, led by Sibyl and Luke throughout time to erase S.H.I.E.L.D. from existence by altering the timeline in key points to insure it never exists in the future. Their plan took a turn when Phil Coulson destroyed the Chronicom ship and all the Hunters inside, forcing Sibyl to rely on the aide of Nathaniel Malick to carry out her will using the Time Stream.
Background
One day, Chronyca-2 came under siege by Izel and her parasitic race, the Shrike for her search for the Di'Allas. The planet was destroyed when she could not find them, leaving the surviving Chronicoms without a home.[1]
Seizing Confederate Ships
Having learned about Chronyca-2's fate, the Confederacy sent a fleet of warships in order to loot whatever they could find valuable in the remnants of the planet. However, the Chronicoms, led by Atarah, offered an unexpected resistance, and the Confederacy was eventually defeated, enabling the Chronicoms to commandeer the Confederacy warships and provide shelter to those who had survived the destruction of their homeworld. Atarah then led the Chronicoms into a search for Enoch and the S.H.I.E.L.D. agents, who had been involved in Time Travel to save Earth from its own destruction, as she hoped to replicate the process for Chronyca-2.[2]
War
Saving Their Home
Malachi was ordered to hunt down Leo Fitz and Enoch and get them to help them with achieving Time Travel. He arrived at the Customs Station CI-741 of Naro-Atzia, where Fitz was scheduled to arrive. There, Malachi made himself known to the customs officer Pretorious Pryce, asking him questions about Fitz. When Quake, Jemma Simmons, Piper, and Davis arrived instead, a fight broke out, resulting in the S.H.I.E.L.D. team capturing the Hunter.[3]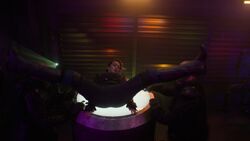 After they interrogated Malachi, they discovered that Leo Fitz was wanted due to him tampering with the laws of the universe, since a version of Fitz had already traveled back to this Timeline and died in the Battle of Chicago. Malachi eventually freed himself, and managed to contact for backup from Zephyr One. He, along with a group of Chronicom Hunters, entered the House of Games to locate Fitz and Enoch. However, they were stopped by Quake who fought them all off. However, Malachi teleported himself to Fitz location, and took him away onboard their ship.[3]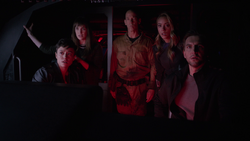 The Chronicoms soon located the Zephyr One, and surrounded them with their fleet of Confederate Destroyer Ships and boarded them. Atarah then took the S.H.I.E.L.D. team onboard their ship, where she explained to Enoch, Daisy Johnson and Jemma Simmons of their home planet's destruction.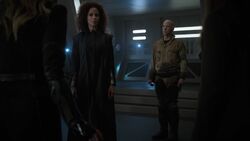 She then told them of their desire to Time Travel in order to prevent their planet's demise with their help along with Leo Fitz. However, they refused to help, as well as not even knowing how to, but Enoch informed Atarah that if anyone could achieve time travel, it would be Fitz, given the right motivation: putting Simmons' in danger. Quake then attacked the Chronicoms, and they tried to escape. However, after freeing Piper and Davis, they were soon surrounded.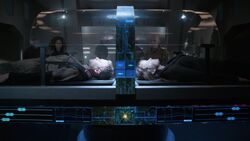 As they were about to fight, Simmons stopped the conflict and decided that he would stay behind to help Fitz. The S.H.I.E.L.D. team then left and returned to Earth as Simmons was taken by the Chronicoms. Enoch then went to Fitz' cell and informed him of what had happened, right before knocking him out and putting him.[2] Fitz and Simmons were then put into the Cerebral Fusion Machine where they could work together to figure out how to time travel.[4]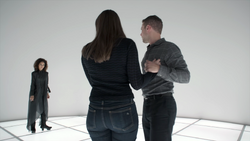 When Leo Fitz and Jemma Simmons awoke in the Cerebral Fusion Machine, they were greeted by Atarah who informed them of their mission to help them save Chronyca-2.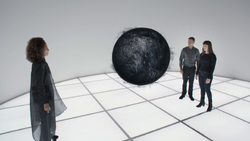 Fitz argued that Time Travel went against the laws of physics, but Simmons claimed it to be possible, having done it before. Atarah then told them to begin working on finding a way to achieve time travel, informing them that they had access to any tool imaginable and that their minds and memories were shared within the machine.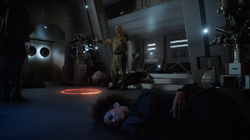 Meanwhile, back on the ship, Enoch expressed his concerns of the dangers that Fitz and Simmons were in. Despite him wanting to restore his home planet, he also feared for his friends, which caused Atarah to have him taken away. However, Enoch fought back, knocking out all the present Chronicoms, and rescued Fitz and Simmons. He then activated a Inter-Planetary Conveyance Disc and the three stepped on and teleported away.[4]
Establishing Chronyca-3
Enraged by his defeat, Malachi sought to hunt down Enoch, Leo Fitz and Jemma Simmons, which was made easier for them due to having access to all their memories, allowing them to get ahead of them.[5] After reviewing the memories of Fitz and Simmons, Malachi went against Atarah's plans to save Chronyca-2, but instead transform Earth into Chronyca-3. However, Atarah saw this as unnecessary, so Malachi murdered her with his Chronicom Rifle, taking command of the Chronicoms.[6]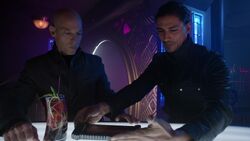 Following his takeover, Malachi reassigned all the Chronicom anthropologists Enoch was trying to gather to the role of Hunters so the Chronicoms would be able to follow his plan of conquest. When Enoch met up with Isaiah on Kitson, Enoch discovered this change, and that Isaiah was also now a Hunter and attacked him.[7] However, Enoch won the fight, and chose to take Isaiah's identity, wearing his skin, and met up with the rest of the Chronicoms to infiltrate them and stop their plans.[8]
The Chronicom Hunters all infiltrated the Lighthouse using the Inter-Planetary Conveyance Disc. They then proceeded to knockout all of S.H.I.E.L.D.'s equipment. After witnessing the apparent death of Melinda May, Leo Fitz and Jemma Simmons noticed that the comms suddenly went offline and they were mysteriously locked out of the system, followed by the satellites going offline too. The Hunters then bursted into the control room, opening fire on everyone, with no intention of taking prisoners. They successfully took control, although some agents were able to get away.
Going under emergency protocols, Trevor Khan's STRIKE team made their way to an unused floor, but they were discovered by the Hunters who know of it due to the knowledge they acquired from Simmons. They then lined up the agents and executed them. Fitz and Simmons soon discovered the bodies, causing them to wonder how the Hunters could have known about the protocols. When the realized they had accessed their minds, Fitz ordered Diaz to escort the remaining agents to Deke Shaw's development lab, as they only became aware of it recently. Meanwhile, the Chronicoms began retrieving multiple S.H.I.E.L.D. technology, including the Theta Brain-Wave Frequency Machine.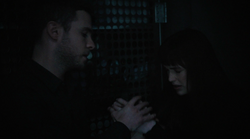 Knowing they had become a liability, Fitz and Simmons stayed behind and decided to use explosives to destroy all the data stored in the Lighthouse. They made their way to where the data was stored, seeing the Framework was kept there too, which made them realize the Hunters could use it to gain the knowledge of anyone who went in there, mainly Phil Coulson. They then begun to plant the explosives, soon realizing that they did not have a timer to set off the explosives. Simmons then grabbed a grenade, and both understood that they had to sacrifice themselves to prevent the Hunters from succeeding.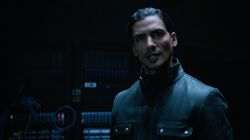 When a group of Hunters entered the room, Fitz and Simmons hid and prepared themselves to pull the pin, blowing up the room and the Hunters present. However, when they were spotted, causing them to pull the pin, two shots were fired, killing the Hunters. The shots were revealed to be from Enoch, who revealed he had taken Isaiah's skin, as he put the pin back in the grenade. Enoch the informed them that there were more Hunters coming, which Simmons knew they would not be able to fight off. Enoch then began to propose a strategy to save their lives, for which they had to act quickly. Enoch then expressed that it would be the hardest thing that have done: changing the natural course of their lives forever, something that they were familiar with many times.[8]
To be added
To be added
To be added
To be added
To be added
To be added
To be added
To be added
To be added
To be added
To be added
To be added
To be added
To be added
To be added
To be added
To be added
To be added
To be added
Aftermath
To be added
References
Community content is available under
CC-BY-SA
unless otherwise noted.