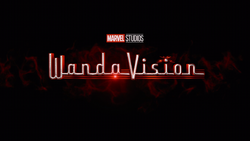 A list of trivia related to WandaVision.
References to Marvel Cinematic Universe
References to Marvel Comics
Olsen spoke with The New York Times about the upcoming series and she teased a more comics-accurate take on Scarlet Witch, and how that may include Wanda's infamous mental breakdowns.[1]

"WandaVision is such an incredible concept," further said Olsen. "It's the first time we get to understand her as the Scarlet Witch that she is in the comics, and that's exciting for me, because I haven't yet been able to give her that time onscreen. So that's going to be fun. She's always been a representation of mental health and illness in the comics, and her major role is handling that stigma within Marvel."[1]
Episode Titles
To be added
Unorganized Trivia
On October 7, 2020, it was revealed that Disney and McDonald's have teamed up to offer a new collection of Marvel Studios toys as part of the McDonald Happy Meals. The line up will feature the likes of Falcon, Winter Soldier, Scarlet Witch, Vision, Groot, Hulkbuster, Wasp, Hulk and the Black Widow herself.[10]
On October 14, 2020, some WandaVision-themed merchandise that consists of apparel and accessories was unveiled and will be sold through Amazon.[11]
On October 15, 2020, Teyonah Parris teases this "wild" Disney Plus series as a full-on action movie, mixed with inspiration from some sitcoms.[12]
On October 22, 2020, after Elizabeth Olsen was forced to cancel an appearance at Armageddon Expo in Auckland New Zealand, it was revealed that it was due to some last-minute scheduling changes for WandaVision filming.[13]
On October 29, 2020, the company Hot Toys announced a new Cosbaby set. In it, Wanda and Vision are bundled together and are ready to trick-or-treat in this special set. They are both wearing their comic book accurate costumes as seen in the teasers from WandaVision. They will stand roughly 4 inches tall and will feature bobblehead motion. [14]
On November 8, 2020, Disney began to promote their Disney+ Marvel Cinematic Universe series in Latin America for its upcoming launch in the region, releasing a video teasing several shows like The Falcon and the Winter Soldier and WandaVision.[15]
On November 9, 2020, Paul Bettany & Elizabeth Olsen appeared on the cover of EW as their characters of Scarlet Witch and Vision.[16]
On November 10, 2020, it was revealed that in 2019, Marvel Studios opened its set to visitors. So for its premiere episode, Marvel's first Disney+ TV show went full midcentury sitcom by filming in classic black and white in front of a live studio audience (all of whom signed very strict NDAs). [17]

One of the promotional images also confirmed Scarlet Witch getting pregnant.[17]
In addition, it was confirmed that WandaVision, the six-hour series about Elizabeth Olsen's reality-altering witch and Paul Bettany's charming android, takes inspiration from beloved TV comedies, from campy 1950s classics to the zany family shows of the '90s.[17]
Crew members also came to set in '50s-era clothing, and used period lenses and lighting to capture that dreamy vintage glow. The special-effects team employed wires and camera tricks straight from Bewitched or I Dream of Jeannie, making wine bottles appear to pour on their own and household appliances zoom about like magic.[17]
Unfortunately, Vision's familiar maroon skin didn't look quite right in grayscale, so the makeup artists painted Bettany blue instead.[17]
Bettany and Olsen rehearsed their entrances and exits as if putting on a play, and at first, they said that the notion of a live performance terrified them more than any Marvel supervillain. But by the time they secured their first audience chuckle, the pair admitting things got better from there.[17]
Olsen admitted that there was something very meta for her, given how closely it mirrored her own life because she would visit those tapings as a kid, where her sisters were working on Full House.[17]

In an interview on Stir Crazy with Josh Horowitz, Bettany was asked which he would prefer: going naked or dressing as Vision. After some thinking the actor chose to say that he would rather be naked.[18]

To elaborate further, Bettany said it is pretty uncomfortable in the Vision outfit, and that at least when he is naked, he knows he is not dying of heat exhaustion.[18]
In addition, while promoting the upcoming WandaVision series, Paul Bettany confirmed that Vision is anatomically correct and that 'it' (in reference to the human male genitalia) is indeed purple. However, he stresse that there won't be any nudity in the Disney+ series.[19]

On November 18, 2020, Paul Bettany told Inverse, that in the series, Vision is in an entirely different situation because here is a synthetic synthesite, who is trying to figure out what it means to be human and what love is.[20]
On November 20, 2020, Paul Bettany used his twitter account to unveil him alongside his costar Elizabeth Olsen as their WandaVision character on the cover of Empire Magazine.[21]
On November 24, 2020, Kevin Feige confirmed that for the series, it will indeed be borrowing from classic sitcoms like The Dick Van Dyke Show.[22]

He further teased that for those Marvel Cinematic Universe fans who have watched the 23 films, and have followed Marvel into Phase Four, they will be rewarded as the WandaVision story unfolds.[22]
In that same interview for Empire Magazine he mentioned that, WandaVision is going to be taking inspiration from decades worth of sitcoms including Bewitched, I Love Lucy, Full House, Roseanne, The Office, and Modern Family.[22]

On November 30, 2020, some newly revealed merchandise for WandaVision unveiled fans' first look at the design for Monica Rambeau's Spectrum suit.[23]

In addition, said merchandise through Monogram Products released a brand-new line of 3D foam bag clips promoting characters from Marvel Studios' WandaVision on Disney+, with 11 combined versions of Wanda, Vision, and Monica Rambeau. Two of these clips are for Vision as a "magician" and Wanda as his "assistant," confirming that a magic show will be depicted at some point in the series. This clarifies the speculation surrounding recent set photos that showed Olsen and Bettany dressed in theatrical outfits.[24]

On December 28, 2020, Walmart has listed a replica necklace based on the one Monica Rambeau wears in WandaVision and appears to be a subtle reference to her working with S.W.O.R.D..[25]
On December 29, 2020, a new promotional still was released featuring Wanda and Vision.[26]
On December 31, 2020, Paul Bethany was recently asked if he'd be returning in future installments of the MCU after Wandavision, to which he said: "I'm going to not speak on that one. I love playing the Vision. I would absolutely love to continue in some way, shape or form, in the universe. I love this character, and I think that, as you will see when you get to watch this, anything is possible. We can break all kinds of rules. It's very rich storytelling, and it's full of many opportunities to tell all sorts of different stories. I love being involved, and it's been a ride of a lifetime".[27]
Also on December 31, 2020, in an interview with SFX Magazine, WandaVision director Matt Shakmangot mentioned how Kevin Feige never stopped championing this series, and a great source of wisdowm and guidance for Shakmangot. This proved quite helpful because of the series also being a love letter and appreciate for the history of television. He also went onto describe the whole experience "an honor," while also admitting how "terrifying" and "surreal" it is to direct WandaVision amid a global pandemic. Shakman admitted that he "never could have fathomed" that this is where he would be in 2020.[28]
In an article from SFX Magazine, WandaVision star Elizabeth Olsen spoke on her hopes for Wanda's character arc in the Disney+ series. Olsen referenced the talks she had with WandaVision showrunner Jac Shaeffer about this version of Scarlet Witch, comparing it to past iterations of the character:"Jac really wrote it with me in mind, so it really quickly had Wanda's voice. They wrote really understanding her in a really beautiful way, and the thing that I wanted was already inherent in the story. In the Marvel movies, I've been given really beautiful storylines and arcs. But often I'm like the grounded, emotional character [amid] all the fun, humor, and comedy. And she's not necessarily a funny character. She truly is someone who deals with a lot of questioning of purpose, and grieving and processing. She's a very internal person."[29]

Olsen then elaborated by speaking on the new opportunities WandaVision gave her in terms of exploring an entirely new side of Wanda Maximoff:"The thing that WandaVision allowed for me was to really have a good time with her, and find so many elements of her personality: her humor, her flirtation, her sassiness and so many things that the story hasn't required of her. It was really nice to just have playful levity through this, and it be a part of the story."[29]

On January 1, 2021, four new promotional character posters for Scarlet Witch, Vision, Agnes and Monica Rambeau respectively.[30]
As of the first day of 2021, it was revealed that the series got its own own set of emojis on Twitter to promote the show when tweeting about it on Twitter.[31]
On January 2, 2021, inside the newest issue of TV Guide Magazine, Elizabeth Olsen talked about the magic show they put on for West View and revealed that the show will explore more of Wanda's abilities only seen in the comics. Olsen explains that "She's a magician's assistant, helping [Vision] but doing all the tricks for him and not letting the audience know" and that "it's a very funny, gaggy" kind of moment.truly is someone who deals with a lot of questioning of purpose, and grieving and processing. She's a very internal person."[32]

Olsen also went on to explain that audiences will finally see abilities from Wanda previously only seen in the comics, hinting that these abilities have to do with how and why Wanda and Vision "progress to a different decade for a reason." However, Olsen did not specify what specific powers these will be.[32]
WandaVision was also confirmed to include a recreation of the iconic opening titles of The Brady Bunch. Elizabeth Olsen mentioned that the Disney+ series will feature "a big montage" of the title sequence, featuring the 1970s sitcom's classic heads-in-squares.[33]
Paul Bettany also discussed how the show enabled him to don some 70s fashion, saying he "got to live out a lot of polyester fantasies! It was extraordinary."[33]

On January 3, 2021, while speaking to SFX magazine, the show's executive producer Jac Shaeffer explained that she is "grateful" to have the series debut in January 2021. Shaeffer said, "I feel really grateful and thrilled that we're coming out when we are. I think that WandaVision is suited to this moment in time. I think that our show offers a lot of comfort and a lot of solace and respite in many, many ways. And many of them are not entirely intentional, but fortuitous".[34]

She further explained that, "the series is a reflection of a lot of the anxiety that we're feeling, and a lot of the pathos and the chaos of this last year, so it feels very right to me. I believe that Marvel feels the same way as well. Mary and I, we talk about it all the time and we feel great about it. There's something special about the timing".[34]

On January 4, 2021, it was revealed that the series will feature original theme songs penned by Frozen songwriters Kristen Anderson-Lopez and Robert Lopez for its newly-announced nine-episode run.[35]
On January 5, 2021, Kristen Anderson-Lopez, one-half of the composers of the original theme song of WandaVision, shared that the MCU series is "perhaps the most innovative use of "form is content" storytelling I've ever experienced in my life. He also teased that each episode of the upcoming Disney+ series is a "super-satisfying story" while also hinting that all of it will be part of a "larger season arc.[36]
On January 6, 2021, it was revealed that the series will be rated TV-PG in the United States.[37]
On January 7, 2021, Via GamesRadar, Matt Shakman spoke to Total Film about the massive scope of the Disney+ series. Shakman contrasted the show with Law and Order, indicating that the series will not be paint-by-numbers by any means. He went onto say that,"Law and Order this is not...This was not six months of shooting people walking down the same hallway. Shakman also stated that while WandaVision is different from what has come before in the MCU, it will still very much keep, and even exceed, its Marvel roots by featuring some of "the biggest set pieces [the studio's] ever done". Lastly, Shakman mentioned how, "Kevin [Feige] was really clear from the beginning that this show would be very different but it would also be as Marvel as anything else they'd ever made – including some of the biggest set pieces they've ever done".[38]
On January 8, 2021, Paul Bettany teased via an interview with Total Film that WandaVision will be an incredibly ambitious series, with a ton of unique visuals and even more VFX shots than Avengers: Endgame. He went as far as to said that, "I think it will make everybody look at the Marvel Cinematic Universe in a whole new way...There are more VFX shots in WandaVision than we had in Endgame. That's a big ask."[39]

Also on this day, it was revealed that the two episodes of Legends highlight Wanda Maximoff and Vision, the two stars of WandaVision, and their interconnected path across the MCU that led them both here.[40]
In addition, WandaVision will circumvent Disney's typical episode release structure by premiering two episodes at once on January 15, 2021. The first two episodes of the show will premiere together on January 15th, with the third episode premiering a week later on January 22nd.[41]

On January 11, 2021, Elizabeth Olsen revealed during one episode of the series, there's even a nod to Full House, which starred Olsen's twin sisters, Mary-Kate and Ashley Olsen.[42]

On this same day, Kevin Feige was asked what the audience can expect regarding the runtime of their MCU series, with Feige responding that "Well, we're looking a little differently. We're looking at it as developing them as either six hour-episodes, or nine or 10 half-hour episodes." He gave examples, such as WandaVision and The Falcon and the Winter Soldier having their runtimes "blurred" due to the nature of streaming. Feige then went onto say how, "for instance, WandaVision started that way and Falcon and the Winter Soldier as 30 minutes, but because it's streaming, it's Disney+, and the rules have blurred over the years, yes. Some can be 23 minutes. Some can be much longer than that". [43]

On January 12, 2021, Olsen was asked if Doctor Strange in the Multiverse of Madness will act as a WandaVision season 2 of sorts. Olsen laughed before saying, "I guess the answer is that [WandaVision] could [get a second season]." Olsen ultimately says that she is unsure if it will because she doesn't have that information.[44]
References
Community content is available under
CC-BY-SA
unless otherwise noted.