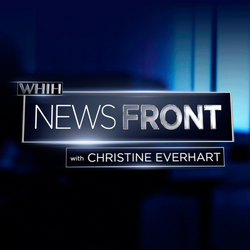 "Be sure to follow us online for those stories and more."
WHiH Newsfront is a online news platform hosted by Christine Everhart from the WHiH World News network, informing about major events in the world with on political, scientific, and entertainment news.
History
In 2015, WHiH World News started the crossmedia online program WHiH Newsfront. Presented by Christine Everhart, the program consists of videos supported by posts on Twitter and Google+.[1]
Reports
| Report | Image | Description |
| --- | --- | --- |
| July 2, 2015 | | Christine Everhart talks about next weeks news where they are going to discuss the Avengers and the Battle of Sokovia and the former criminal Scott Lang.[1] |
| July 7, 2015 | | Christine Everhart discussed about the Avengers conflict, the Battle of Sokovia, and a story on criminal Scott Lang.[2] |
| July 16, 2015 | | Christine Everhart interviews Scott Lang.[3] |
| April 22, 2016 | | Christine Everhart discuss with political correspondent Will Adams about the collateral damages caused by the Avengers.[4] |
| April 26, 2016 | | Christine Everhart and political correspondent Will Adams ask viewers who should be responsible for all of the cost associated with the clean up and rebuilding process.[5] |
| April 28, 2016 | | Christine Everhart and political correspondent Will Adams debate about the Avengers and the role that the White House and President Matthew Ellis should play.[6] |
| May 3, 2016 | | President Matthew Ellis discusses his nomination of Thaddeus Ross for Secretary of State.[7] |
| May 3, 2016 | | Newsfront reports LIVE on the scene in Lagos after a devastating incident.[8] |
Appearances
Appearances for WHiH Newsfront
In chronological order:
References
External Links