The WHiH Broadcast Facility is a television production studio owned by Vistacorp's subsidiary WHiH World News. As WHiH operates in different parts of the country with several different news anchors, there is more than one building.
History
Alien Threat Suspect Wanted
During a news broadcast in one of the WHiH's buildings, a reporter warned the public about a individual who was being wanted by law officials and was highly dangerous.[1]
Newsfront Studio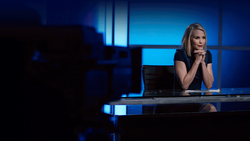 A WHiH broadcast facility was home to a news program presented by Christine Everhart. In 2015, Everhart reported on the on the aftermath of the Battle of Sokovia. She also interviewed Scott Lang via video interview from San Quentin State Prison, with they discussing the reason behind Lang's heist at Vistacorp.[2][3]
In 2016, the broadcast building was also attended by Will Adams. Everhart and Adams discussed the potential regulation of the Avengers and the damages caused by the battles involving the superhero team.[4][5] They also interviewed President Matthew Ellis via video interview about his decision to nominate Thaddeus Ross as Secretary of State, and about the regulation of the Avengers.[6] Later, Everhart and Adams were contacted by Jackson Norris and had a live broadcast with breaking news of an attack in Lagos.[7]
Sokovia Accords
During a news broadcast in one of the WHiH's buildings, a reporter covered the Sokovia Accords and the conflict between members of the Avengers. She mentioned that Steve Rogers was still missing after his feud with Tony Stark over the Accords.[8]
New York Studio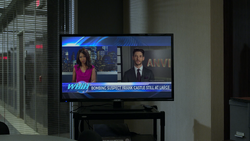 At WHiH's New York City production hub, a news anchor interviewed Billy Russo via video; the Anvil CEO had decided to give a public statement about his former friend Frank Castle.[9]
Appearances
Appearances for WHiH Broascast Facility
In chronological order:
Gallery
References
Community content is available under
CC-BY-SA
unless otherwise noted.