Victor Stein's Time Machine is a radio-based device designed by Victor Stein that can receive visual messages from the future.
History
Creation
When Victor Stein first met his wife, Janet, at Culver University, they discussed the concept of time travel.[1]
Describing it as his "passion project", Stein worked on this time machine for years. He finally perfected the project after feeling inspired by his son, Chase, who had revealed to him also to have knowledge in engineering and they were both working together on the Fistigons.[2]
Testing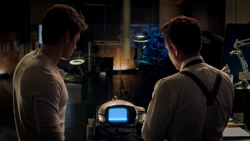 Having completed his invention, Victor showed the machine to Chase. Testing for the first time, Victor asked to see Los Angeles of the future. After the device did not work, Victor had an anger attack and revealed he has brain cancer. When Victor and Chase left the workshop, the time machine worked predicting Los Angeles being destroyed in the future.[2]
Message from the Future
Victor Stein was woken up in his lab by strange noises coming from the time machine he had previously deemed not functional. Stein picked the machine up and was surprised to see images successfully displayed on the time machine's screen. The machine showed pictures of Stein's son Chase, in a future version, apologizing to him and warning him not to take the Fistigons. However, Stein failed to heed this warning and, during an anger outburst, attacked Chase with the Fistigons.[1]
Rewatch
To be added
Appearances
In chronological order:
Gallery
References
Community content is available under
CC-BY-SA
unless otherwise noted.