Victor is a friend of Antoine Grier who helped him grow marijuana in an abandoned warehouse.
Biography
Business Venture
Victor decided to work with his friend Antoine Grier to start a marijuana selling business. Using an abandoned warehouse to grow the plants and his dogs, Myers and Krueger, to protect the product, Victor and Grier felt they were in position to become affluent dealers in New York City with enough money to repay the loan shark Len Sirkes.[1]
Alias
Victor, pretending to be Antoine Grier, called a number using his phone to see if Grier had won an Xbox One since Grier had gotten that message the previous day. The woman who answered told Victor to go to the local post office to retrieve the package by three in the afternoon. Victor, arriving early, learned that the package had not arrived; he then took a taxi back to the abandoned warehouse.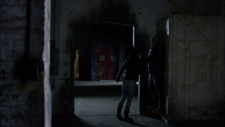 Inside the warehouse, Victor heard
Myers and Krueger
barking. Stopping what he was doing, he stepped into the hallway to tell the
dogs
to shut up when a
woman
grabbed him and hoisted him from the ground. She interrogated him to learn the location of Grier; upon arriving to the room where Grier was, Victor was slid across the floor.
[1]
Relationships
Allies
Enemies
References
Community content is available under
CC-BY-SA
unless otherwise noted.