This is a draft for the timeline of The Punisher: Season 1, Jessica Jones: Season 2, Luke Cage: Season 2, Iron Fist: Season 2, Daredevil: Season 3, and The Punisher: Season 2 to be built up, written, and checked before being put on the relevant pages fully. The placement has now been decided, and once it is all written and checked, it will be posted soon.
There are full spoilers within.
The Punisher: Season 1
The Liebermans' dates of birth:
First kiss: November 28, 2016 - 15 years. May 28, 1999, January 1, 2000, January 1, 2001, October 9.33333, 2001, December 31, 2001, December 31, 2002, December 31, 2003. ([May 28, 1999]*1+[January 1, 2000]*2+[January 1, 2001]*4)/7 = June 28, 2000. ([December 31, 2001]*4+[December 31, 2002]*2+[December 31, 2003]*1)/7 = July 27.57143, 2002. 1500/759.57143 = 1.97480. Micro born [November 26, 2016] - ([January 5, 2017] - [March 19, 1977]) = [November 26, 2016] - 14,537 days = February 7, 1977, 4/(14,537/365.25) = 0.10050. Sarah born [November 26, 2016] - ([January 5, 2017] - [April 2, 1978]) = [November 26, 2016] - 14,158 days = February 21, 1978, 4/(14,158/365.25) = 0.10319. New York juniors are 15.66598-16.66598 at the start and 16.66598-17.66598. Approx. 16.66598, 6087 days old at the time, 2 years' leniency. 1500/730.5 = 2.05339. M = ([February 7, 1977]*0.10050 + (FK-6087)*2.05339)/(0.10050+2.05339) = (38*0.10050 + 2.05339FK - 6087*2.05339)/2.15389 = (2.05339FK - 12,495.16590)/2.15389 = 0.95334FK - 5801.20894, - M + 0.95334FK = 5801.20894. S = ([February 21, 1978]*0.10319 + (FK-6087)*2.05339)/(0.10319+2.05339) = (417*0.10319 + 2.05339FK - 6087*2.05339)/2.15658 = (2.05339FK - 12,455.95470)/2.15658 = 0.95215FK - 5775.79070, - S + 0.95215FK = 5775.79070. FK = ([October 9.3333, 2001]*1.97480 + (M+6087)*2.05339 + (S+6087)*2.05339)/(1.97480+2.05339+2.05339) = (9048*1.97480 + 2.05339M + 6087*2.05339 + 2.05339S + 6087*2.05339)/6.08158 = (2.05339M + 2.05339S + 42,865.96030)/6.08158 = 0.33764M + 0.33764S + 7048.49074, 0.33764M + 0.33764S - FK = - 7048.49074. M = 2591.61930, Micro born c. February 5, 1984. S = 2606.56125, Sarah born c. February 20, 1984. FK = 8803.60442, first kiss c. February 7, 2001.
2001
"Fifteen years training an army." Not sure what that means. Is it to do with 9/11?<Ep 1/>
Iron Fist Between Seasons
2017
March
April
Across the month of April, Danny Rand publishes the front page from a Forbes magazine where he appears, his collection of books from his room, the equipment and the training section from the Chikara Dojo.[1]
May
Jessica Jones: Season 2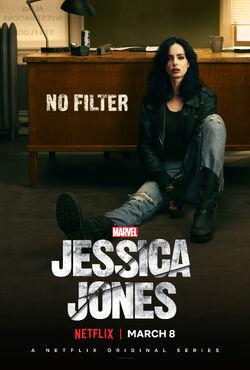 1967
June
Jeri Hogarth is born.

Carrie-Anne Moss born August 21, 1967.
Jessica Jones: Season 1, middle of filming May 14.5, 2015, 17,433.5 days old, middle set April 7, 2015, suggests July 14.5, 1967.
Daredevil: Season 2, Episode 13, filming July 6, 2015 + 163 days * (12.5 / 13) = December 9.7, 2015, 17,642.7 days old, scene set November 21, 2015, suggests August 1.3, 1967.
Iron Fist: Season 1, Episodes 3, 4, and 13, filming April 14, 2016 + 177 days * (((2.5 + 3.5 + 12.5) / 3) / 13) = July 7, 2016, 17,853 days old, set ([February 13, 2016] + [February 16, 2016] + [February 25, 2016]) / 3 = February 18, 2016, suggests April 3, 1967.
The Defenders: Season 1, Episode 2, filming October 31, 2016 + 139 days * (1.5/8) = November 26.1, 2016, 17,995.1 days old, scenes set May 6, 2016, suggests January 28.9, 1967.
Jessica Jones: Season 2, middle of filming June 24, 2017, 18,205 days old, middle set May 22, 2017, suggests July 19, 1967.
([July 14.5, 1967] * (1 / (17,433.5 / 365.25)) * 10 + [August 1.3, 1967] * (1 / (17,642.7 / 365.25)) * 1 + [April 3, 1967] * (1 / (17,853 / 365.25)) * 3 + [January 28.9, 1967] * (1 / (17,995.1 / 365.25)) * 1 + [July 19, 1967] * (1 / (18,205 / 365.25)) * 11) / ((1 / (17,433.5 / 365.25)) * 10 + (1 / (17,642.7 / 365.25)) * 1 + (1 / (17,853 / 365.25)) * 3 + (1 / (17,995.1 / 365.25)) * 1 + (1 / (18,205 / 365.25)) * 11) = June 29, 1967.
1985
June
Trish Walker is born.

Rachael Taylor born July 11, 1984.
Jessica Jones: Season 1, middle of filming May 14.5, 2015, 11,264.5 days old, middle set April 7, 2015, suggests June 3.5, 1984.
The Defenders: Season 1, middle of filming January 8.5, 2017, 11,869.5 days old, middle set May 7, 2016, suggests November 7.5, 1983.
Jessica Jones: Season 2, middle of filming June 24, 2017, 12,036 days old, middle set May 22, 2017, suggests June 9, 1984.
([June 3.5, 1984] * (1 / (11,264.5 / 365.25)) * 12 + [November 7.5, 1983] * (1 / (11,869.5 / 365.25)) * 4 + [June 9, 1984] * (1 / (12,036 / 365.25)) * 12) / ((1 / (11,264.5 / 365.25)) * 12 + (1 / (11,869.5 / 365.25)) * 4 + (1 / (12,036 / 365.25)) * 12) = May 7.43000, 1984.
([May 7.43000, 1984] * (4 / ((1 * 12 + 1 * 4 + 1 * 12) / ((1 / (11,264.5 / 365.25)) * 12 + (1 / (11,869.5 / 365.25)) * 4 + (1 / (12,036 / 365.25)) * 12))) + [July 2, 1985] * (3000 / 365)) / ((4 / ((1 * 12 + 1 * 4 + 1 * 12) / ((1 / (11,264.5 / 365.25)) * 12 + (1 / (11,869.5 / 365.25)) * 4 + (1 / (12,036 / 365.25)) * 12))) + (3000 / 365)) = June 26, 1984.
1990
January
Malcolm Ducasse is born.

Eka Darville born April 11, 1989.
Jessica Jones: Season 1, middle of filming May 14.5, 2015, 9529.5 days old, middle set April 7, 2015, suggests March 4.5, 1989.
The Defenders: Season 1, middle of filming January 8.5, 2017, 10,134.5 days old, middle set May 7, 2016, suggests August 7.5, 1988.
Jessica Jones: Season 2, middle of filming June 24, 2017, 10,301 days old, middle set May 22, 2017, suggests March 9, 1989.
([March 4.5, 1989] * (1 / (9529.5 / 365.25)) * 12 + [August 7.5, 1988] * (1 / (10,134.5 / 365.25)) * 4 + [March 9, 1989] * (1 / (10,301 / 365.25)) * 11) / ((1 / (9529.5 / 365.25)) * 12 + (1 / (10,134.5 / 365.25)) * 4 + (1 / (10,301 / 365.25)) * 11) = M = February 3.95814, 1989, 4 / ((1 * 12 + 1 * 4 + 1 * 11) / ((1 / (9529.5 / 365.25)) * 12 + (1 / (10,134.5 / 365.25)) * 4 + (1 / (10,301 / 365.25)) * 11)) = weight = 0.14728.
Phillip would be 27 on May 1, 2017, and Malcolm is the same age. M = P, absolute earliest age 31 (but about to turn 32) so May 2, 1985, earliest possible age 29 (but about to turn 30) so May 2, 1987, earliest realistic age 27 (but about to turn 28) so May 2, 1989. Earliest: ([May 2, 1985] * 1 + [May 2, 1987] * 2 + [May 2, 1989] * 4) / (1 + 2 + 4) = March 10, 1988. Latest realistic age 27 (just turned) so May 1, 1990, latest possible age 25 (just turned) so May 1, 1992, absolute latest 23 (just turned) so May 1, 1994. Latest: ([May 1, 1990] * 4 + [May 1, 1992] * 2 + [May 1, 1994] * 1) / (4 + 2 + 1) = June 22.57143, 1991. Leniency: 1199.57143 days. 3000 / 1199.57143 = weight = 2.50089.
Phillip born between January 1, 1990 and April 13, 1990. P = February 21, 1990. 1000 / 103 = 9.70874, two bits of non-contradictory evidence so doubled, weight = 19.41748.
M = (34.95814 * 0.14728 + P * 2.50089) / (0.14728 + 2.50089)
= (5.14863 + 2.50089P) / 2.64817
= 1.94422 + 0.94438P.
P = (417 * 19.41748 + M * 2.50089) / (19.41748 + 2.50089)
= (8097.08916 + 2.50089M) / 21.91837
= 369.42022 + 0.11410M.
M = 393.18274 = January 28, 1990, P = 414.28237 = February 18, 1990.
February
Phillip Jones is born to Brian and Alisa Jones.

February 1990 as explained.
January
19th
Leslie Hansen finishes working at Metro-General Hospital to move to IGH.

([May 4, 1997] * 4 + [1997] * 2 + [1990s] * 1) / (4 + 2 + 1)
= ([May 4, 1997] * 4 + [July 1, 1997] * 2 + [January 0.5, 1995] * 1) / 7
= (2680 * 4 + 2738 * 2 + 1825.5 * 1) / 7
= 18021.5 / 7
= 2574.5
= January 18.5, 1997.
1976
March
Dontrell Hamilton is born.

The average of filming for Missick's episodes was roughly July 4.73077, 2017. The average of his episodes' setting was roughly August 22.5, 2017. So, Cockroach should be born about 48.76923 days after Dorian's date of birth, roughly March 4, 1976.
1977
May
Darius Jones is born.

Aged 7 at some point between May 11, 1984 and May 10, 1985, so born between May 12, 1976 and May 10, 1978. 728 days of leniency. May 11, 1977, 3000 ÷ 728 = 4.12088.
Middle of filming for Season 1, Episode 4 roughly October 13.80769, 2015. Thomas Q. Jones born August 19, 1978, so 13,569.80769 days old (37.15211). Middle of flashbacks November 12, 2013, so Comanche born around September 17.19231, 1976.
Middle of filming for six Season 2 episodes roughly July 22.82051, 2017, so 14,217.82051 days old (38.92627). Middle of his episodes roughly August 24.66667, 2017, so Comanche born around September 20.84616, 1978.
([September 17.19231, 1976] × (1 ÷ 37.15211) × 1 + [September 20.84616, 1978] × (1 ÷ 38.92627) × 6) ÷ ((1 ÷ 37.15211) × 1 + (1 ÷ 38.92627) × 6) = June 3.77755, 1978. Weighted average age 7 ÷ ((1 ÷ 37.15211) × 1 + (1 ÷ 38.92627) × 6) = 38.66251, weight 4 ÷ 38.66251 = 0.10346.
([May 11, 1977] × 4.12088 + [June 3.77755, 1978] × 0.10346) ÷ (4.12088 + 0.10346) = May 20.52171, 1977. May 21, 1977.
November
Raymond Jones is born.

The average of filming for Shepherd's episodes was roughly July 25.8, 2017. The average of his episodes' setting was roughly August 19.4, 2017. So, Cockroach should be born about 24.6 days after Dorian's date of birth, roughly November 19.6, 1977.
1991
January
4th
Benjamin Donovan formally becomes the Stokes family's lawyer.

August 31, 1987, January 1, 1990, March 1, 1990 = October 4.71429, 1989 earliest. December 31, 1991, July 31, 1992, August 29, 1992 = April 4.42857, 1992 latest. January 4.07143, 1991 roughly.
Iron Fist: Season 2/Daredevil: Season 3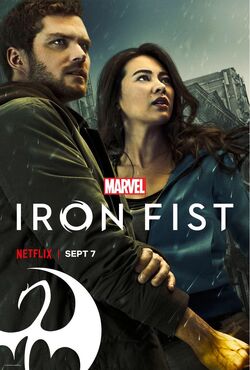 1961
May
Wilson Fisk is born to Bill and Marlene Fisk].[2]

In Episodes 3-6 and 8-13 of Season 1, so the majority, so middle of his filming around September 25, 2014. Vincent D'Onofrio born June 30, 1959, so 20,176 days old, 55.23888. January 30, 2015 - 20,176 days = November 4, 1959.
In Episodes 8-10 of Season 2, so middle of his filming around July 6, 2015 + 163 days × (8.5 ÷ 13) = October 20.57692, 2015. Vincent D'Onofrio born June 30, 1959, so 20,566.57692 days old, 56.30822. November 17, 2015 - 20,566.57692 days = July 27.42308, 1959.
In all of Season 3, so middle of his filming February 14, 2018. Vincent D'Onofrio born June 30, 1959, so 21,414 days old, 58.62834. October 28, 2017 - 21,414 days = March 13, 1959.
([November 4, 1959] × (1 ÷ 55.23888) × 10 + [July 27.42308, 1959] × (1 ÷ 56.30822) × 3 + [March 13, 1959] × (1 ÷ 58.62834) × 13) ÷ ((1 ÷ 55.23888) × 10 + (1 ÷ 56.30822) × 3 + (1 ÷ 58.62834) × 13) = June 30.62035, 1959.
Fisk is 12 when he kills his father, so c. December 1971. It was the day of a New York City 3rd council district election, and the closest is November 6, 1973. So, Fisk was actually born between November 7, 1960 and November 6, 1961. Around May 8, 1961. (2000 ÷ 365) × 5 = 27.39726.
June 30.62035, 1959. 4 ÷ ((55.23888 × (1 ÷ 55.23888) × 10 + 56.30822 × (1 ÷ 56.30822) × 3 + 58.62834 × (1 ÷ 58.62834) × 13) ÷ ((1 ÷ 55.23888) × 10 + (1 ÷ 56.30822) × 3 + (1 ÷ 58.62834) × 13)) = 0.07016.
([May 8, 1961] × 27.39726 + [June 30.62035, 1959] × 0.07016) ÷ (27.39726 + 0.07016) = May 6.26977, 1961.
1968
January
Lily Ellison is born.[3]

This site says Chris Carfizzi is roughly 44 on December 17, 2019. So, assume turned 44 between December 18, 2018 and December 17, 2019, around June 18, 2019. So, born around June 18, 1975.
In Episode 3 of Season 3, so middle of his filming around November 13, 2017 + 186 days × (2.5 ÷ 13) = December 18.76923, 2017. Chris Carfizzi born roughly June 18, 1975, so roughly 15,524.76923 days old, 42.50450. October 23, 2017 - 15,524.76923 days = April 22.23077, 1975.
This would make Mitchell and Lily Ellison's wedding vow renewal approximately October 22, 1983. However, Meredith Salenger, who plays Lily Ellison, was only born in 1970, suggesting this should not be until at least 1988.
Latest by Jason's approximate date of birth would be April 21, 1984. Oldest possible (assuming correct age on site) born December 18, 1974, so 15,706.76923 days, 43.00279. Weight 4 ÷ 43.00279 = 0.09302.
Meredith Salenger born March 14, 1970, so 17,446.76923 days old, 47.76665. October 23, 2017 - 17,446.76923 days = January 16.23077, 1970. Earliest by Lily's approximate date of birth then would be (assuming she has to be at least 18 to be renewing her vows) January 16, 1988. Weight 4 ÷ 47.76665 = 0.08374.
([April 21, 1984] × 0.09302 + [January 16, 1988] × 0.08374) ÷ (0.09302 + 0.08374) = January 27.66836, 1986. January 28, 1986.
So, then assume Lily born no later than January 28, 1968, and Jason born no earlier than January 29, 1977. Go with these as approximations.
1975
November
1980
December
1983
November
Benjamin Poindexter is born.[6]

In all of Season 3, so middle of his filming February 14, 2018. Wilson Bethel born February 24, 1984, so 12,409 days old, 33.97399. October 28, 2017 - 12,409 days = November 7, 1983.
1984
November
Karen Page is born to Paxton and Penelope Page.[7]

In all of Season 1, so middle of her filming September 25, 2014. Deborah Ann Woll born February 7, 1985, so 10,822 days old, 29.62902. January 30, 2015 - 10,822 days = June 14, 1985.
In all of Season 2, so middle of her filming September 25.5, 2015. Deborah Ann Woll born February 7, 1985, so 11,187.5 days old, 30.62971. November 13, 2015 - 11,187.5 days = March 27.5, 1985.
In Episodes 1, 5, 7, and 8 of The Defenders: Season 1, so the majority, so middle of her filming around January 8.5, 2017. Deborah Ann Woll born February 7, 1985, so 11,658.5 days old, 31.91923. May 7, 2016 - 11,658.5 days = June 5.5, 1984.
In Episodes 2, 5, 9, and 10 of The Punisher: Season 1, so middle of her filming around October 3, 2016 + 188 days × (6 ÷ 13) = December 28.76923, 2016. Deborah Ann Woll born February 7, 1985, so 11,647.76923 days old, 31.88985. November 24, 2016 - 11,647.76923 days = January 3.23077, 1985.
In all of Season 3, so middle of her filming February 14, 2018. Deborah Ann Woll born February 7, 1985, so 12,060 days old, 33.01848. October 28, 2017 - 12,060 days = October 21, 1984.
In Episode 11 of The Punisher: Season 2, so middle of her filming around February 26, 2018 + 166 days × (10.5 ÷ 13) = July 10.07692, 2018. Deborah Ann Woll born February 7, 1985, so 12,206.07692 days old, 33.41842. May 15, 2018 - 12,206.07692 days = December 12.92308, 1984.
([June 14, 1985] × (1 ÷ 29.62902) × 13 + [March 27.5, 1985] × (1 ÷ 30.62971) × 13 + [June 5.5, 1984] × (1 ÷ 31.91923) × 4 + [January 3.23077, 1985] × (1 ÷ 31.88985) × 4 + [October 21, 1984] × (1 ÷ 33.01848) × 13 + [December 12.92308, 1984] × (1 ÷ 33.41842) × 1) ÷ ((1 ÷ 29.62902) × 13 + (1 ÷ 30.62971) × 13 + (1 ÷ 31.91923) × 4 + (1 ÷ 31.88985) × 4 + (1 ÷ 33.01848) × 13 + (1 ÷ 33.41842) × 1) = February 4.69895, 1985.
This contributes to Karen being March 2004, but also that contributes to this, so finished high school Spring 2003, born September 1, 1984-August 31, 1985, around March 2, 1985. Only implied, and only half-weight on top of that because it goes both ways. 500 ÷ 365 = 1.36986.
Karen is supposedly 31 in the main events of Season 2, October 28-November 21, 2015, so born November 22, 1983-October 27, 1984, around May 10, 1984. Only a prop and one with an error, 375 ÷ 341 = 1.09971.
February 4.69895, 1985. 4 ÷ ((29.62902 × (1 ÷ 29.62902) × 13 + 30.62971 × (1 ÷ 30.62971) × 13 + 31.91923 × (1 ÷ 31.91923) × 4 + 31.88985 × (1 ÷ 31.88985) × 4 + 33.01848 × (1 ÷ 33.01848) × 13 + 33.41842 × (1 ÷ 33.41842) × 1) ÷ ((1 ÷ 29.62902) × 13 + (1 ÷ 30.62971) × 13 + (1 ÷ 31.91923) × 4 + (1 ÷ 31.88985) × 4 + (1 ÷ 33.01848) × 13 + (1 ÷ 33.41842) × 1)) = 0.12813.
([March 2, 1985] × 1.36986 + [May 10, 1984] × 1.09971 + [February 4.69895, 1985] × 0.12813) ÷ (1.36986 + 1.09971 + 1.46628) = October 26.44344, 1984.
1986
May
29th
In New York, a 12-year-old boy named Albert almost joins the Yangsi Gonshi. His best friend is recruited, and ends up dead.[8]

Calculated born November 28.03846, 1975, so November 28.03846, 1987-November 27.03846, 1988, May 28.53846, 1987. May 29, 1987.
1990
August
Davos is born.[9]

Davos calls Danny "little brother", meaning he is older than him (born before April 1, 1991), but credited as overlapping in age. So, born April 2, 1990-April 1, 1991. Roughly October 1, 1990. 2000 ÷ 365 = 5.47945.
In Episodes 9-13 of Season 1, so middle of his filming around April 14, 2016 + 177 days × (10.5 ÷ 13) = September 3.96154, 2016. Sacha Dhawan born May 1, 1984, so 11,813.96154 days old, 32.34486. February 24, 2016 - 11,813.96154 days = October 21.03846, 1983.
In all of Season 2, so middle of his filming February 21.5, 2018. Sacha Dhawan born May 1, 1984, so 12,349.5 days old, 33.81109. October 9, 2017 - 12,349.5 days = December 17.5, 1983.
([October 21.03846, 1983] × (1 ÷ 32.34486) × 5 + [December 17.5, 1983] × (1 ÷ 33.81109) × 10) ÷ ((1 ÷ 32.34486) × 5 + (1 ÷ 33.81109) × 10) = November 27.77593, 1983. 4 ÷ ((32.34486 × (1 ÷ 32.34486) × 5 + 33.81109 × (1 ÷ 33.81109) × 10) ÷ ((1 ÷ 32.34486) × 5 + (1 ÷ 33.81109) × 10)) = 0.12009.
([October 1, 1990] × 5.47945 + [November 27.77593, 1983] × 0.12009) ÷ (5.47945 + 0.12009) = August 8.40063, 1990.
1995
March
13th
Benjamin Poindexter practices throwing a baseball against the wall of his orphanage, Lyndhurst Home for Boys, and catching it. He throws hard and accurately in the same spot, causing a hole to form. His coach, Coach Bradley, picks him up for a baseball game, giving him a new leather glove as a gift. Poindexter quickly shows him his new wind-up bowl before they leave.[10][11]

Filmed November 13, 2017 + 186 days × (4.5 ÷ 13) = January 16.38462, 2018. Cameron Mann was born April 5, 2006, so about 4304.38462 days old, 11.78476. Poindexter born around November 7, 1983, so around August 20, 1995.
1998
December
4th
Father Paul Lantom finds Matt Murdock, who is practicing skills with his stick. Lantom tells him that he cannot skip his lessons for his upcoming confirmation, and that he has to stop getting in fights with other children. He says he can see that he is angry about his situation, and he needs to find a way to harness his anger and should try praying. Murdock says he feels neglected by God, but Lantom advises him to look out for God's more subtle actions.[12][13]

Skylar Gaertner born 2004, roughly July 1.5, 2004 then. Filmed November 13, 2017 + 186 days × (1.5 ÷ 13) = December 4, 2017, so about 4903.5 days old, 13.42505. Matt Murdock born around January 8, 1985, so should be around June 12.5, 1998.
Said that his confirmation is in the spring, implying around winter. The weather matches that. The weather, of course, is about the time of filming. If it was filmed around December 4th, then we can guess it's around the closest December 4th: December 4, 1998.

Murdock sits in Clinton Church and, with his enhanced hearing, overhears the prayers of all the struggling parishioners around him.[12][13]
2002
March
16th
2003
October
Dr. Eileen Mercer, dying from a terminal illness, holds her final meeting with teenager Benjamin Poindexter. He desperately wants her not to leave, wishing to keep working with her, but she assures him they have prepared for this - that he will get a job and stay on his medication, and offers him a box of cassette recordings of their appointments to help him if he needs them. She suggests another therapist, but he angrily gets up and says he does not want another therapist, and that he wants to kill her for dying, which feels like abandonment. She calms him down, and says that he should find someone with a good heart to look up to, to guide his internal compass.[10][15]

Conor Proft was a freshman in 2012-2013, so was born c. February/March 1998. This makes him about 20y0m at the time of filming, which matches with Dex saying he's not yet 21. However, he is credited as "Teenage Dex", meaning he's no more than 19. So assuming he's 19 going on 20. Poindexter born around November 7, 1983, so around October 2003.
2004
August
23rd
Colleen Wing comes to the United States of America, leaving her grandfather's home in Japan after her mother is said to have died. She goes on to meet Bakuto at the Hand Compound and be recruited into The Hand.[16]

In all of Season 1, so middle of her filming July 11.5, 2016. Jessica Henwick born August 30, 1992, so 8716.5 days old, 23.86448. February 19, 2016 - 8716.5 days = April 8.5, 1992.
In 6 episodes (majority) of The Defenders: Season 1, so middle of her filming January 8.5, 2017. Jessica Henwick born August 30, 1992, so 8897.5 days old, 24.36003. May 7, 2016 - 8897.5 days = December 27.5, 1991.
In Episode 3 of Luke Cage: Season 2, so middle of her filming around June 6, 2017 + 166 days × (2.5 ÷ 13) = July 7.92308, 2017. Jessica Henwick born August 30, 1992, so 9077.92308 days old, 24.85400. August 24, 2017 - 9077.92308 days = October 16.07692, 1992.
In all of Season 2, so middle of her filming February 21.5, 2018. Jessica Henwick born August 30, 1992, so 9306.5 days old, 25.47981. October 9, 2017 - 9306.5 days = April 16.5, 1992.
([April 8.5, 1992] × (1 ÷ 23.86448) × 13 + [December 27.5, 1991] × (1 ÷ 24.36003) × 6 + [October 16.07692, 1992] × (1 ÷ 24.85400) × 1 + [April 16.5, 1992] × (1 ÷ 25.47981) × 10) ÷ ((1 ÷ 23.86448) × 13 + (1 ÷ 24.36003) × 6 + (1 ÷ 24.85400) × 1 + (1 ÷ 25.47981) × 10) = March 27.60065, 1992. So, Colleen born around March 28, 1992. Colleen would have to have still been with her mother aged at least 3 to remember the stories her mother told her, and the Chikara Dojo Bulletin Board auction lot would suggest she was in New York teaching at the very latest by January 19, 2014. So, her moving to America is somewhere likely between March 28, 1995 and January 19, 2014, around August 23, 2004.
2010
January
21st
Mary Walker is captured while serving in Sokovia, and four of her squad teammates are killed, the other three captured with her.[17]
December
21st
Mary Walker, with her Walker personality at the fore, sits in her cell in a Sokovian prison, miserable and dispirited after months of questioning, rape, torture, and being made to watch her squad teammates killed.[17][18]

Imprisoned for 22 months, so assume about 11 months in, escapes 11 months later.
Looks like present day Mary. Given Alice Eve was February 21.5, 2018 - February 6, 1982 = 13,164.5 days old during filming, 36.04244, Mary would be born around October 9, 2017 - 13,164.5 days = September 23.5, 1981.

Absolutely no earlier than playing ⁶/₁₁ of her age, so 7180.63636 days old, 19.65951. Definitely shouldn't be earlier than playing ⅗ of her age, so 7898.7 days old, 21.62546. Realistically shouldn't be earlier than playing ⅔ of her age, so 8776.33333 days old, 24.02829. So, overall earliest should be (7180.63636 days × 1 + 7898.7 days × 2 + 8776.33333 days × 4) ÷ (1 + 2 + 4) = 8297.62424 days after her birth, 22.71766 years old. Earliest June 12.12424, 2004. However, we know from a prop that Mary served for 8 years before being kidnapped. So, even if she enlisted at 17, as early as September 1998, then she cannot have been kidnapped any earlier than January 1, 2006, making her escape no earlier than November 1, 2007 and so this scene, in the middle of her time in prison, no earlier than December 1.5, 2006. Earliest December 1.5, 2006.
Her escape is said to be "years ago" on October 25, 2017. So absolutely no later than April 25, 2016, not really possible to be later than December 31, 2015, realistically no later than October 25, 2015. So, overall latest should be ([October 25, 2015] × 4 + [December 31, 2015] × 2 + [April 25, 2016] × 1) ÷ (4 + 2 + 1) = December 9.28571, 2015. Therefore, latest imprisoned February 9.28571, 2014-December 9.28571, 2015 and so this scene, in the middle of her time in prison, no later than January 9.28571, 2015.
So, between December 1.5, 2006 and January 9.28571, 2015. Overall, approximately December 20.89286, 2010. December 21, 2010.
So, imprisoned January 2010-November 2011, so those 22 months would be 669 days. Therefore, about 334.5 days either way, January 20.5, 2010-November 20.5, 2011. January 21, 2010-November 21, 2011.
2011
November
21st
After 22 months in Sokovian prison, Mary Walker has a third alter personality of hers, which she had not been aware of, triggered. The third alter is vicious, ruthless, and bloody, tearing through her captors and escaping, leaving a bloodbath in her wake.[17][19]
Mary Walker is found, with her Mary personality back at the fore, as United States Armed Forces close in on her location after hearing reports of the carnage. She is clueless as to how she escaped, not retaining the memories of her other alters, and assumes her Walker alter got her out. However, Walker would go on to assume that, since she, too, was not involved in their escape, Mary must have convinced someone to get them out.[17][20]
2017
March
26th
A couple book a room for October at the Presidential Hotel.[21]

October 24, 2017.
Absolute earliest: January 1, 2016. Earliest possible: October 25, 2016. Earliest realistic: January 1, 2017.
So, overall earliest: October 21.28571, 2016.
Latest realistic: August 24, 2017. Latest possible: August 31, 2017. Absolute latest: September 8, 2017.
So, overall latest: August 28.14286, 2017.
So, around March 25.71429, 2017.
29th
Wilson Fisk begins planning a ceremony for his wedding to Vanessa Marianna, as the conclusion to his scheme to leave prison, take back control of New York City's criminal empire, and be considered a public hero. He intends for the ceremony to endear him once again to the media and citizens.[22]

October 31, 2017.
Absolute earliest: January 1, 2016. Earliest possible: November 1, 2016. Earliest realistic: January 1, 2017.
So, overall earliest: October 23.28571, 2016.
Latest realistic: August 31, 2017. Latest possible: August 31, 2017. Absolute latest: September 15, 2017.
So, overall latest: September 2.142857, 2017.
So, around March 29.21428, 2017.
October
13th
Some Cloak & Dagger: Season 2 events occur on this day.
14th
Some Cloak & Dagger: Season 2 events occur on this day.
20th
Some Cloak & Dagger: Season 2 events occur on this day.
In Daredevil, it is mentioned that Kazemi tells his family he regrets the sale on this day.
--Done, but should not be deleted from draft page until Cloak & Dagger is written up, from here--
--Done, but should not be deleted from draft page until Cloak & Dagger is written up, up to here--
21st
Some Cloak & Dagger: Season 2 events occur on this day.
27th
Some Cloak & Dagger: Season 2 events occur on this day.
--Done, but should not be deleted from draft page until Cloak & Dagger is written up, from here--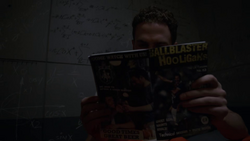 --Done, but should not be deleted from draft page until Cloak & Dagger is written up, up to here--
28th
Some Cloak & Dagger: Season 2 events occur on this day.
--Done, but should not be deleted from draft page until Cloak & Dagger is written up, from here--
--Done, but should not be deleted from draft page until Cloak & Dagger written up, up to here--
29th
Some Cloak & Dagger: Season 2 events occur on this day.
--Done, but should not be deleted from draft page until Cloak & Dagger is written up, from here--
The New York Bulletin reports on their recent attack with the front page headline "Daredevil's Midnight Slaughter".[23][33]
Arriving at work, Ray Nadeem realizes that the voice in the footage of the supposed Daredevil's attack sounded suspiciously like Benjamin Poindexter. He checks signing-in record timings and the security footage of Poindexter's shifts.[23][33]
Poindexter goes running, following Julie Barnes again, and stops her. She is scared, but he says he is approaching her in public to allay her fears and he just needs to talk to her.[23][33]
Nadeem meets with Matt Murdock, still disguised in the black outfit, and tells him they will slip into his suspect's apartment to look for evidence, reluctantly telling Murdock that he suspects Special Agent Poindexter.[23][33]
Poindexter tells Barnes that his obsession with her was about trying to be like her as a person, not stalking, but she still feels uncomfortable. He explains that he is struggling without his job at the FBI, and asks for her to treat him like a caller on the suicide hotline, someone she is trying to help. She agrees to help, and he promises she will not regret it. He gets a text from Nadeem telling him they need to meet.[23][33]
Foggy Nelson visits Karen Page with his theory, telling her that he has worked out Fisk wants to become the sole source of government protection for all local criminals. He claims to have a plan, assuring her that Fisk cannot be prepared for it since he does not know Nelson is onto him. Nelson shows her the terms of Fisk's house incarceration, and explains that while they cannot use Marlene Vistain's confession of Fisk murdering his father to Ben Urich as sufficient evidence, with both parties deceased, he suggests he expose his theory at a debate with Blake Tower to show Fisk has violated his agreement and get news coverage for it. Nelson asks Page to cover the meeting, but she explains she has lost her job for refusing to give up Daredevil. Nelson tells her that Ellison, also wanting Fisk taken down, will likely give her her job back if she tells him their plan, and requests she join him at the event later.[23][33]
Assassination of Julie Barnes: Fisk watches on his secret camera feed as men working for him inside the Presidential Hotel shoot Julie Barnes through the head on his orders.[23][33]
Benjamin Poindexter comes into the New York City FBI Office on Ray Nadeem's request. Nadeem takes him aside to meet a lawyer named Andrea Morales, telling Poindexter that the agents are banding together to pay for her to help him in suing the bureau for wrongful suspension.[23][33]
Murdock breaks into Benjamin Poindexter's apartment and lets Nadeem in from inside. He smells the Daredevil suit and goes to open Poindexter's safe, listening to the clicks of the lock mechanism to work out the code and get it open. They find, however, that there is no evidence inside, with Murdock smelling that the suit had been there, but is now gone. Murdock finds one of his Dr. Mercer tapes, and, playing it, hears Poindexter as a child talking about heartlessly killing crows.[23][33]
Poindexter is dismayed when Morales tells him it might take 6 months to reinstate him, desperate for his job back. He texts Julie Barnes, asking to talk, but gets a response - which he believes to be from her, but is in fact from Fisk's people posing as Barnes - saying that "she" never wants to speak to him again, before being notified that "she" has blocked the number.[23][33]
Karen Page drives past the New York Bulletin building and sees effigies and signs expressing anger at "Daredevil" for his murders. She decides not to go to Foggy Nelson's event, instead wanting to confront Fisk.[23][33]
Nelson sits, preparing for his debate, and gets no response when he calls Page, anxiously waiting for her.[23][33]
Page heads to Fisk's floor of the Presidential Hotel, where she is stopped by Agents Lim and Wellers. She says to call Fisk's lawyers and let them know she is writing an article on Marlene Vistain, and see if Fisk will then allow her to visit him.[23][33]
At the Hell's Kitchen Club endorsement event for DA Blake Tower, Nelson gives up waiting for Page and stands up to confront Tower. People in the audience film him as he passionately argues that Fisk deserves to be back behind bars. However, as he discusses the importance of passion, he realizes where Page must be and cuts his speech off, leaving to try and save her, as Tower mocks him for seemingly freezing.[23][33]
Page is allowed into Fisk's quarters, and he comes to talk to her. He says he knows she is not writing an article about his mother, which she confirms, and Fisk states that Ben Urich's murder should have been a lesson for her. Page reveals to him that she was with Urich when he spoke with Vistain, and that she told them embarrassing stories and about Fisk killing his father with a hammer. Page says she will print that story. In return, Fisk asks at what point she learned of Matt Murdock's "secret life", and Page loses her composure for a moment, giving away to Fisk that he is correct in his guess of Daredevil's identity. In retaliation for Fisk's trick, Page decides to confess to him that she killed his friend, James Wesley. Telling him she wished she could have had shot him even more times, Fisk is enraged. At that moment, however, the FBI agents enter and cuff Page, who turns and finds Foggy Nelson has arrived and reported her as dangerous.[23][33]
Having found out that Nelson told the agents she might kill Fisk, so as to make sure they get her out of the room for her own safety, Page angrily tells Nelson that she felt she had got to Fisk and just needed longer. Nelson says he could have easily killed her, but Page states that at least it would be on tape as evidence to take him down. Nelson is dismayed by her attitude, but Page explains she wanted Fisk to start thinking emotionally rather than logically.[23][33]
Benjamin Poindexter gets an insurance report for his apartment's property damage. He decides to dispose of his Dr. Eileen Mercer session cassette tapes, throwing them into a can and setting them alight. There is a knock on his door, and he opens it to find Felix Manning, who instructs Poindexter to come with him.[23][33]
Ray Nadeem calls Seema to explain that he will not be home that night. He tends to his gunshot injury and calls Tammy Hattley to say he needs to meet with her.[23][33]
Manning takes Poindexter to the Presidential Hotel, and shows him to Fisk's secret room downstairs. Poindexter is discomforted to find out it had been there all along. He tells Fisk that Nadeem knows he is the fake Daredevil, and Fisk assures him they will take care of it. He encourages Poindexter to let out a primal scream to release his inner anger, which he does, and Fisk embraces him to present as a comforting, supportive figure.[23][33]
At Clinton Church, Matt Murdock tells Maggie Grace that he is frustrated that in keeping his word to Nadeem, he missed his chance to stop Poindexter, and is worried that people will end up dead because of it.[23][33]
Upstairs in the main church, Grace prays in hopes that Jack Murdock's spirit will hear her. Meanwhile, Matt Murdock practices boxing in the basement, able to hear her due to his enhanced senses. Grace asks Jack to watch over Matt, worried he will repeat Jack's mistakes, that Jack's influence is too strong in Matt: their son. Matt overhears downstairs and is stunned to find out that Grace has been his estranged mother all along.[23][33]
Matt Murdock finds Paul Lantom in Duke's Pool Hall and asks if he knew Maggie Grace was his father, detecting from his heartbeat that he did. Lantom says that he had hoped Grace would tell him herself years ago, but Matt is angry that she did not even visit him when Jack was murdered and he thought he was alone in the world. Lantom reminds Matt that she is a good person, and asks him to try to understand her.[23][35]
--Done, but should not be deleted from draft page until Cloak & Dagger written up, up to here--
30th
Some Cloak & Dagger: Season 2 events occur on this day.
--Done, but should not be deleted from draft page until Cloak & Dagger written up, from here--
Assassination of Winn:

Ray Nadeem and Special Agent Winn arrive at Tammy Hattley's home to conduct an official interview for Nadeem. On record, he tells Winn and Hattley that he believes Fisk is engaged in a criminal conspiracy, has manipulated the FBI, and corrupted Special Agent Benjamin Poindexter to attack the New York Bulletin, showing that Poindexter shot him when he pursued his suspicions. He takes responsibility for the mistake, and Hattley says she has to place him on administrative leave.[23][35]
When Nadeem places his gun on the table to submit, however, Hattley grabs it and shoots Winn through the neck and head, calling out for the record to make it sound like Nadeem did it. She ends the recording and angrily tells a shocked Nadeem that he should not have brought this into her home.[23][35]
Felix Manning enters, collecting the gun carrying Nadeem's prints and the recording as evidence against Nadeem for the murder of agent Winn, blackmail material. Hattley tells Nadeem that she is no longer his boss; Wilson Fisk is.[23][35]

Karen Page packs to go on the run, knowing Fisk will come after her after her confession. Foggy Nelson tries to encourage her to stay, but she insists she has to go and cannot return any time soon, telling Nelson she has also accidentally betrayed Murdock in giving away to Fisk that he is Daredevil with her reaction. They embrace and she heads out with her bags.[23][35]
At Clinton Church, Maggie Grace prepares a boy called Marcus for his adoption. Father Lantom finds her and lets her know Murdock has found out the truth, and she heads into the basement and cries.[23][35]
Matt Murdock visits Fogwell's Gym, and starts imagining his father, Jack, talking to him, saying he knows everything now. Matt insists it does not change anything.[23][35]
Back home, Ray Nadeem showers. Seema calls to let him know someone from work is visiting, which worries him.[23][35]
Heading downstairs, Ray Nadeem finds Benjamin Poindexter, who is talking to Sami. Ray is scared and takes Poindexter outside to talk in private.[23][35]
Poindexter tells Nadeem he was gutted by his ruse over the lawyer, and that Fisk wants the man Nadeem was with when infiltrating his apartment. He informs Nadeem that they will be spending the day together performing tasks for Fisk.[23][35]
Marci Stahl lets Foggy Nelson know that, while it ended poorly, his speech has nonetheless gone viral online, and he might have a chance of defeating Blake Tower, to then take down Fisk.[23][35]
Forced by Poindexter, Nadeem calls Murdock to say that he is looking into something regarding Fisk and will contact him, supposedly just to let him know, when he finds something, sowing the seed to lay a trap.[23][35]
Matt Murdock accuses Jack of abandoning him due to a worthless personal code. His imagined father says that there is something equally wrong with Matt, but Matt says he will not let people suffer because of a code anymore, and will kill Fisk when he gets to him.[23][35]
Page finds Sister Grace in hopes of finding Murdock, but Grace regretfully informs her that Murdock has left her and will not be back. She confesses to Page that she is his mother and explains he found out. Grace tells her that she experienced postpartum depression and believed she had committed an unforgivable sin, so handed over her child. She says she failed despite God giving her chances, and that Murdock now knowing that will not be back. Page tells Grace about having to leave, but Grace offers her shelter, saying she can keep her hidden at the shelter and within days will get her safely to another part of the world. Page hesitates, but eventually agrees.[23][35]
Back at the New York City FBI Office, Tammy Hattley announces Benjamin Poindexter's reinstatement. Poindexter tells Ray Nadeem he will pay him back for what he has done, presenting as if he wants to repay Nadeem's kindness, but Nadeem is scared, knowing Poindexter instead means he wants revenge.[23][35]
At Nelson's Meats, Foggy Nelson's family are excited by his successful online video. Theo Nelson, however, pulls Foggy aside, and tells him he has to retract what he said about Wilson Fisk. Theo explains that a year prior, some suppliers stopped taking orders and they were struggling financially, when suddenly Red Lion National Bank stepped in to help and coached him in manipulating figures to then get a loan. He explains, however, that an English man has now visited him, knowing about the manipulated figures, and threatened that if Foggy does not walk back his words, they will be exposed - the loan cancelled, and Theo, Edward, an Anna imprisoned.[23][35]
Hattley takes Nadeem to meet with the other corrupt agents, and he is shocked to see how many there are. The team insist they do not even speak Fisk's name, and only refer to him by his code-name "Kingpin". Hattley gives them their instructions from Fisk to perform a roundup of crime bosses.[23][35]
Arrest of New York City's Crime Bosses:

Nadeem reluctantly goes with Poindexter to pick up John Hammer, disgusted at having to be complicit in Poindexter's violence towards the man.[23][35]
Nadeem and Poindexter then pick up Everett Starr.[23][35]
Finding Rosalie Carbone at a building inauguration, Nadeem advises her to come quietly to prevent any violence, and Carbone does so.[23][35]

At the Presidential Hotel, Poindexter informs the agents on surveillance that Hattley has ordered an early shift change, and he will be taking over.[23][35]
In the elevator alone with Tammy Hattley, Nadeem asks her what Fisk did to sway her, but she says not to engage in conversation, as while there are no mics present, there are cameras. He asks how she could kill Winn, but she says she did it to save his life, and it is his fault for pursuing Poindexter behind her back, as she would have stopped it otherwise. Nadeem wants to find a way out, but Hattley says there is none, and explains that for over a year, Fisk has been interfering with his life - stopping his sister-in-law's health coverage to make him desperate for promotion and therefore susceptible to giving him everyone he wanted.[23][35]
Leaving the elevator, Nadeem tells Hattley she should have reported Fisk and run away with her family, but she explains that Fisk already had his people kill one of her children to get her under control, and she cannot risk losing her remaining daughter, since Fisk cannot just be escaped.[23][35]
Nadeem and Hattley enter Fisk's secret room, and Fisk has Nadeem remove his ankle monitor. He leaves the hotel, getting into an SUV with Poindexter and Nadeem to be driven to his meeting with the crime bosses.[23][35]
As Murdock boxes a punching bag to let out anger, he receives a call from Nadeem, who is forced by Fisk and Poindexter to lure Murdock in by telling him about the meeting Fisk is holding. Fisk tells Poindexter to prepare, stating that Daredevil will know it is a trap, but will come anyway.[23][35]
Matt Murdock recognizes the trap Fisk is using Nadeem to set, and again imagines his father, who mocks him for putting on the mask to allow him an excuse to be violent. The imagined Jack Murdock turns into Wilson Fisk, and Matt imagines beating him bloody and snapping his neck in fury. However, he takes a breath and simply gets up to head out.[23][35]
Hammer, Starr, and Carbone, along with Latimer Zyl and Sophia Carter, made to sit around a table together, wait to find out what is happening. Carbone guesses they have not been arrested, and Wilson Fisk then enters, saying he has an opportunity for them.[23][35]
Murdock arrives at the Presidential Hotel, instead of the address Nadeem gave him.[23][35]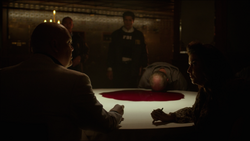 Fisk sits at the table and tells the crime bosses that he wants to offer them protection, but most of the group refuse to listen, stating that they think it is an FBI sting. Starr accuses Fisk of wanting a confession that will buy him more time in the penthouse, and Poindexter, dressed again as Daredevil, throws an item at his head, killing him instantly, with a pool of blood spilling onto the table. Carbone agrees to partner with him.[23][35]
Murdock finds the electrical room, where he changes into the black outfit, then shuts off the lights in the building.[23][35]
With Daredevil having not shown, Poindexter threatens Nadeem, warning that he better not have tipped Daredevil off, but Nadeem points out that Poindexter heard him say exactly what he was told to.[23][35]
In the Clinton Church basement, Karen Page looks at a photo of her family all together, before her mother and brother's deaths. Father Paul Lantom visits her with food and says that Sister Maggie Grace will have some options ready by the end of the day. He invites her to come to his mass, and he talks to her about how Matt Murdock blames him for his abandonment in life. Page asks how he deals with knowing the pain he has caused, and he says that you have to believe you can redeem yourself.[23][36]
Murdock uses the electrical outage as a distraction to get past the FBI guards and into Fisk's quarters. Hearing the buzz of electricity under the floor, he looks for a secret door and finds it.[23][35]
Descending the stairs, Murdock finds Shelby, and admits to her that he wants to kill Fisk, which she is relieved to hear. She warns him that Fisk will be back in minutes, and Murdock goes to prepare for Fisk's arrival. However, as he goes to leave, a call comes into Shelby saying that Karen Page has been located at Clinton Church.[23][35]
Wilson Fisk receives the radio call in the car with Benjamin Poindexter and tells him about Page killing James Wesley. He instructs Poindexter to kill Page.[23][36]
Shelby tells Murdock Fisk will arrive in seconds. She says that if he leaves, she has to tell Fisk's team that he was there and security will be increased, so he will not have the chance again, and Murdock deliberates what takes priority: stopping Fisk for good and indirectly saving lives in the process or going to Page to protect hers.[23][36]
Lantom continues to preach, as Ray Nadeem reluctantly drops off Poindexter, dressed as Daredevil, at the church.[23][36]
Vanessa Marianna boards a plane, which takes off to begin her journey to rejoin fiancé Wilson Fisk in New York City.[23][37]
Maggie Grace walks back to Clinton Church and sees parishioners fleeing the building in terror. She notices the fake Daredevil also leaving the building nearby.[23][37]
Poindexter flees to a nearby alley. Two workers come across him, unmasked, and he hurls glass from a trash can at them to kill both.[23][37]
Poindexter gets back into the car with Ray Nadeem and tells him to lock down the church to prevent Daredevil or Karen Page from escaping. Nadeem is horrified at seeing the fleeing people and the police arriving, wondering what horrible thing Poindexter has done.[23][37]
Murdock gets up inside the church and tells Page that the fake Daredevil is a man named Ben Poindexter, and she needs to get away as if they find her, they will kill her.[23][37]
An escaped parishioner tells Grace that "Daredevil" killed Father Paul Lantom.[23][37]
Search for Daredevil:

Poindexter and Nadeem go to Police Captain Strieber, posing as FBI simply doing their job. Nadeem says Daredevil is their suspect, so he is taking charge. Maggie Grace approaches and explains she saw Daredevil leave the church, but Poindexter claims to have seen him return to the church, allowing them an excuse to still check the building. Nadeem explains they are also looking for a blonde woman named Karen Page.[23][37]
Murdock follows Page to the basement, locking the crypt gate behind them. She apologizes for not running and they hear the police finding the locked gate, realizing they are safe for the moment, but that the police will be back. Page explains that she had come in hopes of warning him about Wilson Fisk knowing he is Daredevil, but, frustrated, he tells her he lost his opportunity to get Fisk in coming to help her. Page is concerned about what Murdock thought he was going to do to Fisk, but Murdock stops her and says he can hear Poindexter and Nadeem upstairs.[23][37]
Seeing Lantom's body, Nadeem is concerned about Poindexter's intentions for Daredevil and Page, but Poindexter ignores him. [23][37]
Maggie Grace is brought into the church and prays to God to let Lantom into his embrace, and not punish him for her mistakes. Poindexter approaches her and says they need access to the entire church immediately.[23][37]
Grace stalls to buy Murdock and Page time, feigning having the wrong key for the crypt gate and fumbling it. Poindexter has the FBI then saw the lock to break them in.[23][37]
Poindexter, Nadeem, and the police check the church basement, and find everything seemingly clear. Grace, however, notices one tomb with blood on the corner. Realizing Murdock and Page are hiding inside it, with Murdock having dripped blood getting in, she steps in front of it to hide the giveaway, and when Nadeem asks about the rectory, offers to guide them, getting them away.[23][37]

Wilson Fisk steps out of the Presidential Hotel with Benjamin Donovan. Donovan announces that, 2 years on from his supposedly unjust charges, the Second Circuit Court of Appeals have overturned Fisk's convictions, and Fisk has been freed. Protesters boo but Fisk takes to the podium and claims that the news have manipulated him with a fake story branding him a criminal, and the system sent Daredevil to frame him. He declares Daredevil the true public enemy.[23][37]
Brett Mahoney arrives at the Clinton Church crime scene and tells Ray Nadeem that something is not adding up, since the FBI are claiming Karen Page is Daredevil's accomplice, but witnesses are stating that Daredevil was trying to kill her. Nadeem reluctantly insists that the case is just complicated, but this is their case and they need to be allowed to run it.[23][37]
Poindexter tells Arinori, another corrupt agent, that he refuses to let Fisk know about his failure. Nadeem returns and Poindexter insists they do not stop until they find Daredevil and Page, becoming loud in his anger, and Maggie Grace overhears.[23][37]
Nadeem tries to question Grace, but she simply asks Nadeem, if he is a moral man, whether he really wants to help find Page. He considers what might be the best course of action.[23][37]
Grace returns to Page and Murdock in the basement and says it is not safe to leave yet. She offers them fresh clothes. However, Murdock hears the FBI bringing in search dogs upstairs.[23][37]
The search dogs smell Poindexter, recognizing his scent from the crime scene, but Poindexter plays it off as a mistake.[23][37]
As Poindexter and the police begin to roam, Grace has a novitiate student tell them that she saw the man they are after go next door to the orphanage, and they follow the lead away.[23][37]
Page tells Murdock she knows Grace is his mother, and confronts him for pushing her and Foggy Nelson away. This, however, gives Murdock an idea to get Nelson's help.[23][37]
Foggy Nelson tells Theo that he does not feel he should read the speech retracting his criticism of Fisk, as this allows Fisk to win. Theo, however, says that he needs to read it to do the right thing for his family. Before he can decide, Foggy gets a call from Matt Murdock.[23][37]
Tammy Hattley informs Wilson Fisk that he is going to keep receiving protection. Benjamin Donovan informs him that Vanessa Marianna is on a flight to join him, and Fisk decides to speak to the owner of Rabbit in a Snowstorm to get back the painting.[23][37]
Murdock listens for a chance when the police are not walking by and slips out of a Clinton Church window.[23][37]
Foggy Nelson arrives at the Clinton Church crime scene and is granted access by a police officer who is a fan of his recent speech to speak to Brett Mahoney.[23][37]
Ray Nadeem confronts Nelson, who admits he is killing time, until Maggie Grace then indicates from across the church that Karen Page is ready, and Nelson announces that he is there for his client, as Page steps out. He declares that they are surrendering her - but to the NYPD, not the FBI.[23][37]
Benjamin Poindexter is furious, demanding the FBI take Page, but Brett Mahoney reminds him that, by law, she is theirs. Nadeem takes Mahoney aside and subtly tells him that Page has to be taken away, as she will be killed by the FBI. Mahoney marches Page away to safety and Nadeem claims to Poindexter that the plan is to have Hattley pull strings to get her back to them, but Poindexter is angry, and tells Nadeem he has messed up in a serious way. All the while, Murdock listens in from nearby, relieved that Page is safe, but hearing the threat to Nadeem.[23][37]
Fisk arrives at the home of the Rabbit in a Snowstorm owner, Esther Falb. She says that more money will not convince her to give it over, and that the government took the painting from her family in 1943. Fisk explains that the woman he loves gave him the painting, but Falb argues that it was never hers to give, and explains how the Gestapo took it when they stormed her home and killed her father, and most of her family died following that - the painting being a connection to the people she loves as well. She says she does not want the painting to go to another "wolf" like the Gestapo. Realizing what she has been through, and feeling Marianna would want her to keep the painting, he changes her mind and lets it go.[23][37]
Poindexter inspects the church basement again, finding the lid of the tomb where Murdock and Page had hidden moved, and the blood on the corner. He realizes the mistake he made.[23][37]
Poindexter storms out of the church, panicked. Finding a nearby van, he climbs in, closes the door, and lets out a scream as Fisk advised.[23][37]
Mahoney lets Page and Nelson go, saying the police department will have Nelson's back if he manages to take Fisk down.[23][37]
Nelson and Page find Murdock on the roof, the trio reunited for the first time in a long time, and Murdock apologizes for how he treated them. Page clarifies for Nelson Murdock's intention to kill Fisk, and Nelson angrily says they have to try again with taking him down legally. Murdock insists that they know it will not be a permanent solution, but Nelson and Page suggest finding a new witness. Murdock realizes they do have a candidate.[23][37]
Agent Wellers informs Fisk of Page's NYPD arrest, and that it was Ray Nadeem's call. Furious, he beats Wellers to death to let out his anger, then asks his driver to dispose of the body.[23][37]
Ray Nadeem drives home and runs into his house, desperately hoping to get to his family before Fisk's people can. Finding a broken vase, he is worried they have already arrived, but he finds them still safe. Ray instructs Seema and Sami to pack immediately, saying they need to go as soon as possible.[23][37]
Seema Nadeem asks Ray what is happening, but he hurriedly says he will explain once they are safe.[23][37]
As the Nadeems descend their staircase, Ray has his gun at the ready for any attackers. He finds some of Fisk's men in the house and starts shooting, instructing Seema to take Sami to the bathroom. Nadeem ends up in a shootout with the men, but before one can kill him, Daredevil arrives and pulls him to the ground to save Ray. He then hides, before ambushing another man and knocking him down, and when one man gets up to shoot him, he hears the empty barrel, knowing he is safe. Ray knocks him out, but is suspicious of Daredevil, thinking he might be there to kill him for selling him out. Murdock, however, thanks him for saving Page's life, and removes his mask to earn Ray's trust.[23][37]
--Done, but should not be deleted from draft page until Cloak & Dagger written up, up to here--
31st
Some Cloak & Dagger: Season 2 events occur on this day.
--Done, but should not be deleted from draft page until Cloak & Dagger written up, from here--
As Vanessa Marianna's helicopter lands, Wilson Fisk is informed that Ray Nadeem escaped. He barks for his men to find him. Marianna steps out of the helicopter and the lovers are reunited.[23][38]
Matt Murdock and Foggy Nelson help deliver the Nadeems to Brett Mahoney's mother's house, with Mahoney's help, for safety.[23][38]
Seema Nadeem tells Ray she is furious at him for continually lying, and that his actions led to Sami being curled up in a bathtub waiting to be killed. She says Sami needs someone in his life he can trust, and that will never be him.[23][38]
Murdock assures Nelson that he is willing to try his way with Fisk, and Nelson promises it will work. Ray Nadeem steps out to speak to them and ask what happens next, and the pair explain that they will represent him, once again united as "Nelson and Murdock, attorneys at law".[23][38]
Fisk takes Marianna to the Presidential Hotel, which he explains he has bought. On the way to his penthouse, Benjamin Poindexter tries to explain himself to his boss, but Fisk insists it is not the time.[23][38]
Fisk shows Marianna the penthouse, but she shows little response to all his words. She explains she is tired, and just wants a bath and then to sleep.[23][38]
Murdock takes Ray Nadeem to Fogwell's Gym, as a safe location, to talk with Karen Page. They discuss options for getting him out of the country safely, and he is very grateful, but wonders if he deserves it. Page tells him his mistakes need not define him. Murdock tells Nadeem to get ready, and says to Page that she should take her own advice and not feel that her mistakes define her. She says she needs to get going, and Murdock asks her to be careful with what she is setting out to do.[23][38]
Brett Mahoney stops Blake Tower's car, allowing Foggy Nelson the chance to speak with him. Nelson explains that he is willing to drop out of the DA race entirely if Tower sits down with him, Murdock, and a client for an hour. When Nelson admits it is to do with Fisk, Tower wants him to leave. Nelson explains about Fisk threatening his family, which makes Tower realize Nelson has to drop out of the race regardless, but Nelson offers to endorse Tower if he gives them the time, and Tower reconsiders.[23][38]
Murdock prepares Nadeem for the questioning, asking him to know how to answer why he did not blow the whistle on Fisk. Nadeem admits he took Fisk's bait in the hope of proving himself to his family, and Murdock tells him to relay that to Tower.[23][38]
Nelson brings Tower in, and he sits with the trio. He asks Nadeem why he is coming forward now, and Nadeem explains he wants to make things right after his actions hurt people.[23][38]
Agent Poindexter attempts to apologize to Fisk for failing to kill Karen Page, and assures him he will still get it done, but Fisk tells him someone else will deal with it and that he put too much on Poindexter's shoulders.[23][38]
After listening to Nadeem's story, Tower says he can convene a grand jury. However, when Nelson and Murdock ask for complete immunity for Nadeem, he refuses. He wants at least 5 years per count, but Nelson and Murdock argue Nadeem's case, until Tower reduces to 5 years for all counts. While Murdock wants still to refuse on Nadeem's behalf, Nadeem agrees to take the deal, feeling he deserves it.[23][38]
Ray Nadeem calls Sami to leave a message saying that he will hear things about him soon, and he should know he did not do those things, but at the same time did not stop them. He says he wants Sami to be able to live the life he wants.[23][38]
Nelson tells Murdock that it felt good to work together again, and Murdock admits he feels the same. Nelson says they should start working together full time again.[23][38]
Fisk makes breakfast for Marianna. While she shows appreciation for it, she admits that she feels lonely, having wanted after so long spent alone to feel she was truly in his company, but currently only feeling surrounded by materialistic things. Felix Manning interrupts and says he has to tell Fisk something important.[23][38]
Manning explains that the grand jury have been kept late and it seems that Ray Nadeem will be confessing. Fisk angrily blames him for failing to kill Nadeem, but forgives him due to having protected Marianna for 2 years. He tells him to make sure he gets the job done.[23][38]
Karen Page finds Mitchell Ellison, knowing where he will be since he visits the same knish stand at the same time every day. Ellison is glad to see her safe after the church attack. She tells him that the man who attacked the New York Bulletin is Agent Benjamin Poindexter, and that Ray Nadeem is testifying in a couple of hours, and asks him to call a press conference for her to make statement.[23][38]
Rabbit in a Snowstorm is installed in Wilson Fisk's penthouse, and Agent Poindexter explains to Vanessa Marianna that he got it off a woman who was previously refusing to sell it. Marianna notices blood on the frame, realizing Poindexter killed the owner to get it just to impress Fisk.[23][38]
Matt Murdock takes Ray Nadeem out of Fogwell's Gym and into an inconspicuous telecommunications van, driven by a friend of Brett Mahoney's who is willing to take the risk of driving Nadeem to the court in the hope he can help take down Fisk.[23][38]

During the journey, Nadeem asks how Murdock has held onto his friends despite his life as Daredevil, but Murdock explains it is through their kindness, not his. As the traffic stops, Murdock suddenly hears a gun being cocked and men approaching. He pulls Nadeem to the floor as men start firing into the van, killing the driver in the process.[23][38]
Murdock listens for the shooters reloading and points their direction, having Nadeem fire through the van to shoot in the right direction at them.[23][38]
Nadeem exits the van first, before Murdock is attacked by one of the men, and fights his way out. He then has Nadeem pretend to lead him, but do what he says, directing him to an empty car whose keys he can hear are in the ignition.[23][38]
Murdock continues to direct Nadeem in shooting nearby attackers as he himself fights men where necessary. He directs Nadeem onto a bus, before luring nearby shooters on-board so he and Nadeem can ambush them. Murdock defeats his attackers, but Nadeem ends up struggling against a large man. Murdock gets out of the bus and knocks the man out from behind, and they get to the car Murdock heard - a cab - and Nadeem drives away.[23][38]

Murdock and Nadeem get to the courthouse safely, where they are met by Page and Foggy Nelson, and tell them that Fisk clearly knows Nadeem is going to testify. The group explain to Nadeem that his family will be on a flight to India in the morning and safely deliver him through the doors to testify and take Fisk down. Page prepares for her statement, and Nelson comments again about liking working together once more.[23][38]
Page makes a statement on the news, arranged by Ellison, announcing that Fisk tried to have her killed and declaring the supposed "Daredevil" an impostor helping Fisk take back control of the city's criminal underworld.[23][38]
Nadeem leaves the court and Murdock and Nelson thank him for doing well as they wait for the indictment. However, Murdock overhears one of the jurors inside, terrified, recounting threats on each juror he has been forced to memorize. He tells Nelson and Nadeem, dismayed.[23][38]
Blake Tower announces on the news that Fisk has not been indicted, but he will continue to pursue the case. Fisk watches the news, pleased.[23][38]
Nelson suggests that they convene another jury and try again, but Murdock thinks that they have lost their last chance to try the legal route. He leaves to find Tower anyway, and Nelson apologizes to Nadeem, but Nadeem knocks him out, deciding he has to deal with things his own way for the safety of his family.[23][38]
Fisk finds out about Rabbit in a Snowstorm being returned by Poindexter, and is unhappy, having wanted Falb to keep it. He notices the blood and tells Marianna that he will handle Poindexter. She asks him to speak plainly and honestly with him, wanting to be part of his world and for him to share his life with her fully. He decides to show her.[23][38]
Nadeem returns to his empty home. He looks at photos of him with Seema and Sami and starts to record a video message for them.[23][38]
Sitting in his home, Ray Nadeem records a confession - a dying declaration and confession of everything that has been happening at the FBI, with Fisk, and with Poindexter posing as Daredevil. He finishes by telling Seema she will have to act like she is complying with the FBI's lies, but make sure she gets the video to his attorneys.[23][39]
Fisk takes Marianna to his secret room, and Felix Manning updates him about Nadeem having been located. Fisk suggests they release the evidence for Nadeem's supposed murder of Agent Winn, but Marianna suggests instead having Poindexter kill Nadeem to eliminate the threat. Fisk is surprised by her engaging so readily with his world, but lets her give the order.[23][38]
Assassination of Ray Nadeem: Benjamin Poindexter turns up at Nadeem's home. Nadeem had been expecting someone to come to kill him, and warns Poindexter that Fisk will kill him too when he is done with him. He says he can help cut a deal with the DA to take Fisk down together, but Poindexter refuses, saying Fisk has given him a sense of self. Accepting his fate, since as long as he is alive his family is at risk, Nadeem tells Poindexter that he will not come with him, and if he wants to kill him, he has to do it there. Nadeem makes a last effort to survive, pulling his gun from his holster, but Poindexter immediately shoots him through the head.[23][38]
Foggy Nelson receives a call from Brett Mahoney delivering the news of Nadeem's death. Murdock heads out, his mind made up that Fisk has to die, telling Nelson they have tried his way and it has failed. Nelson and Page look at each other forlornly, worried for their friend.[23][38]
Matt Murdock stands on a rooftop in his black outfit.[23][39]
Wilson Fisk changes into a white suit, as the media discusses how Fisk seemingly is the victim of a smear campaign, and that he has invited powerful people to the Presidential Hotel for some sort of announcement.[23][39]
Kidnapping of Felix Manning: Having kidnapped Felix Manning, Murdock beats him for information over what Fisk is planning at the hotel.[23][39]
Vanessa Marianna, in her wedding dress, goes to see Fisk, her husband-to-be.[23][39]
Murdock is bemused to find out that Fisk is planning a wedding, as an event to endear himself to the public.[23][39]
Fisk tells Marianna how strongly he feels for her, but that he is worried he loves her only because he sees himself in her, and does not deserve her, but she assures him they are the match for each other.[23][39]
Murdock orders Manning to tell him where everyone will be who is guarding Fisk. Manning simply says he will never get to him, so Murdock throws him off the roof to scare him, only saved by a rope tied to his ankle. Terrified, Manning says he could testify to Marianna ordering Nadeem's murder and Fisk ordering the murders of Agent Winn and Julie Barnes. Murdock asks who Julie Barnes is.[23][39]
--Done, but should not be deleted from draft page until Cloak & Dagger written up, up to here--
November
1st
Some Cloak & Dagger: Season 2 events occur on this day.
--Done, but should not be deleted from draft page until Cloak & Dagger written up, from here--
--Done, but should not be deleted from draft page until Cloak & Dagger written up, up to here--
2nd
Some Cloak & Dagger: Season 2 events occur on this day.
3rd
Some Cloak & Dagger: Season 2 events occur on this day. --Done, but should not be deleted from draft page until Cloak & Dagger written up, from here--
--Done, but should not be deleted from draft page until Cloak & Dagger written up, up to here--
4th
Some Cloak & Dagger: Season 2 events occur on this day.
The Punisher: Season 2/Jessica Jones: Season 3
1953
May
15th
Sal Blaskowski is born.

Shown in her case file on Malcolm's computer in AKA Customer Service is Standing By.
1972
May
25th
c. 1981
Billy Russo is born.

Season 1 (needs updating): Ben Barnes' age during filming would put Billy's date of birth around July 1981.
c. 1983
Dinah Madani is born.<Ep 9/>

Season 1 (needs updating): Graduated in May 2005, meaning likely turned 22 September 2004-August 2005 so born September 1982-August 1983 - around March 1.5, 1983. Weight 2000/364 = 5.49451. Amber Rose Revah's age would put Dinah's date of birth at May 13, 1986, weight 4/(11,155/365.25) = 0.13097. ([March 1.5, 1983]*5.49451+[May 13, 1986]*0.13097)/(5.49451+0.13097) = March 29, 1983.
1985
December
21st
Gregory Sallinger is born.

Show on one of Jessica's files on Sallinger in AKA I Wish. The document says John Smith, but since this is being posted on a billboard about Sallinger, it can be assumed that Smith is the equivalent of calling an unidentified patient "John Doe" in a hospital.
c. 1992
Billy fights with a man who calls him pretty.<Ep 8/>

10-11, so approximately 11.0.
2001
October
1st
Rafi Hernandez hires Dinah Madani, aged 18.<Ep 4/>

15 years before November 16, 2016.
c. 2002
Frank and Maria get together.<Ep 8/>
Frank and Maria get engaged.<Ep 8/>
2003
Lisa Castle is born.<Ep 8/>
2004
January
Frank goes on a deployment with Curtis.

Left somewhere between Maria becoming pregnant in September 2003 and Curtis' leg being blown off in April-May.
April-May
Curtis' leg.<Ep 9/>

Frank's wife is roughly at the same stage of pregnancy as the woman who is 7-8 months pregnant. Could be Spring 2003 or Spring 2004 depending on if it's Lisa or Frank Jr.. Frank implies that he left while his wife was pregnant with his son (not daghter), and he came back after he was born, so that works better. So a month or two before Frank Jr. is born, Spring 2004.
June
Frank Castle, Jr. is born.<Ep 5/>

Frank Jr. is "barely 8" when Frank returns from a deployment. November 2010 is the midpoint between returning home from Afghanistan around January 2008 and him leaving for Afghanistan in September 2013. This deployment finished early, so maybe 14 months instead of the usual 15. 7 months either way from November 2010, April 2010-June 2011. That would mean Frank Jr. was born May-June 2003. However, he should really be born at least a year after Lisa, who was born June 2003. So this should be at least June 2004. Going with that, Frank's deployment between January 2008 and September 2013 should be shifted to April 2011-June 2012.
2005
April=
Frank gets back after 15 months and meets his son.
2011
April
Frank is sent on another deployment.<Ep 5/>

As mentioned, April 2011-June 2012.
2012
Sal Blaskowski gets arrested and charged with assault. However, the charges get dropped soon after.

Six years before the line is said by Trish Walker
June
Frank gets back from a deployment unexpectedly early. His son, who has recently turned 8, has painted a marine.<Ep 5/>

As mentioned, April 2011-June 2012. Frank Jr. is barely 8.
Frank served January 2004-April 2005, 18 months at home, October 2006-January 2008, 3 years at home, April 2011-June 2012, 15 months at home, September 2013 intended to end December 2014 but ended April 2015.
c. 2014
Frank Castle and Billy Russo watch a little league game of baseball. Russo tells Castle that he used to love baseball, but that it was ruined for him when Arthur Walsh, from the Ray of Hope home, started trying to molest him when playing. Castle says that he deserved a better upbringing, but they agree that he has grown into a really resistant person.<4/>
2017
--Waiting to be checked from here--
January
Dinah Madani, still in hospital, is questioned on record for an inquiry into recent events, but is not responsive when asked to start. Marion James stops the record to talk to her, and Madani explains that she does not want to let William Rawlins walk away a hero. James tells her that while it will sting, she needs to proceed as it is the least worst option. Madani decides to go ahead.<7/>
The questioning is carried out, and Madani struggles but answers personal and embarrassing questions regarding Billy Russo, as well as taking responsibility for Sam Stein's death, having failed to heed his warnings. James tells her that she sympathizes with her situation, but she has to consider if she is good with living with the lies.<7/>
June
As Trish Walker gets on the elevator to leave Jones' apartment, she drops her phone, but before it hit the ground, in what appears to be a natural reflex, she uses her foot to catch it. She then gets on the elevator. Amazed with the feat, she attempts to do it again, but this time, fails miserably, and cracks her phone screen in the process. As she exits the building, everything from the street lights to the headlights on cars appears much brighter and more vibrant to Walker. Realizing that Karl Malus' procedure worked, Walker thinks on telling Jones, but she realizes Jones needs time.[42]
Walker goes to the local park and begins testing her new abilities on the surrounding jungle gym. She discovers that her reflexes, agility, and balance, among other things, have improveed.[42]
For several months, she goes back to the jungle gym, honing her abilities. She continues to work with her personal trainer, who notices a rapid increase in her abilities. After she learns to control them fully, she starts her research on crimes in New York City and how a hero fights crime.[42]
July
Billy Russo struggles to manage twenty push-ups in a session with Dr. Krista Dumont. He wears a blank white mask over his scarred face, and tells Dumont that he is frustrated by his physical inability. She reminds him to think about how far he has come in just 6 months of recovery, and asks if he has still been seeing a skull in his dreams. Russo does not want to talk about it, but Dumont says they need to slowly break it down. She suggests that he decorate his blank mask to represent the feelings he wants to present to the outside world, as she does with other patients.<4/>
Billy Russo shows Krista Dumont his newly decorated mask, designed as shattered to express his feelings of brokenness. He says that, when serving, he felt like he was the best version of himself, but now just feels fear, and like he is deserving of that fear. She asks him if he can open himself up to the possibility of redemption, and says she will help him get there.<4/>
October
Jessica Jones exposes an abusive employer at a furniture factory, being declared a hero once more.

News articles are not usually published on on the same day, but this should be as late as possible, so it can be taken to have happened the day before Trish met with her mother. Based on apparent light in the windows in the picture, it was during the day.
The Next Day
Trish Walker meets with her mother, Dorothy Walker, at a coffee shop. While Trish still remains unemployed, she says that she have a busy schedule. The conversation drifts towards Jessica Jones, more specifically how she supposedly killed her mother. Trish then tells Dorothy how Jones is now advertising, trying to be a hero. Dorothy says that she does not want Trish involved with Jones or her antics. More importantly, she adds that Trish now needs someone she could trust, which is why Dorothy wanted to see her. She informs Trish that she is being offered a spot on a celebrity dance show, but Walker declines. Dorothy lists a number of other potential career choices, but Trish says that she wants to pursue her own goals and leaves.[42]
After leaving the shop, Trish Walker starts listening in on police calls. She wanders the city looking for crimes to stop, but comes up empty handed. She manages to intercept their frequency to listen in for reports. Just as Walker loses hope of seeing any action, dispatch reports a robbery in progress. Walker goes into action as she races down the street to the scene of the crime. However, she gets there too late, arriving just as the police are putting handcuffs on the suspects. Down the block from her, Walker spots Jones, and decides to call her to see if she would answer. Unfortunately, Jones does not. Walker finds herself on the scene of a phone snatching. She chases the thief down, kicking him in the face, before taking the phone and returning it to the owner. However, both the victim and the thief recognize her as a celebrity.[42]
After being recognized, Walker realizes that she needs a disguise and goes to the costume shop. She tries on a number of outfits, but cannot decide which was right for her. She eventually settles on a hat, sunglasses, and a scarf.[42]
November
Trish Walker works out at the gym, where she is recognized, as a celebrity. The "fan" serves a subpoena from a phone thief she stopped, who is suing her for assault.
Walker goes to Jeri Hogarth for counsel. Hogarth says that the thief's case has merit, even if Walker caught him with stolen property. Unfortunately, Walker did not get the victim's information, so she has no way of corroborating her story. Hogarth wants to plead self defense, but Walker decides against it. Hogarth agrees to represent Walker, but that would have to be in all areas, including entertainment. Since the perception is that Walker is rich and entitled, Hogarth expects a large settlement. However, Walker is living off her savings and can barely afford to hire Hogarth, who instructs her to take stock of her assets and decide what she can liquidate, or else a judge would decide for her. Hogarth then calls in their investigator, Malcolm Ducasse, who is tasked with finding leverage against the phone jacker.[42]
Ducasse tells Walker that since the plaintiff is a mugger, he probably lays low, meaning it will take some time to dig up information on him. The hope is that they will find something to put him in jail. Walker then reveals to Ducasse that she is the one who killed Alisa Jones, frustrating Ducasse. Walker deflects, pointing out that while she is trying to stop the bad guys, Ducasse is working to protect the bad guys as an investigator for a defense attorney. She accuses him of giving up, but Ducasse defender himself, saying that he is simply earning his bones to move up to be bigger and better. As Walker prepares to leave, she notices someone with a stack of police reports. Hoping to steal some, she trips the man, causing him to lose control of the files as they fall all over the ground.[42]
December
Trish Walker studies stolen police files in her new apartment, where her investigation is interrupted by Dorothy Walker visiting unannounced. Dorothy expresses disapproval of Trish's new living arrangements, taking a look around only to continually criticize. Having sold everything she owned, on top of moving into the loft and Trish's suspicious behavior, Dorothy suspects something is wrong with Trish and asks to help. Trish asks for help with housework, so Dorothy helps clean the oven.[42]
2018
January
Trish Walker takes interest in Reid Pearson, a criminal who got off on a technicality. She begins following him, watching from her car with binoculars as he goes out to a bar. Walker watches for hours on end before Pearson makes his move, roofying a girl's drink. Panicked and unsure what to do next, Walker calls Jessica Jones, who does not answer. The suspect leads his victim stumbling out the bar, forcing Walker to follow them. Pearson takes Birdie to an alley, where he tries to rape her, but Walker stops him. The girl, Birder, passes out.
When Birdie wakes up, Walker tells her that she had been drugged and that Pearson intended to rape her, telling her that Pearson has done it before. Walker then flees the scene, but not before making sure the police are called and telling Birdie to inform the police that she is the one who fought Pearson off. As the police arrive, Walker watches from her car as Birdie gets tended to and Pearson was arrested.[42]
Walker goes to Jones' apartment, but when she gets there, she spots Jones taking to Oscar Arocho, telling her that since they broke up, Arocho has found a new girlfriend. Walker decides to leave, taking the stairs so she isn't seen.[42]
February
After doing extensive research, Malcolm Ducasse visits a mugger who is suing Trish Walker. Having learned that the mugger is not the father of the child he raised, Ducasse demands a lower settlement in the lawsuit. The mugger assumes that Ducasse is bluffing, so Ducasse calls the kid's cell phone and asks if his father ever taught him what a bastard was. The mugger pleads with Ducasse to stop, so Ducasse stops talking and enters negotiations.

Implied to have happened the previous day

Trish Walker resumes her physical training at her apartment with her trainer, Adrian. After besting him in a fight, she proceeds to have sex with him.
Next Day
Trish Walker wakes up the following morning to discover that Adrian is still there, watching a news report of a woman, Madeline Brandt, who had been viciously attacked in her home by by several thugs, who also stole a valuable sculpture from her. Brandt's half-brother, Andrew Brandt, had been arrested in connection to the crime. Adrian explained that it is people like Andrew that are the reason he boxes.[42]
Malcolm Ducasse arrives at Walker's apartment to get a check from her to pay off the cellphone thief. When Walker realizes the settlement is much lower than expected, Ducasse tells her what he did. Ducasse says that he would have told the kid everything had the mugger not agreed to his demands, horrifying Walker. She gives him the check, but before leaving, he advises her to get her life together because people will eventually begin asking questions and looking into her.[42]
March
Trish Walker takes Malcolm Ducasse's advise and starts a day time show called Style by Trish. After finishing filming an episode, Walker continues her investigation into Andrew Brandt, who had walked free from hiring thugs to beat up his half-sister and stealing a sculpture. Dorothy Walker then approaches to remind Trish to focus on her show. Dorothy asks if Trish wants to do the show, and Trish responds saying that people needs to see what she is up to.
Walker continues her investigation into Brandt from her home. She then starts typing a letter, which she intends to send to Jessica Jones, which starts as an apologetic letter with a softer tone. However, she deletes it an writes a significantly harsher one.[42]
April
John Pilgrim chops wood outside his home. His wife, Rebecca, waves from her window.<3/>
Anderson and Eliza Schultz and John Pilgrim attend church. The reverend invites Eliza, a patron of the church, up to speak.<3/>
Anderson Schultz approaches John Pilgrim after church and tells him that their doctor is optimistic about the new treatment being used on Rebecca working. He tells John that he has become aware of a situation threatening everything they hold dear, and he will need to perform a task for them. John agrees, and Eliza assures him is sons will be looked after while he is gone.<3/>
John Pilgrim assures Rebecca that he will only be gone for a couple of days, as he prepares to leave. He changes out of his shirt, under which he has faded white supremacist tattoos.<3/>
Amy Bendix and her friends from Fiona's crew mess around.<4/>
Bendix returns from buying tacos and finds her friends all shot dead in their motel room.<4/>
Fiona's crew's killer, John Pilgrim, returns to the room, and Bendix hides under a bed, surrounded by the bullet-riddled dead bodies of her friends.<4/>
Once Pilgrim is gone, Bendix runs for her life.<4/>
26th
In response to an Amber Alert, Jessica Jones tracks down the missing Cassie Yasdan, who had been taken ilegally by her father, Mitch, who lost custody of her to Cassie's mother. Jones intends to return Cassie home, and when Mitch threatens to get physical, Jones tosses him several feet in the air. The incident, unbeknownst to Jones, is captured on camera and uploaded to the Internet.[43]
--Waiting to be checked up to here--
Marvel's Jessica Jones: 51 beginning to minute 3ish.
27th
--Done (do not delete until Jessica Jones events written/checked) from here--
Shooter Jennings performs in Lola's Roadhouse, and Frank Castle watches, buying a beer from bartender Beth Quinn. A girl comes and orders a drink, with owner Ringo judging her as acceptable to serve despite looking potentially underage. Castle surveys her, and she is defensive, telling him to look away and calling him "Rough Road". When he asks if she is okay, she unconvincingly claims she is before walking away.[44][45]
A man named Johnny starts harassing Quinn behind the bar, and when she refuses his advances, he grabs her arm. Castle tells him to let her go, and when he insults her, Castle chides his behavior. Johnny tries to pick a fight, but Castle breaks his finger. Ringo tries to have them both kicked out, but Quinn sticks up for Castle. He introduces himself to her as "Pete".[44][45]
Assassination of Sergei Konchevsky:

The girl in Lola's Roadhouse, Amy Bendix, calls Sergei Konchevsky from a payphone. Konchevsky is being held captive by John Pilgrim, and is forced to take the call but not give his situation away. Bendix explains she is someone who worked for Fiona, and the reason they did not deliver him the photographs he was expecting the day before was because the whole crew except her, pointing out someone must know about them. Konchevsky, pressured by Pilgrim, asks for her to still deliver the pictures, but she asks him to meet her the next day at Lola's Roadhouse, unknowingly giving her location to Pilgrim.[44][45]
--Done (do not delete until Jessica Jones events written/checked) up to here; Waiting to be checked from here--
--Waiting to be checked up to here--
Marvel's Jessica Jones: Season 3, Episode 1 minute 3ish to minute 11ish.
28th
--Done (do not delete until Jessica Jones events written/checked) from here--
Castle and Quinn talk as the roadhouse closes. He goes to leave, but she offers that he come along with her for another drink.[44][45]
Quinn has Castle jump into her car. Meanwhile, Bendix sneaks past to the Good Rest Motel, where Castle has been staying, and picks the lock on an empty room, breaking in to sleep.[44][45]
Back at Beth Quinn's home, Beth tells Castle about her life, including an 8-year-old son named Rex. They admit that they do not usually head home with someone after one night, but each feel a connection to each other, and end up sleeping together.[44][45]
After she notices his scars, Castle tells Quinn he was in the marines. He also explains his wedding ring hung around his neck, about having had a wife and children, who were all taken from him. He admits life can get lonely, but quotes Karen Page's comment to him about how life is about trying not to be lonely, and they tell each other neither are feeling lonely currently.[44][45]
After a while, Castle admits to Quinn that this real name is Frank, and explains that the government have given him a new identity, due to things he was involved with that have to remain secret. She says she trusts him, and comments that they have to take the good when it comes, which reminds him of his family's times with Billy Russo, and Russo's subsequent utter betrayal.[44][45]
In the morning, Castle gets up to leave. He comes across Rex Quinn, who has been dropped off by Beth's mother, who had been looking after him. Beth gets up, and Castle stops himself from leaving. He endears himself to Rex, and offers to drive the trio to get pancakes for breakfast.[44][45]
At the diner, Beth Quinn tells Frank Castle about her job, and how she teaches musical instruments on weekdays. Rex surprises the adults when he guesses that they had sex, and Beth quickly changes the subject.[44][45]
Amy Bendix remains asleep in the Good Rest Motel room.[44][45]
Meanwhile, outside, Beth Quinn drops Frank Castle off back at his motel room. She invites him to return to Lola's Roadhouse that evening, and they bid each other farewell. He goes to unlock his door.[44][45]
A few doors down, Amy Bendix is woken when a worker at the motel rattles the door, trying to get in. She pushes past her, ignoring the woman's protests for her to stop and explain herself, and bumps into Castle about to enter his room. He is concerned about her, but she rushes away.[44][45]
Scott Lang, currently on house arrest, spends the weekend with his daughter Cassie.[46]
Shooter Jennings performs again at Lola's Roadhouse. Bendix turns up and waits for her arranged meeting.[44][45]
Frank Castle is driving out of town when he changes his mind about leaving. He decides to turn his van around and drive back to the roadhouse and see Quinn again.[44][45]
Castle gets to the roadhouse and goes to speak to Quinn again, relaxed and ready to enjoy his evening.[44][45]
--Done (do not delete until Jessica Jones events written/checked) up to here; Waiting to be checked from here--
--Waiting to be checked up to here--
Marvel's Jessica Jones: Season 3, Episode 1 minute 11ish to minute 24ish.
29th
--Done (do not delete until Jessica Jones events written/checked) from here--
Bendix tries to get away, but he bundles her back in the van and has her find the nearest hospital on her phone so he can drive Beth Quinn to get help.[44][45]
They arrive at Ecorse Hope Hospital and Beth Quinn is taken into the building, asking that Castle make sure Rex is okay.[44][45]
John Pilgrim arrives at Lola's Roadhouse. He finds the bodies from the fight and Frank Castle's ring, with an inscription including his forename. He tells the local, corrupt police lieutenant, Lt. Ferrara, to find the girl they are after and whoever she is with, and keep his police away. Marlena Olin shows Pilgrim that they have found the girl's bag, with her laptop inside.[44][45]
Pilgrim and Olin survey the security footage of Castle's fight. Pilgrim says it will not be hard to find him.[44][45]
Dinah Madani stands over the hospital bed of Billy Russo, who is asleep with a decorated mask over his face. She drinks and insults him, before leaving. After she exits, Russo wakes.[44][45]
Castle continues to drive Bendix away. Bendix asks if there will be more people coming, and he says that he hopes so.[44][45]
Tired and bleeding, Frank Castle struggles somewhat with driving. Amy Bendix suggests taking over driving or stopping somewhere, but he refuses. However, he eventually decides to turn off to Larkville, Ohio.[44][47]
Arriving at the Tides Motel in Larkville as the sun comes up, Castle reluctantly gives Bendix money to rent them a room.[44][47]
Bendix approaches the worker at the desk, Debbie, who forces her to pay for the morning as well as the upcoming evening, to her annoyance.[44][47]
Castle and Bendix go to their room, and Castle tells her to call him "Pete", with her telling him she is "Rachel". He takes her to the bathroom and tries to tweeze out the bullet in his side, but cannot, asking her to do it for him. Once she has, he then has her stitch the wound. She insists again that she does not know why she is being hunted.[44][47]
Bendix tries to escape the room, but Castle catches her, then uses cable ties to tie her to her bed so as to ensure she cannot run. She starts complaining, so he puts tape over her mouth, telling her to sleep.[44][47]
Billy Russo is tormented by nightmares. When he wakes, Dinah Madani is standing over his bed again. He claims not to know her. Russo's doctor, Krista Dumont, enters, and Madani says that she is certain Russo is faking his situation, but Dumont explains that he cannot be. She tells Madani about working with Russo, with Russo mentioning the metaphorical "jigsaw" of his memories they are putting together. Madani leaves, saying she will return that night, and Russo tells Dumont that he is aware he must have done something to her, but becomes angry and frustrated when he cannot remember what. Dumont goes to get him headache relief medicine, but when Russo first asks what he did to Madani, she truthfully tells him he shot her in the head.[44][47]
John Pilgrim visits Beth Quinn in her hospital ward. He notices several cards from people who care about her, and threatens them if she does not tell him the name of the man seen at Lola's Roadhouse. She claims not to know, but eventually pretends to give him up, saying he simply told her he was called "Pete". Pilgrim pushes for more, aware she is covering for him, so she reluctantly gives his surname "Castiglione", and Pilgrim leaves, with her managing to have withheld the name "Frank".[44][47]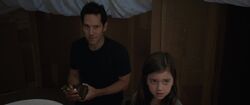 Scott Lang plays a game with his daughter Cassie, using cardboard boxes to pretend they are crawling through tunnels on a heist. They reach the "treasure", which Cassie had chosen to be a trophy she bought Scott for his birthday, and says she wants to take it into school for show and tell. At the same time, Luis, who is visiting, talks to Scott about a pitch X-Con Security Consultants are preparing for providing security to a company called Karapetyan. Scott and Cassie complete the course, sliding out of the house as their "escape", but when they reach the bottom, Scott's leg goes the fence and his house arrest ankle bracelet sets off an alarm.[48][46]
The FBI, led by Scott Lang's parole officer Jimmy Woo (a former ally of Melinda May's[49]), arrive at the house. When Cassie asks why they have to visit, Woo explains to her how Scott broke the Sokovia Accords in Germany and had to make a plea deal to return to the United States of America that required him to spent 2 years under house arrest, showing little understanding of how to talk to children. Cassie's mother, Maggie, then arrives with her boyfriend Jim Paxton to pick her up.[48][46]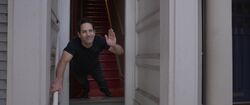 --Done (do not delete until Jessica Jones events written/checked) up to here; Waiting to be checked from here--
30th
The next morning, Trish Walker returns to set for her show, where she is scolded by her mother for missing two shows in a row. While Dorothy is able to keep the network from killing the show, Walker is out of second chances. Dorothy wonders what it was that caused Walker to disappear like that, though Walker would not reveal, at least not truth. She allows her mother to believe that it was man trouble, simply stating that she is all alone in this. Walker then gets a call from Ducasse, who informs her that Jones was in the hospital after being stabbed by a masked assailant.[42]
--Waiting to be checked up to here--
Marvel's Jessica Jones: Season 3, Episode 1 minute 24ish to end. Episode 2 beginning to minute 51ish.
--Done (do not delete until Jessica Jones events written/checked) from here--
Marlena Olin threatens Frank Castle in their neighboring cells.[44][50]
Amy Bendix tries to get Ken Ogden to buy her a Coke, and he eventually gives her the money to stop her from annoying him. Sheriff Roy Hardin interrupts and says that he has found out about her numerous aliases, knowing that she must be lying to him. She admits "Castiglione" helped her, but says that both him and Olin are crazy, and she is just caught in the middle.[44][50]
The sheriff tells Olin that he has identified her through her prints, and that she was the type of person they expect, but then turns to Castle and says that he is surprised he has nothing significant on record, saying he seems like someone who served as a marine. Olin threatens Hardin, who ignores the statement, but Castle tries to warn him that trouble is coming. Hardin brushes this off.[44][50]
Scott Lang watches a magic tutorial video on his laptop.[48][46]
Escape from Sacred Saints Hospital:

Krista Dumont tells Billy Russo that she thinks the reason he is sleeping so little is that he is choosing to, and that they need to gently help him recall his nightmares in his journal so he can gain mastery over them. Russo becomes angry, wanting different kings of help, and police guards enter in case they are needed. Russo, however, turns and attacks them, beating them both down.[44][50]

Lang reads The Fault in Our Stars by John Green and starts to cry at the sadness of the story.[48][46]
John Pilgrim takes Lieutenant Ferrara to Larkville County Sheriff Station and requests to take the prisoners off their hands, but Sheriff Hardin refuses, saying they have to wait until the prisoners have been arraigned on Thursday. Ferrara asks to at least see them, but Hardin turns him away. Pilgrim calmly threatens that people will get hurt if they do not hand over the prisoners, and sees Bendix inside, but when Hardin still does not turn them over, he steps outside to initiate an attack.[44][50]
Pilgrim gives the signal for his people to set off an electromagnetic pulse, knocking out all electricity in the area.[44][50]
The police find that they cannot use their phones, and Castle and Olin realize the attackers have now arrived. Bendix asks again to be released.[44][50]
Dinah Madani arrives at Sacred Saints Hospital and sits to speak with Krista Dumont. She says that she thinks Russo has been planning this, but Dumont insists it was just a primal reaction from fear. Madani asks if he gave any indication of where he might go, but Brett Mahoney enters and says he banned her from the hospital, since her visits could impact the case and that Russo is NYPD territory. She angrily leaves, reminding him not to think of Russo as some lost soul.[44][50]
Bendix steals a Coca-Cola from the station vending machine. Sheriff Roy Hardin questions Frank Castle, who explains about the attack on Lola's Roadhouse and being chased by the attackers. Ken Ogden volunteers to drive to get help, and, despite Castle's protests, is handed the keys.[44][50]
As Ogden tries to drive away, John Pilgrim shoots him. He climbs out of the car and Hardin escorts him back to safety. He and the other officers see Pilgrim standing in the woods, and he orders them to go inside as Pilgrim walks up to talk with Hardin. Pilgrim says Ogden only has 2-3 hours to get to a hospital, so can only be saved if they hand over the people they came for.[44][50]
Amy Bendix helps some of the officers tend to Ogden, while the rest start barricading the station, and consider handing over their prisoners. Bendix steals the car keys and shows Castle, but he refuses to just escape, and requests that the sheriff let him loose to help take out their attackers.[44][50]
Attack on Larkville County Sheriff Station:

Marlena Olin tells another prisoner, Ken Ogden's brother Bruce, who has been locked up by Ken simply for being drunk in public, that an attack is coming. She sees one of her allies outside the window, and indicates that she needs freeing.[44][50]
Pilgrim's people begin firing into the station from the woods. The officers fire back, but Castle warns that it will be a diversion, and they need to cover the back. When they ignore him, soldiers break in through the back as Castle expected. One goes to free Olin, as the rest begin shooting in the station offices.[44][50]
The officers are struggling until Castle manages to get loose from his cuffs. He grabs hold of a gun and starts taking out the attackers one by one.[44][50]
Olin is freed and starts firing at Castle, but misses. Castle leads Hardin in forcing Olin out of the building, then they take cover until the firing stops. Hardin tells Castle he cannot let him run, but Castle points out his gun is empty. He stays nonetheless, leading Hardin to trust him, and releases Bruce Ogden.[44][50]

Hank Pym and Hope van Dyne power up their Quantum Tunnel for the first time. The doorway to the Quantum Realm is opened momentarily, before it overloads and shuts down.[48][46]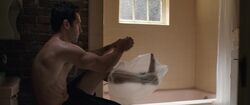 After 2 days trying to keep himself busy, Scott Lang falls asleep in the bathtub and has a vivid memory-like dream where he sees a young Hope van Dyne from the perspective of her mother Janet.[48][46]
Olin requests to Pilgrim that he let her be the one to kill "Castiglione", but Pilgrim kills her.[44][50]
Intrigued by his vision and thinking it could be important, Lang takes a secret burner phone from its hiding place and calls Hope van Dyne and Hank Pym about the vision. They do not pick up, but he leaves a voicemail. Realizing that he probably sounds stupid as he speaks, he decides to hang up and break the phone.[48][46]
With Lang having called them 5 minutes after they activated the tunnel, Pym and van Dyne consider that the timing is not coincidence and the opening of the Quantum Realm might have activated a message in Lang's head.[48][46]
--Done (do not delete until Jessica Jones events written/checked) up to here; Waiting to be checked from here--
Jessica Jones lays in a hospital bed, pale and weak. Trish Walker looks over her and asks how she is feeling. Jones had just gotten out of surgery, but wants the name of the man Walker was after, as Jones suspected that her attack was directly connected to him, thinking that he recognized her when she helped Walker fight him. Walker realizes that Jones had only called her down to get the name of her attacker, so she leaves.[42]
Jones notices a bracelet she's wearing, which says that she doesn't have a spleen. She notices an incision where her spleen was removed during surgery.
Walker leaves the hospital and throws out the gifts she was going to give to Jones.
Jones is given a lecture about health from Doctor Purks, who tells her that she needs to be careful about her health. She makes a comment about her drinking habits, and Purks says that she has to stay in the hospital. Jones demands to be discharged and attempts to leave, but gets dizzy when she stands up, so Purks helps her sit back down.
Malcolm Ducasse uses the bathroom, noticing blood in his urine from his attack on Cody Willamet the previous night. Zaya Okonjo flirts with him, but notices the blood, concerned. Ducasse lies to Okonjo, saying a cab driver was driving recklessly, and Okonjo plans on suing, but Ducasse calms her down and tells her to go to work. He says he plans on working from home, prompting further concern from Okonjo, who realizes that he doesn't like working with Jeri Hogarth. Ducasse assures Okonjo that he will leaves once he has enough money and clout to be a private investigator, and the two of them have sex.
Jones gets visited by Detective Eddy Costa, and is woken up from dreams about getting stabbed. Thinking he's an attacker, Jones kicks him, but then realizes who he is. Costa tells Jones that he is working her case and asks for a list of clients she's angered. Costa refers to Jones as a victim, angering her. He leaves, advising Jones not to make herself a target.
Jeri Hogarth and Kith Lyonne have lunch together. Lyonne asks for wine from the waiter and asks Hogarth about her relationship with Wendy Ross-Hogarth. Hogarth admits that she cheated on Ross, and tells her that Ross died in an accident. They talk about Lyonne's relationship with her husband, as well as her daughter and music. Hogarth tells Lyonne that she still has a tape of the piece Lyonne composed for her while they were dating, causing Lyonne to become uncomfortable and leave, saying that she already ate lunch.
Jones signs a paper saying that she was discharged against medical life, and gets up to leave.
She returns to her apartment, where she notices that Gillian followed Costa's advice to heighten security. Jones asks Gillian to research Andrew Bandt, but Gillian leaves work for the day. She notices a "new spleen" crafted for her by Vido Arocho, and Gillian forces her to take medicine, though she uses alcohol. Gillian leaves, and Jones notices that one of her pills is supposed to be taken with food, so she goes to her kitchen, where she sees a hamburger left for her by Erik Gelden.

To help you out, this scene is at 4:56 PM according to Gillian

She eats the hamburger, takes her pills, and investigates Brandt. Tired, she considers locking her door and going to bed, but instead takes the "I Have No Spleen" bracelet off of her wrist and resumes her investigation.
Walker investigates Brandt and the stolen statue, which she sees is going on display.
Jones falls asleep and dreams about getting stabbed again, only to be interrupted by Ducasse knocking on her door. He gives her the knife she was stabbed with and tells her that there are no fingerprints and the brand is too common to trace. Jones says that she doesn't need favors, so Ducasse bills her. She closes and locks the door.
--Waiting to be checked up to here--
Marvel's Jessica Jones: Season 3, Episode 2 minute 51ish to end. Episode 3 beginning to minute 19ish.
May
1st
--Done (do not delete until Jessica Jones events written/checked) from here--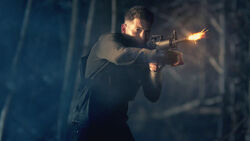 Battle at the Oui:

Van Dyne meets with Burch, under the pseudonym of "Susan". However, Burch reveals that he knows who she really is and has arranged a potential purchase of Pym's laboratory for $1,000,000,000. Van Dyne turns down his offer, but Burch then refuses to give over the component.[48][46]
Van Dyne pretends to leave, before donning the Wasp suit and returning to attack. Due to being a tiny target, they are unable to hit her when they start shooting.[48][46]
Wasp follows Burch's men into the restaurant kitchen and swipes a salt shaker at, Uzman, the man carrying the component, enlarging it in front of him to knock him out.[48][46]
Burch's remaining men struggle with Van Dyne's repeated change of size, and she takes them all down, before picking up the component.[48][46]
Van Dyne heads out of the restaurant, but before she can leave, she is attacked by a mysterious figure in a white suit. The figure phases in and out of tangibility, causing Wasp trouble as she tries to fight back. The figure, known as Ghost, manages to take the component for herself.[48][46]
Hank Pym gives Scott Lang and updated Ant-Man suit, allowing him to join Wasp and help her.[48][46]

Lang brings Pym and van Dyne to hide at the X-Con Security Consultants office. There, they develop a plan to get the laboratory back, and Pym realizes that they need a quantum spectrometer to track its radiation. He reluctantly informs them that they will have to get one from his estranged ex-work partner, Bill Foster.[48][46]
Ghost returns to her hideout and gets herself into a Quantum Energy Chamber so as to stabilize her molecular disequilibrium.[48][46]
Russo sits in a bar and cuts his medical bracelet from his arm with Rick's knife. As he is served, the news comes on and once again reports on the hunt for him. He thinks back on one of his meetings with Krista Dumont.[44][53]
Scott Lang, Hank Pym, and Hope van Dyne go to meet Professor Bill Foster at Berkeley University, finding him giving a lecture.[48][46]
The trio sit down with Foster, who discusses how he used to work with Pym on Project G.O.L.I.A.T.H., where he grew up to 21 feet tall - a precursor to Lang's ability now to grow as tall as 65 feet. Their meeting is interrupted when Lang realizes Jimmy Woo and the FBI are outside. They make their way to leave, but not before Foster tells them that they can locate the lab by modifying a defractor from one of the suit's regulators.[48][46]
Pym explains to Lang and van Dyne that he removed the defractor from the new suits, but Lang ashamedly admits that he mailed himself his Ant-Man suit before turning himself in, rather than destroying it, angering Pym due to his actions putting it at risk of being stolen.[48][46]
Scott Lang calls Luis, saying he needs Cassie's trophy, as that is where he has hidden the suit. Luis tells him, however, that it is not there, and Scott realizes Cassie has taken it into school for show and tell.[48][46]
Madani returns to her apartment and tells Castle that, despite what doctors kept predicting, Russo has recovered remarkably well. She shows him that she has Russo's journal, and that he keeps drawing the skull of the Punisher vest, clearly thinking about Castle constantly. She reveals that she has the vest in her closet, and says that Russo has not got closure. Castle says that she should have shot him at the carousel, but she says that he, too, had the chance, and thinks he just found it too hard. Madani asks Castle for any details he might have to help find Russo.[44][53]
Scott Lang and Hope van Dyne go to Cassie's school, Brookemont Elementary, to retrieve the suit. During the infiltration, Scott discovers that his new suit, a work-in-progress, is experiencing problems with the regulator. It enlarges him within a closet, but when van Dyne takes a look at it, it then shrinks him to the size of a small child.[48][46]
Lang dons a child's hoodie from the lost and found, which can fit on his shrunken body, and sneaks through the school until he finds Cassie's classroom. The duo retrieve the suit and get away.[48][46]
The sun sets over New York City.[44][53]
Castle knocks on Bendix's door, but she is asleep. Wanting to head out, but ensure that she is safe, he takes the key from her door so she cannot leave. Bendix has a nightmare of finding her dead friends after the massacre in Chicago.[44][53]
Frank Castle visits his friend Curtis Hoyle. Hoyle says that he visited Russo, and that he is definitely suffering memory-loss, not being an act like Madani thinks. Hoyle says Castle should have put Russo down for good. He says that he is seeing a woman now, but does not want her anywhere near being involved with the situation. Castle asks where he thinks Russo might have gone, and Hoyle points out that Russo would likely go to settle scores.[44][53]
--Done (do not delete until Jessica Jones events written/checked) up to here-- --Waiting to be checked from here--
Trish Walker arrives at Andrew Brandt's Apartment, but struggles to find anything.

She says she's been there for hours, but Jessica gets one after ten minutes

Jessica Jones investigates Brandt's apartment, where she steals a soft drink and notices a jammed printer. She fixes the jam and finds the next document being printed, a list of lots, prices, and how they are being sold. Walker appears and says that she should be the one to find Brandt, but Jones disagrees. They argue about their friendship and Walker's new actions as a vigilante. Walker confronts Jones about her plans for Brandt, saying that she's not a hero, causing Jones to leave.
Jeri Hogarth expresses approval of Zaya Okonjo's work on a case. Malcolm Ducasse enters Hogarth's office as Okonjo leaves, and Hogarth says that she has no issue with Okonjo and Ducasse dating as long as they sign a consent form and Ducasse remains confidential. She asks Ducasse to find blackmail information about Peter Lyonne.
Jones calls an art museum about the stolen statue, and discovers that the artist does not sell work on the legitimate market. Another phone call yields the same result, and yet another turns her away because Jones lies about being a secretary, and they don't talk to intermediaries.
Ducasse disguises himself as a student at Bronwyn University and investigates Lyonne's office. He sets up a program which will allow Ducasse to monitor Lyonne's actions. As he leaves, Lyonne catches him, mistaking him for a student. He invites Ducasse into his office, where Ducasse pretends to be a student wanting to join his class. Lyonne tells Ducasse that there isn't any room in the class, so Ducasse leaves.
Lyonne meets with a student with whom he has sex.
Standing outside of her apartment, Erik Gelden texts Jones, asking if she's ok. She opens the door, and they talk about Jones' investigation and the hamburger he made for her. Jones lies and says she threw it out, and Gelden gathers that she doesn't want to be with him that night, so he leaves.
Walker appears on her talk show and sells cardigans. Grace interrupts Walker's speech to announce that they had sold 140,000 cardigans, setting a new record for the network.
2nd
--Waiting to be checked up to here--
Marvel's Jessica Jones: Season 3, Episode 3 minute 19ish to minute 29ish. --Done (do not delete until Jessica Jones events written/checked) from here--
After regrowing the lab in the forest, in the early hours of the day, Scott Lang and Hope van Dyne talk. Scott assures Hope that when they find Janet, she will not have forgotten about her, explaining that when he was in prison, Cassie was all he thought about. Luis calls him, saying that they made a mistake on the security plans for Karapetyan and need his help before the pitch in the morning, but Lang explains his situation, and why he cannot leave to visit him Luis person. He reluctantly gives Luis their location in the woods so he can come to them.[48][46]
Amy Bendix wakes and finds her room locked. She panics and Frank Castle lets her out. Still undergoing a panic attack, she shouts that he should never lock her in again.[44][53]
Luis heads out to to visit Scott Lang, when Sonny Burch breaks into the X-Con Security Consultants office with his men, told by an inside agent in the FBI that he is a known associate of Lang, and asking Luis to tell him where Lang is. Burch says that he will administer a serum to make Luis more susceptible to slipping up and giving honest information, but when the X-Con trio say that this sounds like truth serum, Uzman, the man with the serum, becomes defensive and insists that it is not.[48][46]
Arthur Walsh goes to his kitchen, only to find Billy Russo. He thinks he is a robber, but Russo reminds him of who he is, and that he attended the Ray of Hope home.[44][53]
Bendix tells Castle about how she is struggling with flashbacks to the massacre she encountered, and he attempts to help calm her down. She starts explaining what happened, and tells Castle about Fiona and being part of her crew. Bendix says that she had to hide under the bed among the bodies of her friends in Chicago as a man in a vest came back in, and tells him that the job they had been given was taking photographs at a wedding and delivering them. Bendix recommends getting out of the city with the help of a girl she knows called Shantel, but Castle says that this would just get Shantel killed by the man coming after them. He recommends that they take the fight to their attackers instead.[44][53]
Walsh pours Russo a drink, and Russo says that he saw the home had been demolished, then come to Walsh since there was nobody else to go to. Walsh asks what happened to his face, showing no remorse for his behavior in the 1990s as he says it is a shame, since Russo had been a pretty child.[44][53]
Dinah Madani comes home and Castle tells her about Walsh, and that he thinks Russo might have gone after him. They are interrupted by a knock at the door. Castle and Bendix hide as Madani answers the door and finds Brett Mahoney, who says they know Russo's journal has gone missing, and he suspects her of taking it. He tells a story of how he had once become obsessive over an ex-girlfriend, explaining that she needs to stop involving herself with Russo so obsessively. He notices the two breakfast bowls on her table, but assumes she just has a man around, and she turns him away without him finding out about Castle's presence.[44][53]
Bill Foster sadly informs Ava Starr that she has only roughly 2 weeks to live. Starr suggests that they use Cassie Lang to bait Scott and get back the lab, but Foster refuses to get the innocent girl involved. Starr reluctantly decides to accept to use a different option.[48][46]
Arthur Walsh insists to Billy Russo that he was good to the children at Ray of Hope, and it was unfair that he was imprisoned. He says that he loved the children, and becomes angry at Russo for not loving him back, saying that he wonders if Russo has come back to him purely because he does not feel loved anymore with his scarred face.[44][53]
Assassination of Arthur Walsh: Furious, Russo kills Walsh with a chair leg.[44][53]
Burch injects Luis with Uzman's serum, and Luis begins to speak honestly. When Burch interrogates him on where Lang is, Luis tells a fast story about how Lang came to be where he is currently at from an emotional standpoint. Frustrated, Burch specifies that he needs to know where Lang is literally, and Luis gives the location in the woods. Ghost, who had been phasing herself invisible, reveals herself and gets him to give the specifics of the location, then leaves, slashing Burch's tire to slow him down.[48][46]
Burch calls his FBI agent, Stoltz, to let him know Pym and van Dyne's location and that Scott Lang is with them. He passes on the lead to Jimmy Woo.[48][46]
Amy Bendix uses a computer in a shop under the premise of trialing it, and uses it to look up Castle. She finds pictures and videos of his activities since 2015, and a worker in the store recognizes the pictures as the "Punisher", a name she had not heard before. He tells her about how he killed criminals and escaped prison.[44][53]
As dawn arrives in San Francisco, Hank Pym and Hope van Dyne activate the finally completed Quantum Tunnel, but it only works briefly before shutting down. However, with the brief exposure to the Quantum Realm, Janet van Dyne gets a better connection with Scott Lang and takes control of him for a few minutes. She proves it is her to Hope and Pym as she uses the time to help stabilize the tunnel and enter the coordinates to locate her, but she warns them that they only have 2 hours to get her before the Quantum Realm becomes so unstable they will not be able to reach her for another century.[48][46]
Luis calls Lang to warn him about Ghost, Burch, and the FBI knowing Pym and van Dyne's location and hearing that he has left house arrest. Lang passes on the information to Pym and van Dyne to warn them, apologizing for jeopardizing their rescue. He tells them that the FBI will be checking in on his house arrest and that he needs to rush back home, and he leaves to get back in time.[48][46]
Jim Paxton and Maggie and Cassie Lang come to Scott's house to pick up Cassie's soccer shoes. Cassie finds the giant ant in Scott's bath. Jimmy Woo then leads the FBI as they break into the house and demand to see Scott, but Cassie tries to cover for her father, claiming he has been vomiting and they cannot go near him. Woo eventually insists and pushes past her, only to find Scott, who got back just in time and slipped in through the window, shrunken in the Ant-Man suit.[48][46]
Arrest of Hank Pym and Hope van Dyne: Hank Pym and Hope van Dyne hurriedly leave the lab and shrink it down, only to find that the FBI have already surrounded them. Stoltz tells them they are under arrest.[48][46]
While at Lang's house, Jimmy Woo is informed of Pym and van Dyne's arrest. He is pleased and leaves the house, telling Lang he will be back later for the official end of his house arrest sentence.[48][46]
Dinah Madani goes to Arthur Walsh's home in case Russo is there, but arrives only to find Walsh's dead body, with a chair leg lodged in his chest. She hears someone and immediately turns and shoots, assuming it is Russo, only to find it is Brett Mahoney, hitting him only in his bulletproof vest. He asks what she is doing at the location, but she refuses to explain before leaving the murder case to him.[44][53]
Cassie Lang sits down with her father, and he thanks her for covering for him. He says that he messes up trying to help people every time, and she suggests that he might need a partner. Scott assumes she is talking about Hope van Dyne, but Cassie explains that she means herself. He assures her that she would be great, but explains that he cannot put her in danger. She tells him that she is sure he can do whatever it is he needs to.[48][46]
Hope van Dyne slips a hairpin she had hidden in her mouth out into her hand and picks the lock on her and Hank Pym's handcuffs. They start to plan a risky escape, but Scott Lang arrives and, controlling trained ants, breaks Pym and van Dyne from FBI custody.[48][46]
Uzman witnesses the escape and reports back to Sonny Burch that Pym and van Dyne.[48][46]
Pym explains that he put a tracker on the lab after Ghost stole it, and the trio use the controlled ants to guide the way to find it.[48][46]
Meanwhile, Ghost and Bill Foster prepare to enter the Quantum Realm. Foster advises caution, but Starr explains that she is desperate and cannot wait, having only days left to live.[48][46]
Bendix returns to Dinah Madani's apartment and tells Castle that she has found out about his family and him killing the people behind their deaths. She asks if it made him feel better, and he says that it only does sometimes. Bendix admits she is not called Rachel, but Amy, and promises not to keep trying to run away anymore.[44][53]
With time running out to save Janet van Dyne, Pym says that he will enter the lab and dive into the Quantum Realm, asking that Hope and Lang protect the lab while he does so. Luis arrives, having been asked by Lang to follow in case they need his help.[48][46]
Scott Lang stands ready to help Pym get to the Quantum Tunnel. Luis talks to Hope van Dyne as they wait, but she takes little interest.[48][46]
Ghost and Foster get the Quantum Tunnel started, but it then fails. They realize that there are ants in the lab pulling wires out from sockets to break it, and, knowing that this means Hank Pym must be nearby, Ghost leaves to find and stop him. She follows a trail of ants leaving the building.[48][46]
With Ghost led away, Hank Pym enters the lab and confronts Bill Foster. He controls giant ants to corner Foster and force him to back away. Pym retrieves a specialized Quantum Realm suit. Foster apologizes for causing problems, explaining he simply wanted to help Starr, but Pym promises he will help find a cure once he has rescued his wife. Foster wishes him luck.[48][46]
Ghost finds Lang at the end of the ant trail and attacks him. He attempts to shrink, but is unable to due to the faulty regulator.[48][46]
Hank Pym tells Hope van Dyne he loves her, in case he does not return from the Quantum Realm.[48][46]
As soon as Pym has gone, van Dyne has Lang control an ant to remotely shrink the lab. Lang explains to Ghost that they intentionally led her away from the building and shrinks to escape as she angrily watches van Dyne leave with the building.[48][46]
Lang mounts a flying ant to meet van Dyne and Luis, but as van Dyne begins to drive, she is stopped by Sonny Burch and his men in a convoy of cars. She maneuvers the van to slip past them and begins to drive away as fast as she can, with Burch's convoy in chase. When the first car tries to crash into Luis and van Dyne, van Dyne shrinks the van so the car swerves off the road.[48][46]
When one of Burch's cars catches them, Hope van Dyne shrinks the van again so it can drive under the chasing car. Van Dyne then grows the van again from underneath the vehicle, pushing it up and flipping it to the side.[48][46]
Van Dyne keeps driving, luring the cars to Lombard Street, and uses its winding design to cause a chasing car to crash as they are unable to turn fast enough when she shrinks the van. The car behind then crashes into it and flips over onto the street, sending bricks flying, which cause Luis to panic as, while shrunken, they seem huge.[48][46]
Hank Pym loses signal due to the chaos of the lab's movements. He gets stuck in a tardigrade field and as his ship recalibrates, he observes the beauty of the Quantum Realm. However, the tardigrades, relatively giant to the size of the ship, begin to close in. The ship restarts just before they can cause problems, and he continues traveling through the realm.[48][46]
Hank Pym reaches the quantum void and engages thrusters to reach Janet van Dyne's coordinates. He breaks through into a colorful section of the Quantum Realm and lands on a surface he finds.[48][46]
Luis realizes he has the remote to grow the lab and that he needs to get it to Ant-Man and Wasp so Hank Pym can safely return. He lets them know, and they tell him that since the van is ruined, he needs to open the Hot Wheels case to grow one of the cars and drive the remote to them.[48][46]
Luis gets away in the car, and Sonny Burch realizes he has the remote, chasing him. When they start to chase him, Luis shrinks the car to avoid the bullets, before regrowing. He asks for help and Wasp goes to take out the men after him as Ant-Man goes to retrieve the lab.[48][46]
Wasp breaks into a car chasing Luis and repeatedly shrinks and regrows to cause the men inside's punches to miss her and hit each other. The driver loses control and veers off the road, and Wasp flies out, joining Luis in his car.[48][46]
Ant-Man, still giant, catches up with Sonny Burch and kicks his van off-road. Burch gets out, carrying the lab, and hurries into an alley, where Ant-Man is unable to follow him as he cannot fit and finds himself unable to shrink due to the faulty regulator.[48][46]
Ant-Man runs around the buildings to find Burch and discovers that he has boarded a ferry, still carrying the lab. He eventually manages to shrink back to ant size and summons nearby flying ants, but they are repeatedly eaten by seagulls who swoop in. He eventually boards one, whom he names Ant-tonio Banderas, and flies out over the harbor, but Ant-tonio is eaten by another gull and he falls into the water.[48][46]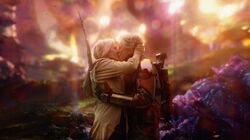 Ant-Man, giant-sized and dubbed "Giant-Man" by the news, wades back to the harbor pier with the lab, but becomes fatigued by the time spent enlarged.[48][46]
Jimmy Woo sees Giant-Man on the news and, believing Scott Lang must have left house arrest, leaves to apprehend him.[48][46]
Jim Paxton and Maggie and Cassie Lang watch the news, and Cassie smiles at her father's success.[48][46]
Giant-Man puts the lab back on land but, just as Hope van Dyne and Luis arrive at the harbor, he falls asleep in the water and sinks to the seabed. Van Dyne sends Luis to pick up the lab as she dives into the water to save Lang.[48][46]
Luis runs to the lab, remote in-hand, but Ghost arrives and kicks him out of the way. She takes the remote and grows the lab on the harbor.[48][46]
Notified that the lab has been regrown and thinking it is safe to return, Hank Pym and Janet van Dyne launch the ship and begin their ascent out of the Quantum Realm.[48][46]
Hope van Dyne is unable to wake Scott Lang, so amends his regulator, allowing him to shrink to ant size. She picks him up in her hand and swims him to the surface.[48][46]
Sonny Burch's men catch Luis and prepare to shoot him. However, before they can, Kurt and Dave electrocute them with Tazers.[48][46]
Bill Foster catches up with the lab and enters to try to dissuade Ava Starr from going after van Dyne. He tells her what Pym told him: that van Dyne will be able to help cure her, but Starr refuses to take the risk, desperate to rid herself of her pain. She enters a Quantum Energy Chamber and, using the coordinates locked onto van Dyne, begins to siphon quantum energy from her.[48][46]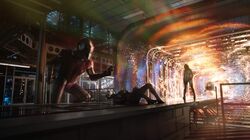 --Done (do not delete until Jessica Jones events written/checked) up to here-- --Waiting to be checked from here--
Jessica Jones lays in bed, when Gillian tells her about a client waiting for her. Gillian leaves for lunch, and Jones meets with the woman, Jeri Hogarth, who is upset that Jones claimed to be working for her while searching for a sculpture stolen by Andrew Brandt. They discuss their shared lack of capacity, but Jones refuses to accept Hogarth's pep talk. Jones mentions a program studying ALS, and Hogarth has her assistant send Jones potential locations to find the statue.
While walking, Jones' alarm goes off, and she takes medicine. She buys a hot dog, noticing Trish Walker following her, and immediately throws it out. She gives her napkin to a pedestrian, which Walker steals, realizing the only thing on it is a mustard stain.
Jones passes out, and Walker calls 911. She notices a piece of paper in Jones' pocket and leaves when other people start to comfort Jones.

Jessica Jones: Season 3, Episode 3 minute 29ish to minute 29ish. (Brett3801: I'm assuming that this was a typo, so I'm going with my gut on the dating here) --Waiting to be checked up to here--
--Done (do not delete until Jessica Jones events written/checked) from here--
3rd
--Done (do not delete until Jessica Jones events written/checked) up to here-- --Waiting to be checked from here--
Kith Lyonne goes to Jeri Hogarth's Apartment in order to prove that Hogarth does not still have the tape Lyonne recorded for her while they were together. Hogarth proves that she does, and plays it while reminiscing about when they recorded it. Hogarth tries to play it, but the cassette tape breaks, so Lyonne plays it on her cello. Hogarth begins to hug and kiss Lyonne while she plays, but Lyonne eventually starts playing and the two kiss more.

Hogarth graduated law school in the 90s

Malcolm Ducasse watches footage of Peter Lyonne meeting and having sex with a student. Zaya Okonjo asks if he wants to eat, and unplugs his headphones, where she hears moaning and believes Ducasse is watching porn. However, Okonjo isn't mad, and the two kiss.
Jones wakes up in the hospital, where Doctor Purks tells her that she needs to be more careful. Jones demands her phone and receives a text from Hogarth, telling her about an art auction the next day.

Marvel's Jessica Jones: Season 3, Episode 3 minute 29ish to minute 34ish. (Brett3801: Again, making some changes based on the typo from above)
4th
--Done (do not delete until Jessica Jones events written/checked) from here--
--Done (do not delete until Jessica Jones events written/checked) up to here-- --Waiting to be checked from here--

Marvel's Jessica Jones: Season 3, Episode 3 minute 34ish to minute 43ish.
--Done (do not delete until Jessica Jones events written/checked) from here--
5th
Scott Lang runs to Maggie's house and embraces Maggie, Cassie, and Jim Paxton, glad to now be free as he picks up Cassie for the weekend.[56][46]
Staying in a trailer park, Amy Bendix asks for Frank Castle to teach her how to use a gun. He chooses first to teach her self-defense and how to disarm someone with a gun, and tells her that she needs to shoot whoever she ends up stealing a gun from to protect herself.[44][55]
Kurt and Dave receive calls at X-Con Security Consultants as they are reported on the news for their help in apprehending Sonny Burch and his men. Kurt arranges a meeting for Monday. Luis picks up a call coming into the X-Con office and finds that it is Karapetyan, their most desired customers, asking to meet them next Thursday morning. The X-Con group celebrate.[56][46]
--Done (do not delete until Jessica Jones events written/checked) up to here--
Marvel's Jessica Jones: Season 3, Episode 3 minute 43ish to minute 53ish.
--Done (do not delete until Jessica Jones events written/checked) from here--
6th
--Done (do not delete until Jessica Jones events written/checked) up to here-- --Waiting to be checked from here--
Jessica Jones breaks into Cassaro Gallery, looking for a sculpture stolen by Andrew Brandt. Trish Walker arrives and is given a tour while Jones steals the sculpture and hears the tour guide walking with Walker.
Walker uses a computer in the gallery to find a list of art sellers, including Andrew Brandt. She takes a picture of the list and returns to her seat as the tour guide returns with champagne. Jones leaves with the sculpture.

I don't know if this is useful, but the names are the list in order are: Zhi Huang, Beverly Carter, Annie Bell, Morgan Vitrano, Jaleel Malouf, Marco Villanueva, Quinn McFarley, Yu Yan Ma, Isaak Ozols, Christoff de Boer, Andrew Brandt, Bako Okoye, Miqo Danielan, Carlos Diaz, and Christopher Morgan

Walker leaves the gallery, and Jones stops her, revealing that she has the sculpture. The two argue about who should go after Brandt, and Jones pushes her down and steals the contact information. She calls Brandt and learns his location.
Jones goes to Brandt's garage and wakes him up, scaring him. Jones asks about being stabbed, and Brandt reveals his misguided belief that all powered people have impenetrable skin. Jones hogties Brandt and calls Walker, telling her that he's not the reason she was stabbed. She leaves, telling Walker where he is.
Malcolm Ducasse gives Jeri Hogarth a video of Peter Lyonne having an affair with a student, but Hogarth says that it's not enough. She tells him to dig deeper.
Eddy Costa tells Jones about Brandt's arrest, and how Brandt mentioned the two powered women, and Costa asks who the other woman is. Jones refuses to tell him, and Costa leaves. Jones calls Erik Gelden and invites him to drink with her.
Gelden arrives at Jones' apartment, and Jones realizes that Gelden was the target of the attack. She asks Jones why he was attacked. [52] Gelden tells Jones about the debt he owes to Sal Blaskowski, and his ability to sense darkness in people, which allowed him to blackmail them. Jones and Gelden plan to visit the people he blackmailed, when Trish Walker arrives to tell Jones that Brandt is in jail. Jones refuses to allow Walker to help find her attacker, while Gelden leaves on the phone with some one from the Blaskowski family.
While leaving the apartment building, Walker overhears Gelden mention Blaskowski's name. She goes to her car and writes the name down.
Jones goes into an alley, and finds money left for Gelden by Todd White. They go to White's house, and he doesn't recognize them, so Jones sees that he is not the attacker. Wanting to know why White is a bad person, she searches his home and finds a studio set for young girls, as well as pornographic images of them. Jones locks him in a closet, and White calls for help. Jones calls 911 and tells them that there is screaming about being trapped in a closet, then leaves so that the police could find the studio and the pictures.
Gelden counts the money he collected from White and Jones comments on her heroic action. Jones asks whether Gelden would have turned White in to the police, and reminds him that she doesn't rely on anybody. Walker calls Jones, but she ignores it.
Walker calls Jones again, and tells her about Blaskowski's past as a criminal who got charged with assault but had the charges dropped. Jones tells Walker that she doesn't care about Blaskowski, but Walker continues to do research anyway.
A woman helps Hogarth install a piece that will make her toilet better suited to her medical condition. She tells Hogarth about future installments she will need, as well as recommending a style change to her apartment. Frustrated, Hogarth returns the installment and forces her out.
Ducasse finds out that Hogarth and Kith Lyonne dated in college, and Zaya Okonjo comes into his room. They discuss his lead and Ducasse's inability to discuss his forced silence. They kiss, but Okonjo returns to work. Walker sneaks into Ducasse's apartment and steals data about Blaskowski.
Jones and Gelden, having received the blackmail money from Reyna Pincer, go to her company building to find out whether she was Jones' attacker. They walk into her office and determine that she is not the attacker, and Jones demands to know what she did. Pincer confesses to having taken money from the company's petty cash to pay for her mother's surgery. Sensing that it was worse than that, Jones pushes her against the wall and forces her to confess to embezzling millions of dollars from her employees' pensions. She and Gelden leave the office, and Jones tells her employees about her actions.
Ducasse returns to his office, to find a file on Blaskowski opened on his computer. He sees Walker, who reminds him that he is not on the side of right. Ducasse tells Walker to leave, threatening to call security, and she does so.
Gelden and Jones sit in a park, as Gelden notices that the last person he blackmailed didn't pay. Jones says they should go investigate, but Gelden refuses, saying that he needs to pay Blaskowski. Gelden tries to defend himself for not using his powers for good, but Jones refuses to listen.
Ducasse confronts Hogarth about her motivations for sending Ducasse after Peter Lyonne. Ducasse leverages the information he has about Lyonne in order to get a raise. Hogarth hesitantly agrees and Ducasse tells her that Lyonne is stealing from his daughter's scholarship fund to buy gifts for his girlfriends. He tells Hogarth that the information could be anonymously spread. Hogarth refuses to distribute the information.
Gelden drives to the Blaskowski residence and runs into the house with the money he owes.
Hogarth and Kith Lyonne attend a performance of La Mer, where Hogarth introduces Lyonne to Mathias Cole, intending to establish a connection so that Lyonne could play with the New York Philharmonic. Hogarth tells Lyonne that she wants her to play with the Philharmonic, though Lyonne claims to be content teaching. They discuss Lyonne's marriage, and Hogarth says that she is not going to try to break them up.

La mer, trois esquisses symphoniques pour orchestre by Claude Debussy - October 1905
Claude Debussy - August 22, 1862
New York Philharmonic - 1842

Gelden gets thrown into the Blaskowski pool, when Walker shows up and starts fighting the family. She and Gelden defeat them, and Gelden leaves. Sal attacks Walker, who pushes her out of the way, accidentally stabbing her with a crowbar, nearly killing her.
Hogarth and Lyonne continue to watch the opera, and Hogarth watches Lyonne's hand studies the music. Lyonne starts having hand sex with Hogarth, reminding her how to cede control. As they leave the opera, they kiss, but her husband calls and asks to watch television with her, so Lyonne leaves.

I'm sorry, I'm an incredibly awkward asexual person and had no idea how to write this professionally

Jones breaks into and investigates the apartment of Gregory Sallinger, Gelden's final blackmail victim. She notices that Sallinger is missing a knife similar to the one she was stabbed with, and Jones starts recording their conversation. He pretends to be heard when Jones confronts him, saying that it's for the city's hidden cameras. They try to play mind games on each other, and Sallinger returns his missing knife to his collection. He calls 911, saying that Jones broke into his apartment and tried to hurt him, forcing Jones to leave.
Following orders texted to him by Hogarth, Ducasse releases the information about Peter Lyonne stealing from his scholarship fund.
Walker calls the hospital about Blaskowski, where she is relieved to find out that she is ok.
Jones returns to her apartment, where she finds Gelden sleeping. She wakes him up and finds a threat delivered by Sallinger, who thinks that they have proof he's a killer. Gelden leaves to lay low, while Jones resolves to take Sallinger down.
Walker hosts Style by Trish, and Jones calls, cryptically asking for help with Sallinger.
Sallinger slices and eats an apple while the corpse of his latest victim.
--Waiting to be checked up to here.
Marvel's Jessica Jones: Season 3, Episode 3 minute 53ish to end. Episode 4 beginning to end. --Done (do not delete until Jessica Jones events written/checked) from here--
7th
Billy Russo ambushes Curtis Hoyle on his way to his car, holding a gun to him and makes sure Hoyle ejects his magazine and round from the gun he carries. He says that he has been informed he shot Hoyle and is sorry, but feels he has already paid for it with his scars and broken memory. He asks Hoyle how that happened to him, who did it, but Hoyle claims he cannot say.[44][55]
--Done (do not delete until Jessica Jones events written/checked) up to here-- --Waiting to be checked from here--
Jessica Jones tells Trish Walker what she knows about Gregory Sallinger. Jones plans a stakeout and Walker suggests a more direct approach, which Jones realizes wouldn't work with a man with a law degree such as Sallinger. Jones acknowledges Walker as their advantage, since he doesn't know that she exists.
Sallinger develops photographs he took of the man he killed the previous night. He cleans up the dark room he set up and texts his workplace, saying tat he will be out of town. He places the pictures in an envelope, packages up the evidence, compliments himself for his work, and disposes of it.
Jones and Walker stake out Sallinger's apartment. Walker feels as though Jones is talking down to her, leading to another argument between them. Jones leaves to watch the back entrance while Walker sets up to watch the front.
Kith Lyonne talks to Jeri Hogarth about her husband, Peter Lyonne's theft from their daughter's scholarship fund. Hogarth promises to make her husband pay. Peter knocks on the door, and Kith thinks it's her son, so Hogarth opens the door while Kith puts herself together. Peter runs in and realizes that Hogarth is responsible for the information being exposed. Kith yells at Peter and leaves him. Hogarth tells him to get a good lawyer, and the two acknowledge that the other cannot be in a relationship with Kith.
Walker sees Sallinger put a photo in a hidden album and tells Jones. Jones plans on breaking in herself, but Walker hangs up and joins Jones on the street. Sallinger leaves his apartment, and Walker goes to the photo apartment while Jones considers following Sallinger, but instead runs after Walker. However, she sees that Walker had cut the power, so she resumes following Sallinger, who buys a newspaper.
Walker finds the photo album and sees pictures of Sallinger's victims. She returns to the album to its hiding spot and takes pictures of Sallinger's apartment.
Malcolm Ducasse receives a phone call from Hogarth, worried that Peter Lyonne might tell the public about her actions. Ducasse asks to use vacation time and disconnects the live feed he set up in Lyonne's office.
Jones continues to follow Sallinger, who sits on a bench across the street from Brianna "Berry" Gelden and her friends. Jones and Sallinger watch as Gelden pays Gor, who notices that she kept some money for herself, and makes her give him the rest. While Gor leaves, Erik Gelden appears and talks to Sallinger, who threatens Berry. He pays Gor and takes Berry into a hotel. Jones follows them instead of Sallinger.
Berry and Erik argue about Berry's career as a prostitute and Jones walks in. She confronts Erik about associating with Sallinger, but he explains what happened. Jones agrees that Berry needs to be taken somewhere safe.
Ducasse talks on the phone with Zaya Okonjo, who wants to make sure that he is ok. Okonjo tells Ducasse that she has to stay at work all night, and they hang up.

This scene is " a lot after" 5:00

Jones returns to her apartment, where Gillian and Walker are looking up information on Sallinger.
Jones visits Ducasse's apartment, where she asks him to take care of Berry. Although hesitant, Ducasse agrees after using his PI skills to figure out Berry and Erik's relationship. Erik tells Jones that he senses darkness in Ducasse, but Jones decides to trust him anyway.
Walker and Gillian tell Jones and Erik Gelden that four of Sallinger's victims were labeled missing by the police, causing them to realize he's a serial killer. Walker wants to beat Sallinger, but Jones says it's not a smart move, and Walker agrees angrily. Gillian advises them to work out their argument and leaves.
Okonjo shows Hogarth a video confession posted by Peter Lyonne, in which he explains his actions and Hogarth's immoral and illegal actions toward him. He accuses her of having powered individuals at her beck and call, getting them out of assault and murder. He shows that he had killed himself and was bleeding out. He urges the public for pushback against Hogarth, and apologizes to his family. Okonjo tells her that the police want to talk to her, and Hogarth tries to call Kith Lyonne, who sends her too voicemail.
Walker and Jones argue about her vigilante actions and the murder of Jones' mother. Walker leaves, and Jones and Gelden have sex.
Hogarth returns to her apartment and calls Kith Lyonne, who tells her to stay away from her.
--Waiting to be checked up to here--
Marvel's Jessica Jones: Season 3, Episode 5 beginning to minute 33ish.
--Done (do not delete until Jessica Jones events written/checked) from here--
8th
John Pilgrim looks over a Bible given to him by his wife, Rebecca, as well as photos of his family. He prepares his things and heads out of his hotel room.[44][55]
John Pilgrim sits in a cafe in New York City.[44][55]
Dinah Madani takes her pills, then goes to leave her apartment. There is a knock on her door, and she finds out it is Brett Mahoney. She opens the door and he comes in, saying he has worked out that there must have been a third person at the carousel, and suspected it to be Frank Castle before confirming with the two young people Russo kidnapped before the fight. He says he is disappointed that she cannot be honest, before leaving.[44][55]
Kidnapping of Nikolai Poloznev:

Castle pretends to be a homeless man so as to sneak up on Nikolai Poloznev's driver, then knocks him out.[44][55]
Amy Bendix poses as a waiter and shows Poloznev at breakfast that she has one of his photographs. He gets up and sends men after her, but she slips into the crowd of schoolgirls passing by. Poloznev gets into his car only to find Castle waiting in the driver seat.[44][55]

Dinah Madani visits a cafe, and John Pilgrim, who had been waiting for her, gets up from his seat to follow her.[44][55]
Madani notices Pilgrim following her and holds a gun to him. He says that he is there regarding Frank Castle and wants to know where he and the girl are. She refuses and takes a photograph of him, and he walks away, telling her she is easy to find.[44][55]
Madani rushes back to the cafe and tells them not to clean anything so she can take fingerprints.[44][55]
Castle drives Poloznev to the waterfront and walks him into a building. Poloznev says that he assumes Castle killed Kazan, but Castle explains that he did not, which makes Poloznev realize that they have mutual enemies. He tells Castle that the people after them are Anderson and Eliza Schultz, powerful people who have raised their senator son David Schultz to one day become president, but that he is homosexual, and his orientation, due to homophobia, and the cover-up, due to the lying, could sink his political career, so the photographs of him kissing another man are dangerous. Poloznev explains that the reason he wanted them was to be able to blackmail and control the Schultzes. Castle has him kneel and prepares to shoot him, but reconsiders when he thinks of Poloznev's innocent daughter. He tells Poloznev to leave the country with his family and walks away.[44][55]
Billy Russo joins Jake Nelson, Jimbo, and some other veterans at a bar.[44][55]
Madani instructs a forensics worker, Wendy, to assess the items from the cafe. The woman is excited.[44][55]
Chase of Jimbo's Car:

Jimbo lets the other veterans know that his car is being towed, and that he relies on the car to live in. Russo decides to lead the group in chasing down the tow driver. They stop him in the street and Russo angrily starts beating the driver until Nelson stops him.[44][55]

Bendix expresses her frustration to Castle about her friends dying over what she sees as a small matter, but Castle tells her the group were wrong to get involved in a blackmail scheme, and comments on her being silly to want to play with guns. She says she just wanted to be useful and feels like he sees her as useless, so he expresses some regret and asks her to sit back down. Bendix tells him she just hates their situation.[44][55]
Curtis Hoyle goes to meet Jimbo at a police station, where he has been taken in, caught after the tow driver incident. Jimbo explains what happened, and that the man leading the group was called Billy, and Hoyle realizes what is happening. He asks that Jimbo not tell the police anything.[44][55]
Assassination of Nikolai Poloznev: John Pilgrim finds Nikolai Poloznev and kills his men and him in an elevator.[44][55]
Brett Mahoney comes to Krista Dumont's apartment and subpoenas her for Billy Russo's files. She tells him she is hopeful about saving Russo. When Mahoney leaves, Russo steps out and admits that if she had told Mahoney about him, he would probably have killed him. He starts to comment on the fact that she seems lonely and in a poor emotional state. She tries to deflect talking about it, but he then confronts her about "KM", asking if he is some other "pet project" of hers and he is just some victim of a pattern she goes through. He grabs her and Dumont takes a letter-opener, stabbing him in the hand in self defense. The two stop, then Russo suddenly decides to kiss her.[44][55]
Both Madani and Castle get to Hoyle's meeting room, where Hoyle is waiting. Madani angrily tells Castle that his problems are now affecting her, showing him the picture she took of the mysterious man earlier. Hoyle tells them to both sit and explains what has been happening with Russo, that he came after him the day before and is crazy, and cannot just be taken in by a couple of policemen. Castle says he will deal with the man who came after Madani, but Hoyle says they have to focus on Russo first. Castle accepts this and says that he will have to end the Russo situation his way.[44][55]
--Done (do not delete until Jessica Jones events written/checked) up to here-- --Waiting to be checked from here--
Erik Gelden and Jessica Jones wake up, and Jones realizes that a missing handsaw returned to Gregory Sallinger's apartment between her visit and Trish Walker's. Gelden asks Jones why she feels obligated to stop Sallinger and asks to help, but Jones refuses. She leaves and asks him to make a hamburger before he leaves.
Jones shows Walker the missing handsaw and Walker explains that he has bags that could seal the body parts nicely. Jones asks for Walker's help visiting Maury Tuttlebaum at the morgue in Riverbank Medical Center.
Malcolm Ducasse talks about Peter Lyonne's suicide on the phone with Zaya Okonjo, who notices that Ducasse believes the death was his fault. She tries to comfort him, but gets called to continue working, so she hangs up. He helps Berry Gelden find her missing earring and tells her to take her medicine, but Berry packs, saying that she's leaving. Gor knocks on the door, planning to take her. Ducasse tries to stop Gelden from leaving, but Gor incapacitates him and they leave together.
Sallinger sits in his apartment, when Jones throws a dismembered hand borrowed from Tuttlebaum into his apartment. Sallinger closes his window and wonders whether the hand belonged to one of his victims. He looks out his window and sees Jones, so he calls the police, who approach her about a loitering compplaint they received.
Walker watches Sallinger leave his apartment with the hand in his backpack and texts Jones to tell her that he is leaving.
Jones receives the text and the police ask her if she has been drinking. She says no and that she is going to go home.
Instead, she joins Walker at a train yard, where they watch Sallinger dispose of the hand. Jones checks the tank for the bodies while Walker follows Sallinger. Jones walks into the tank and finds the body parts of his victims. She steps on a tripwire which seals the hatch and dumps chemicals into the water that dispose of the body parts and start to kill Jones.
Walker hears the hatch close, but continues following Sallinger while Jones tries to escape. She starts hitting the wall, trying to break it open, which Walker also hears. Walker attacks Sallinger, who tells her that Jones would die in thirty seconds. Walker chooses to save Jones instead of pursue Sallinger.
Jones thanks Walker for saving her life. Walker says that she wishes she hadn't killed Jones' mother, and Jones says that she wishes her mother weren't a mass murderer. The police arrive, so Walker leaves in order to remain anonymous.
Erik Gelden returns to his apartment, where he gets attacked and suffocated by Sallinger.
--Waiting to be checked up to here--
Marvel's Jessica Jones: Season 3, Episode 5 minute 33ish to end.
--Done (do not delete until Jessica Jones events written/checked) from here--
9th
--Done (do not delete until Jessica Jones events written/checked) up to here-- --Waiting to be checked from here--
Jessica Jones watches as the police examine a train yard filled with the body parts of Gregory Sallinger's body parts. Eddy Costa approaches Jones and asks for evidence and information, which Jones refuses to give. She gives Costa Sallinger's address and tells him where his secret photo album is. Jones leaves and tells Costa to call her when he needs her official statement.
Jones goes into Walker's car, and Walker wants to go to Sallinger's apartment, but Jones says that she wants to let the police handle it. Walker convinces Jones otherwise and gets a text from her mother, asking her to go to the filming of her television program. Jones advises her to go.
Erik Gelden wakes up in the kitchen of an old restaurant, and sees Sallinger with a camera setup. Sallinger describes the situation as a photoshop. He explains that Jones doesn't deserve his powers, which he describes as unfair. He asks how Gelden found out about Sallinger's crimes.
Ducasse returns to his apartment and searches for Berry Gelden online, when he receives a call from Zaya Okonjo. He dismisses Okonjo and an all-hands-on-deck meeting called by Jeri Hogarth in favor of looking for Gelden.
Hogarth hosts a meeting about Peter Lyonne's suicide and how it will end up impacting her employees. She gives her team a pep talk and asks Okonjo about whether Rand Enterprises will keep Hogarth as their attorney. She says that she plans on fighting for them, and Hogarth assures her that it's possible.
Jones sees Ducasse, who tells her about Gor attacking him, and they discuss his progress finding Gelden and Jones' progress with Sallinger. Jones tells Ducasse where Gelden works.
Jones returns to her apartment and receives a phone call from Sallinger using Erik Gelden's phone. He threatens to kill Gelden if Jones doesn't find them and explain how they found him. Sallinger starts taking pictures of Gelden, who tries to use a nut in his chair to break the duct tape binding his hands.
Jones tries to break into Sallinger's apartment, but Costa finds her and tells her not to pursue. They argue about Jones' involvement, and Costa says that Sallinger's photo album only contains landscapes. Jones says that there used to be pictures of Sallinger's eight victims, but Costa says that there were only seven victims in the train yard. The press arrive, and Costa leaves Jones a list of the seven victims they found. Walker meets with Jones, who promises to help find Gelden.
Ducasse receives a text from Jones about Gelden being kidnapped, and he approaches Gor. He beats Gor and Berry Gelden agrees to go with him. Ducasse tells Gelden that her brother was kidnapped and takes her back to his apartment.
Hogarth tries to attend Peter Lyonne's funeral, but gets recognized by Laurent Lyonne, who tells her to leave. She tries to defend herself, and Lyonne accidentally knocks her down, hurting her wrist. Hogarth gets herself up and asks Lyonne to tell his mother that she visited.
Jones shows Walker the picture of the man who wasn't on the list of victims found by the police, and they are stopped by Dorothy Walker, who demands to know where Trish has been. Jones invites Dorothy in and tells her that Trish is powered. Jones leaves to talk to Ducasse.
Trish returns to Jones' apartment and talks to Dorothy, who asks why Trish didn't tell her. Dorothy tries to talk Trish out of being a superhero since it's dangerous, but Trish yells at her for her parenting techniques. Dorothy leaves, and Trish begs her not to.
Jones asks Ducasse to run a facial recognition program looking for the eighth victim. They find Caspar Marx, who is still alive. Berry Gelden appears and reminds Jones that bad people make her brother sick, and asks them to hurry in finding him.
Erik Gelden tells Sallinger that he regrets taking advantage of people, but Sallinger doesn't believe him. Sallinger talks about his brother and his past, comparing Gelden to his brother. Sallinger realizes that being near Gelden gives him a headache, and that he has powers.
Jones defends her choice to tell Walker's mother about her powers, but Walker expresses anger. Jones enters Marx's restaurant, and Marx confesses that he thought that Sallinger was kidnapping him for kink purposes and kissed Sallinger, who fled. He tells Jones that this happened at his former location, and Jones realizes that that is where Sallinger is keeping Gelden.
Sallinger asks Gelden about how is power works. Sallinger defends his actions, and Gelden breaks the duct tape holding him and punches Sallinger in the face. Sallinger holds a knife to Gelden's neck, but the power goes out as Jones and Walker arrive. They knock Sallinger unconscious and Gelden helps them recover the missing pictures.
Jones brings Sallinger to the police, but Eddy Costa tells her that the bodies from the train yard had no evidence, meaning they couldn't hold him accountable. Costa explains that Jones' testimony as a witness is insufficient evidence, but that a second witness could help.
Jeri Hogarth and Zaya Okonjo speak to clients of Hogarth and Associates and celebrate successfully keeping two of their clients. Jones calls Hogarth, but she ignores it when she is visited by Steven Benowitz,who tells Hogarth that Linda Chao had convinced Rand Enterprises to hire her and Benowitz's law firm instead of Hogarth's.
Gelden wakes up in Jones' apartment, where Walker tells him that Sallinger is in jail. Gelden recognizes Walker's voice and promises not to tell anybody that she is a vigilante. Berry Gelden rushes into the apartment and talks to Erik.
Hogarth looks at a picture of her and Kith Lyonne from college, and Jones barges into her office despite Char's protests. She asks if Gelden could get immunity for testifying against Sallinger. Jones tells Hogarth that she was the one who found the bodies in the train yard, and Hogarth says that the maximum a good lawyer could do is get Gelden a year in prison. Char apologizes for Jones entering the office, and Hogarth has Char look into the bodies.
Berry Gelden walks in on Malcolm Ducasse lifting weights, and they talk about Ducasse's frustration with not knowing what's wrong with him. The two start to have sex, when Okonjo calls Ducasse, but he ignores it.
Jones returns to her apartment and tells Erik Gelden and Walker that unless Gelden testifies, Sallinger would walk. Gelden refuses, since his powers would hurt him too much. Jones allows him to make the choice, despite Walker's insistence. Walker leaves, and Jones and Gelden talk about Jone's heroism. They lay in bed together and Gelden talks about the way Sallinger talked about wanting to bring pain to power.

Al Capone - January 17th, 1899
Capone getting sentenced to prison, a fine, and court charges - October 24th, 1931

Marvel's Jessica Jones: Season 3, Episode 6 beginning to end.
--Done (do not delete until Jessica Jones events written/checked) from here--
10th
--Done (do not delete until Jessica Jones events written/checked) up to here--
Marvel's Jessica Jones: Season 3, Episode 7 beginning to minute 26ish.
--Done (do not delete until Jessica Jones events written/checked) from here--
11th
Craving drugs, Jake Nelson sneaks out of the building.[44][57]
Marion James meets with Dinah Madani. James says that she understands Madani's frustration regarding Russo's escape. Madani explains about Castle returning, and James recommends letting Castle kill Russo, but Madani says that she feels like that is still taking action, just letting someone else pull the trigger. James advises that sometimes, taking no action is the least worst option.[44][57]
Castle and Hoyle go to drive to the bank, but Madani says she cannot participate any longer and feels she must let Brett Mahoney know so he can deal with Russo. Castle tells her to simply do what she feels she needs to.[44][57]
Russo's crew sit around, waiting for Nelson. Meanwhile, Castle and Hoyle pull up near the warehouse, hoping to catch the crew before they leave. Russo tells his crew to give up on Nelson. Outside, Castle cocks his gun, preparing for an encounter. Russo reshuffles the team's positions. Castle and Hoyle close in on the warehouse. The crew get into their cars and start driving out, just as Castle and Hoyle arrive on the scene, moments too late. They rush back to the car to get to the bank.[44][57]
Russo's crew get back to their warehouse, where Bobby frees Anton Reed, who had been their man on the inside for the job. Reed says he deserves more than an even share. Bobby angrily tells Russo he nearly ruined the job, but Russo shoots him and Reed through the head.[44][58]
Curtis Hoyle tells Castle he is worried about having held a gun to a police officer. Castle reminds him he told him to stay in the car, but Hoyle says that he cares about him, and felt the need to take out the sniper. Castle tells Hoyle that Russo was shocked when Castle drew on him, genuinely not remembering what he did, and that for a moment it had made him hesitate as he remembered what Russo used to be like.[44][58]
Krista Dumont has another knock on her door, and finds Billy Russo, once again pleading to come in. He says he has nowhere else, but she closes the door on him. However, after a moment's consideration, she decides to open it and let him in again. Russo, distraught, tells her that the man in his nightmares was Frank Castle all along, and that he does not know why Castle, his best friend, would have done what he did. He tells Dumont she is the only one who can help him.[44][58]
Amy Bendix practices loading a shotgun and keeps herself occupied in her and Castle's trailer.[44][58]
Curtis Hoyle receives texts from his girlfriend, Delia, angry with him as she has worked out he has been lying about what he has been doing.[44][58]
Castle hides and listens as Mahoney and the police investigate Russo's warehouse. Mahoney checks the bodies of Reed, whom he still believes was a hostage, and Bobby.[44][58]
Castle returns to Hoyle and tells him about Russo killing the apparent hostage. Hoyle is frustrated that he missed his chance to shoot Russo, and more people have died because of it, as well as his problem with Delia. He angrily says that they served their time and should have been able to put this life behind them.[44][58]
Castle and Hoyle return to the trailer park, and Bendix decides she wants to practice the disarming move Castle taught her. She attempts it on him as he enters, but he becomes furious, already on-edge because of Russo, and shouting that he could have accidentally killed her. Hoyle tries to calm him down, but Castle says that they need to remember they are not playing games. He leaves the trailer again, wanting to hunt Russo down, and Hoyle follows him. Bendix slumps on the trailer floor, upset by her mistake.[44][58]
Mahoney visits Dinah Madani in her apartment and explains that they have discovered the apparent hostage might have been an inside man. He asks why she tipped him off about the robbery, and if she knew about Castle, and she explains that Castle told her about it, and she told him not to go, unsuccessfully. Mahoney comments that Castle could have killed him, but Madani explains that Castle would not shoot an officer, which Mahoney does not believe. He says that she needs to give up Castle, since she seems to be able to contact him, or else he will arrest her, and leaves.[44][58]
Krista Dumont tells Billy Russo that what has been done to him was awful, and Frank Castle must have wanted him to suffer for the rest of his life. She assures him that learning the truth behind what happened will help him will help, as he can now confront his pain. He asks why she let him in, and she says that likes that together, they look forwards in life.[44][58]
Castle beats Jake Nelson for more information on where Russo might be, but Hoyle pulls him off Nelson, saying he is acting like Russo.[44][58]
Castle goes walking through New York City as a thunderstorm erupts, needing to let off some of his anger.[44][58]
Russo wakes Dumont and angrily accuses her of having known about Castle and not told him. He furiously starts wrecking her house and scares her. He grabs her and holds her up to her window, telling her he wants to make her feel the way he has been made to feel. She, however, that she has love for him, thinking he can change, and would never lie to him or betray him. He lets her down and she asserts that this version of him is in fact better than before, as he is still standing after losing so much. Russo starts crying and lets her embrace him.[44][58]
Bendix is cooking in the trailer when she hears someone coming. She prepares the shotgun, thinking it might be an attacker since if it were Castle he would have announced himself. The shot misses the visitor, Curtis Hoyle, who calls out that it is him, and is bemused to find out Castle instructed her to shoot anyone who arrived without announcement. She lets him in and offers food.[44][58]
Russo meets with his crew and gives them their share of the money, but says that they are capable of much more. He suggests that they form a brotherhood to pull off many more attacks and take full control of their lives.[44][58]
Hoyle assures Bendix that, while Castle can be horrible, he was only angry because he cared about her. He talks about how he met Castle, and when Bendix asks if Russo was one of the people behind Castle's family's deaths, Hoyle confirms it, explaining how Russo had been like family to them and so had utterly betrayed Castle. There is a knock at the door, which worries the pair, but it is Dinah Madani. She tells Bendix that she met the mysterious man after her, but could not charge him with anything to arrest him. Hoyle asks how she found them, and she explains she tracked his phone, so Bendix melts his SIM card as Madani tells Hoyle that Mahoney wants to find the man who held a gun to him, whom she worked out was Hoyle, and that they need to get Russo for Mahoney and hand over Castle, then Hoyle might be cleared. Hoyle says he does not know where Castle is.[44][58]
Castle walks through the cemetery where his family were buried. Meanwhile, in the trailer, Bendix complains about Castle's actions. In the cemetery, Castle visits his family's joint grave. In the trailer, Bendix tells Hoyle and Madani she just wants her old life back. Castle mourns his family, while in the trailer, Madani and Hoyle drink to him. Castle reflects, and Hoyle meanwhile asks Madani if she will give Castle up. She is unsure.[44][58]
--Done (do not delete until Jessica Jones events written/checked) up to here--
Marvel's Jessica Jones: Season 3, Episode 7 minute 26ish to end.
--Done (do not delete until Jessica Jones events written/checked) from here--
12th
--Done (do not delete until Jessica Jones events written/checked) up to here--
Marvel's Jessica Jones: Season 3, Episode 8 beginning to end. Episode 9 beginning to minute 2ish.
--Done (do not delete until Jessica Jones events written/checked) from here--
13th
--Done (do not delete until Jessica Jones events written/checked) up to here--
Krista Dumont pours Dinah Madani a drink, and Madani starts to tell her about her feeling of ineffectiveness. Dumont encourages her to talk more about it, and Madani mentions that she wishes her or Castle, whom she admits was there at the carousel, had killed Billy Russo. Madani starts to explain that Castle and Russo are strongly linked.[44][60]
Attack on John Pilgrim:

Kusack's men attack John Pilgrim. He fights back, headbutting one in the mouth, lodging two of his teeth in his head. He is sliced across his torso, but manages to slice one attacker's throat then stab another. He is punched in the jaw, dislocating it, and the attacker continues to pummel him, but Pilgrim managed to slam his neck on a table, steal his knuckledusters, and kick his head repeatedly.[44][60]
His men all down, Kusack returns to kill Pilgrim himself. Pilgrim, however, overpowers him. He throws him to the ground and beats his face, using the stolen knuckledusters, until he is dead. Danny tries to run, but Pilgrim shoots him down. He reclaims his hat and takes a drink, then cocaine from one of the men's pockets.[44][60]

Madani says it is not logical to think Russo can still be helped, but Dumont says humans work on emotion, not logic. She starts to say that Castle and Russo are not so different, both killing mercilessly, but Madani insists Castle has a code, only killing guilty people. Dumont objects to the idea of objective innocence and guilt.[44][60]
Marvel's Jessica Jones: Season 3, Episode 9 minute 2ish to minute 27ish.
14th
Pilgrim, bloodied, sits in his hotel room and drinks, then takes cocaine. He removes the teeth embedded in his scalp, rips his shirt to use as a bandage, and replaces his dislocated jaw.[44][60]
Frank Castle scouts out Valhalla and spots a secret tunnel entrance.[44][60]
John Pilgrim ignores a call coming to his room. He is angered by partying noise in a nearby room, and gets up and goes down the hall, knocking on the door. A man, Bob Wick, answers, spending time taking drugs with prostitutes. Pilgrim raises a gun to his head and enters.[44][60]
Curtis Hoyle calls into work claiming to be sick as he and Frank Castle set up on a roof near Valhalla. Hoyle tells Castle about the Hashashin and how they gave their members what they wanted, making themselves the only ones offering it to induce loyalty. He compares it to what Russo is doing, saying they will not be happy when he attacks, but Castle says that in the end, Russo will be alone as always.[44][60]
After killing Wick, Pilgrim has one of the prostitutes perform oral sex on him, breaking his devout orthodox religious beliefs, as he hysterically rambles about breaking from a brotherhood and finding his own nature, as well as his feeling of shame. The phone continues to ring in his room as he thinks of Rebecca and how unfaithful he is being, deciding to kick out the prostitute.[44][60]
Frank Castle and Curtis Hoyle stand on the roof near Valhalla in the rain. Hoyle spies on the hideout through the sights of a sniper rifle. Unknown to them, Billy Russo is watching them from a nearby roof.[44][60]
Castle tells Hoyle that he never wanted him involved in everything, but he is highly grateful for everything he has done. He talks about how he misses the brotherhood of the army, and starts to say that he should have spotted what Russo was like. Hoyle tells him that he would not have been able to stop him, so he should not beat himself up. Castle, however, wonders if he is just like Russo, praising Hoyle for being a healer rather than a killer. Hoyle assures him, however, that they are nothing alike, since Castle actually cares about people. Castle admits that he thinks a lot about the people he killed.[44][60]
Marvel's Jessica Jones: Season 3, Episode 9 minute 27ish to minute 47ish.
15th
Marvel's The Punisher: Season 2, Episode 10 minute 9ish to end. Episode 11 beginning to end. Episode 12 beginning to end. Episode 13 beginning to minute 9ish.
Marvel's Jessica Jones: Season 3, Episode 9 minute 47ish to end. Episode 10 beginning to minute 15ish.
16th
Marvel's The Punisher: Season 2, Episode 13 minute 9ish to minute 49ish.
Marvel's Jessica Jones: Season 3, Episode 10 minute 15ish to minute 31ish.
17th
--Done from here--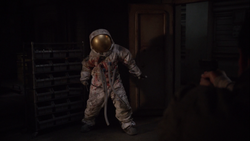 Leo Fitz is busy working, desperate to find a way to compress gravitonium so as to close the Fear Dimension for good. He and Jemma Simmons discuss what their wishes would be if the dimension were for wishes instead, and Simmons mentions potentially having a honeymoon. The astronaut manifestation suddenly attacks and kills an agent helping them, before Simmons shoots it and it reduces to wisps of smoke.[48][61]
Yo-Yo Rodriguez tests the new robotic arms that Alphonso Mackenzie and Leo Fitz have worked on for her. She is desperate to get fighting again, but Mackenzie tells her that it will take time, but in the meantime, the team will protect her.[48][61]
Fitz tries to ask Deke Shaw about gravitonium but he is distant, thinking about Fitz and Simmons being his grandparents. When they get his attention, he explains that he does not now much about the material. Fitz and Simmons leave to look for Franklin Hall's notes for further insight, and Daisy Johnson gets a location on General Hale's phone, believing her to have slipped up.[48][61]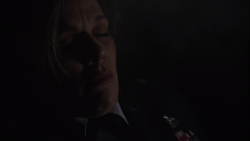 Capture of Hale: Hale is driving when suddenly her car hits an invisible ramp. The car drives unwittingly into a cloaked Zephyr One, and the agents throw a gas canister into the vehicle to render her unconscious. Phil Coulson thanks Piper for her help in giving them Hale's phone number, saying it can be the first step for her redemption.[48][61]
Deke Shaw finds Fitz and tries to help him, but is suddenly knocked out by the man, who is not Fitz as they know him, but the Doctor from the Framework.[48][61]
Fitz returns to the control room having not found any physical notes from Dr. Hall. He asks Johnson if she found any digital copies, but she has not, and he becomes anxious, frustrated, and stressed. The monitor then shows two cameras suddenly go out downstairs and Johnson leaves to check the floor herself.[48][61]
Fitz desperately tries to work out what to do, but is interrupted by the Doctor. Fitz is terrified to see him, believing him to be a manifestation from the Fear Dimension.[48][61]
Yo-Yo Rodriguez tells Alphonso Mackenzie that she wants to help, but Mackenzie insists on just moving her hospital bed to a safer floor. Before they can act, what appears to be one of Hale's Sleeper Mechs enters with a gun.[48][61]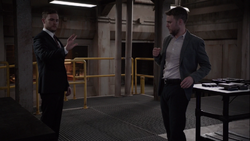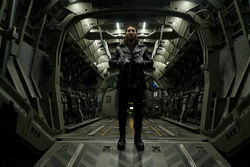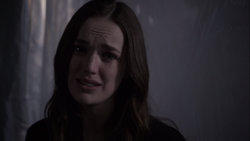 The Doctor tells Fitz he is removing Johnson's inhibitor, and Fitz is horrified. The two Fitzes argue, and Daisy Johnson becomes confused. Simmons enters and suddenly Fitz stops seeing the Doctor, and does not understand, but Simmons explains to him what she has worked out: the Doctor was never there. He was not an anomaly from the Fear Dimension, but a result of a psychic split Fitz is experiencing following his time in the Framework, with the Doctor personality taking control over the day and having got Fitz to separate Johnson from the others.[48][61]
Upset, Fitz begins to slip back into his dangerous Doctor mindset, and says that this personality simply has the will to do what Fitz does not: to risk Johnson's paralysis and the destruction of the Earth in order to restore Johnson's powers so she can compress the gravitonium and they can close the rift that endangers the planet. He refuses to deactivate the Sleeper Mechs that arrive and hold Simmons, as well as the now-arriving Deke Shaw, at bay, and removes the inhibitor. Johnson mutters that she will never forgive him.[48][61]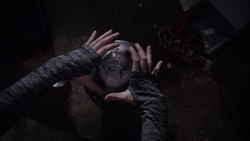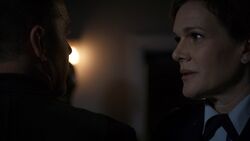 --Done up to here--
Marvel's The Punisher: Season 2, Episode 13 minute 49ish to minute 53ish.
Marvel's Jessica Jones: Season 3, Episode 10 minute 31ish to minute 46ish.
18th
--Done from here--
Coulson wakes in the academy and, as with Glenn Talbot 6 months prior, finds cereal and is approached by Ruby Hale, only for her to ignore him. Unlike Talbot, however, he is unfazed.[48][62]
Just like with Talbot, Hale takes Coulson to see the Phase Harmonic Teleportation Device. She sets the longitude, latitude, and altitude destination and forces him to touch it as they are teleported to see Qovas.[48][62]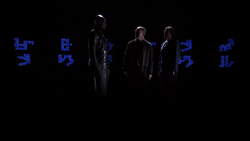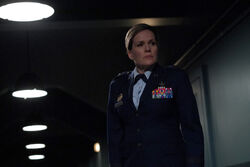 Ruby Hale visits Coulson in his room and asks how, if the "Destroyer of Worlds" caused the planet to fall apart, she fails in the future. Coulson explains to her that she, in fact, was not the Destroyer of Worlds, and Hale surmises that it is in fact Daisy Johnson. She asks where Johnson is, wanting to take her out, but Coulson says he will not talk. Hale shows him what happened to the last person who said that - bringing out Glenn Talbot, who is haggard and exhausted, broken by Hale's six months of torture.[48][62]
--Done up to here--
Marvel's Jessica Jones: Season 3, Episode 10 minute 46ish to end. Episode 11 beginning to end.
19th
--Done from here--
Daisy Johnson and Melinda May realize through General Hale's connections that she works for HYDRA. May realizes that with Leo Fitz still struggling with his HYDRA persona, they can ask him how Hale might think.[48][62]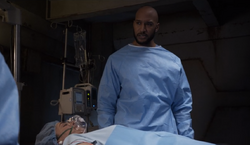 Alphonso Mackenzie and Jemma Simmons operate on Yo-Yo Rodriguez to affix her new robotic arms. He tries to comfort Simmons, saying that he knows through having been changed by the Framework himself that at Fitz's heart is his good self. The arms begin to work, and Mackenzie informs Simmons of Rodriguez's assertion that she cannot be killed, which interests Simmons.[48][62]
Fitz tells May that he believes Hale is building a weapon, but that to work out why she needs Coulson, he will need resources and access outside of his cell. Johnson bursts in and says that this is not an option as he cannot be trusted. May tells Johnson to remember that he is on their side, but Johnson says not to defend him. Fitz states that he cannot apologize because in doing what he did, he saved the lives of the town of River's End, as well as potentially many more if the rift had continued to grow. She says that they do not turn on each other, but Fitz points out that she has done it herself. Johnson storms out, saying that they will find another way.[48][62]
Johnson tells May that she is flying to take Robin Hinton out of hiding so she can ask the girl what she knows.[48][62]
Jemma Simmons enters Leo Fitz's cell and hands him his multipurpose tool, as well as an almost identical, but older-looking one. She explains that the older one is from Deke Shaw, who got it from his grandfather: Fitz. Fitz is not pleased to find out that Shaw, whom he finds irritating, is his grandson, but Simmons reminds him that this means they have to live into the future, and are thus invincible.[48][62]
--Done up to here--
Marvel's Jessica Jones: Season 3, Episode 12 beginning to minute 5ish.
20th
--Done from here--
Phil Coulson sits in isolation without food or a bed to sleep in. Hale hopes it will make him more ready to give them information.[48][63]
Having obtained gravitonium, Hale offers Carl Creel the chance to experience the new material. Ruby Hale suggests that they offer Coulson something in exchange for help learning about how gravitonium works, but her mother says that they tried already and now they just need to torture him.[48][63]
Creel touches the gravitonium, but is suddenly yanked in by it and thrust into the air. He tells Hale that he believes the material is in some way alive.[48][63]
Alphonso Mackenzie visits Yo-Yo Rodriguez, who is testing out her new robotic arms on a punching bag. He advises that she take care with the new arms and in general, considering her gung-ho attitude.[48][63]
Leo Fitz takes another look at Deke Shaw now that he knows he is his grandson, and is vocal in how he is disappointed that of all the people in 2091, Shaw had to be his descendant. Shaw admits that Fitz's actions with closing the rift made him respect him more, as it reminded him of the tough decisions he and others had to make in 2091 to survive.[48][63]
Jemma Simmons asks Shaw how much he knows about her and Fitz's lives, and he tells her that he knows they survive to live in the Lighthouse. Now knowing that, like Rodriguez, she and Fitz cannot be killed, she asks him to not say any more about her future.[48][63]
Simmons tries to convince Daisy Johnson to let Fitz help because his aid can be much more clear and immediate, but she refuses. She says that Zephyr One is leaving to pick up Robin Hinton and that Mackenzie is under orders to keep Fitz locked up. Simmons leaves and Johnson tells Melinda May that once they find Phil Coulson, she will relinquish her new leadership position.[48][63]
Simmons questions Yo-Yo Rodriguez about her feeling that she cannot die. Rodriguez worries Simmons is doubting her but Simmons explains that she agrees with her and informs her about Shaw being her and Fitz's grandson and thus the proof that they also survive. With Johnson not listening, she decides that they must get Fitz out themselves to start acting, saying that while Alphonso Mackenzie is the only person with control over Fitz's cell door, she knows how to get around him.[48][63]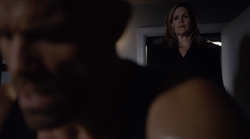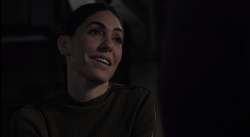 Yo-Yo Rodriguez asks Alphonso Mackenzie to release Fitz, but he refuses, saying to ask Coulson when he gets back, but Rodriguez says this is too late. When she continues to suggest that she is happy to act recklessly, Mackenzie becomes frustrated with her, and asks if she has perhaps considered that the only reason she survives is because he is advising caution right now.[48][63]
Carl Creel hears the voices in his head talking about Coulson, and decides to leave to find him.[48][63]
Creel attacks Coulson, saying that the voices in his head want him dead, but Coulson informs him of what Hale has done to Glenn Talbot. Creel is not sure who to believe, but when Coulson's Sleeper Mech guard returns, he is forced to make a decision, and snaps its head off, telling Coulson that he will trust him for now, but kill him if he is lying.[48][63]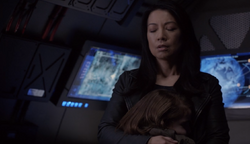 Polly Hinton gives Daisy Johnson Robin's last drawing - one of her own death - and wonders what it could mean. Johnson lies and says she is not sure. Robin, meanwhile, gets up and walks over to Melinda May, calling her "mom". She hugs her and proudly says that she told her Flint would get her back home. Polly is left hurt by her daughter ignoring her.[48][63]
Creel and Coulson find Glenn Talbot, who is still muttering to himself and slightly mad. They convince him to come with them, and Coulson asks him to quieten down.[48][63]
Liberation of Leo Fitz:

Jemma Simmons tells him that of the four beakers, three contain water while one contains a phosphoric acid compound, and that she will drink a random three to prove her invincibility, as despite the odds, all three will be water because she cannot be killed. Simmons drinks the first and second beakers, both water. Mackenzie threatens to shoot Simmons non-fatally to stop her from drinking more, but Simmons calls his bluff and drinks a third beaker. However, when she does, she collapses and starts writhing on the floor.[48][63]

Desperate to save his wife, Fitz begs to be released so he can help, and Mackenzie relents. However, as soon as Fitz is out, Rodriguez uses her super speed to push Mackenzie into the cell and lock it, and Simmons reveals that she was faking, having drank water again. Fitz is relieved, having not been warned about the stunt, but Simmons reveals that she was not entirely lying, having genuinely filled one beaker with acid.[48][63]
Rodriguez apologizes to Mackenzie and turns to pick up his gun. However, not in full control of her new arms, she accidentally pulls the trigger and fires a bullet. The group realize none of them have been hit and, believing that the hypothesis that they cannot be killed has been proved between the beaker test and the luck with the bullet, the trio prepare to set off.[48][63]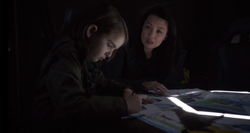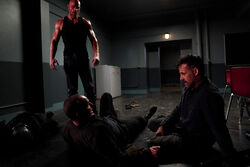 As the alarm sounds throughout the academy, Coulson, Creel, and Talbot are attacked by Sleeper Mechs. When Coulson is punched in the chest, his weakened heart stops. Creel touches one of the deactivated Sleeper Mechs, turning himself to metal and conducting its electricity to jumpstart Coulson's heart, reviving him.[48][63]
Ruby Hale arrives with more Sleeper Mechs and they pursue the trio as they run to make an escape.[48][63]
Melinda May and Polly Hinton talk about Robin. Polly admits that she has noticed she is not in Robin's drawings of the future, so knows she will likely die soon, but May assures her that will not happen. Robin spots calls to her mother to come and sit with her, and Polly is pleased that her daughter still wants to call her "mommy" despite ignoring her earlier.[48][63]
Escape from the HYDRA Preparatory Academy:

Coulson, Talbot, and Creel believe they are trapped, but Coulson has an idea. He takes Talbot with him as Creel stays behind to fight and buy them time.[48][63]
Phil Coulson shows Glenn Talbot the Phase Harmonic Teleportation Device, and sets a random location on Earth. They teleport away to safety.[48][63]

Creel is met by Ruby Hale and fights her. She throws a ring blade at him and he uses the stick he is carrying to turn his chest to wood, allowing it to lodge in the material rather than kill him. Her mother enters and sends Ruby after Coulson and Talbot.[48][63]

Coulson and Talbot arrive at the random location: a snowy environment in the South Jasper Ranges - the same mountains Robin Hinton drew for Melinda May.[48][63]
Leo Fitz, Jemma Simmons, and Yo-Yo Rodriguez arrive in Herefordshire, England - the first of three potential locations for Hale's weapon, and the most likely according to Fitz due to hints from Gideon Malick. The trio skydive to the ground, leaving the autopilot to park the Quinjet nearby and cloak it.[48][64]
Glenn Talbot tells Phil Coulson that he feels like he let people down, as they walk through the snow to find somewhere warm.[48][64]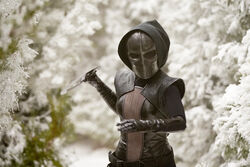 Ruby Hale finds the Phase Harmonic Teleportation Device and activates it, teleporting herself to the two men's location. She starts to follow their footprints left in the snow.[48][64]
The team on Zephyr One, led by Daisy Johnson, decide to land near the location of Robin Hinton's drawing so they can search for Coulson.[48][64]
Ruby Hale catches up with the men and throws a ring blade, missing, but having it return to her immediately. Before she can attack further, Agent Johnson arrives and quakes Hale aside. Coulson is concerned about her having her powers back, but relieved for the rescue, and Melinda May helps him and Talbot back to the plane.[48][64]
Ruby Hale expresses her excitement to be meeting Quake, but says that while she has a fascination with Johnson, she does not want to be her, she wants to beat her. They engage in a fight and Deke Shaw, despite being told to leave, lingers in case Johnson needs help. Ruby manages to cut Johnson, but she quakes the young girl away again. However, General Hale arrives on the scene and opens fire, and Shaw is shot.[48][64]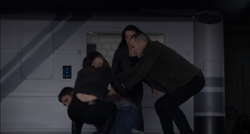 The trio in England move in on the base. Fitz reads an encrypted radio signal and realizes there are vehicles incoming. They hide as trucks arrive with Sleeper Mechs, and notice that they are led by Anton Ivanov.[48][64]
Piper and Mackenzie work to save Shaw. Coulson and Talbot watch on, and Coulson tells him what his team encountered in the future, as well as the fact that he will die soon. Talbot is disappointed that Coulson does not have good news, so Coulson reassures him that they are trying their best to cause a better future.[48][64]
Melinda May takes Phil Coulson aside and angrily asks why he handed himself over so readily, saying that he is giving up too easily. Coulson objects, but May says that he is not the only person affected by his death, as the people who love him also should be involved in his decision-making. She admits that she is one of them - that she loves him, which leaves him speechless, then leaves.[48][64]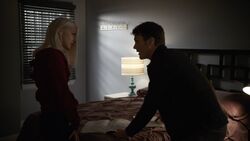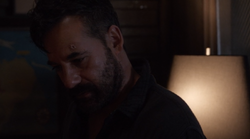 Daisy Johnson visits Glenn Talbot, who is momentarily alarmed, remembering how he was shot by someone who looked like her. He comes to his senses, recalling that it was not actually her, and she asks him if he wants anything. Talbot says he wants to contact his wife and son, but Johnson believes this too risky. He becomes upset and frustrated, saying that he abandoned his family and is desperate to talk to them, and Johnson says that she might be able to find a secure channel. She asks him to tell her everything he remembers about Hale.[48][64]
Leo Fitz and Jemma Simmons look at the technology in the laboratory. Yo-Yo Rodriguez reveals what she learned from her 2091 self: that trying to save Coulson is what leads to the end of the world, and they need to let him die. Before they can discuss it further, the door begins to rattle as the Sleeper Mechs return. They make a plan to open the door momentarily as Rodriguez uses her super speed to take the androids out, but when they try, Rodriguez finds herself incapable of action and screams in pain.[48][64]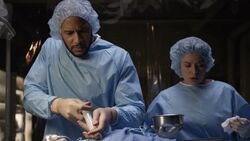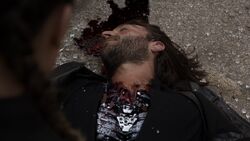 Ivanov attacks Rodriguez and insists that he no longer feels pain. However, Rodriguez manages to push him through a window, killing him.[48][64]
Simultaneously, inside the building, the Sleeper Mechs deactivate.[48][64]
Rodriguez realizes that Ivanov was controlling all the androids, so in killing him, she took them all out.[48][64]
Deke Shaw wakes, delirious from painkillers. With no self-control, he blabs about how he fancies Daisy Johnson and wants to kiss her. Mackenzie puts him back to sleep just as Johnson enters and lets them know that they have found a signal from Hale's androids.[48][64]
Leo Fitz concludes that they are safe, since whatever caused the mechs to fail, they are now deactivated. However, Ruby Hale and Werner von Strucker then enter, threatening them with a gun. Von Strucker realizes that they have destroyed a component for the chamber and need it repaired, so Hale threatens to slice Jemma Simmons' throat with her ring blade unless they fix it. Fitz reluctantly agrees.[48][64]
Daisy Johnson informs Talbot that she has found a way to get him a line to talk to his family very briefly. He calls and his wife, Carla, picks up. However, unbeknown to him, Candice Lee has found her and forces her to read the set of conditioning words from a card to her husband. Due to Hale having conditioned him during the 6 months she had him in prison, the words trigger him to comply to HYDRA's will.[48][64]
With his HYDRA conditioning activated, Glenn Talbot mutters to himself confusedly that he has to complete his programmed mission.[48][65]
Talbot goes to disable security feeds, thus allowing him to roam the Lighthouse without hindrance. Alphonso Mackenzie catches him and questions what he is doing, but Talbot explains that he is simply confused from his 6 months imprisoned by Hale, and Mackenzie shows him sympathy, letting him go.[48][65]
Scott Lang spends another weekend with his daughter, Cassie. Hope van Dyne joins them and the trio get into one of Hank Pym's shrinking cars, shrinking it so they can use a laptop as if, relative to them, it were the size of a cinema screen. They watch Them!, and Cassie tells van Dyne she wants to be her father's partner, but explains that he wanted to work with her instead, which makes van Dyne smile. A moth flies onto the laptop screen and Scott turns on the car headlights to scare it away, but instead accidentally attracts it to the vehicle, causing the moth to bother them as they laugh together.[56][46]
Ruby Hale continues to threaten Jemma Simmons' life to motivate Leo Fitz, having spent several hours working on fixing the Particle Infusion Chamber, but not yet sorted the problem. Fitz is stressed, worried for Simmons and yet wanting to stall the chamber's completion. He requests that Hale let Simmons go, stating that he needs her help. Releasing Simmons, Hale admires their relationship, and Fitz responds to remind her that everyone she loves will die if they go ahead with making her the Destroyer of Worlds. Hale shows little care for this, remarking that there are not many people left who she cares about. Werner von Strucker returns to the room, having found Anton Ivanov's dead body, which gives Fitz and Simmons some hope that Yo-Yo Rodriguez escaped. They tell Hale that the remainder of the process will take some time, but Hale simply threatens that if they do not hurry, she will begin to dismember them, like she did to Rodriguez.[48][65]
--Done up to here--
Marvel's Jessica Jones: Season 3, Episode 12 minute 5ish to minute 17ish.
21st
--Done from here--
--Done up to here--
Marvel's Jessica Jones: Season 3, Episode 12 minute 17ish to minute 34ish.
22nd
--Done from here--
General Hale uses the Phase Harmonic Teleportation Device to visit Qovas. She tells him that S.H.I.E.L.D. still have the gravitonium he wants, but that she can tell him where they are hiding. He asks if she wants them to be killed, and, mourning for Ruby, she says that she now has no reason to stop him.[48][65]
--Done up to here--
Marvel's Jessica Jones: Season 3, Episode 12 minute 34ish to minute 41ish.
23rd
--Done from here--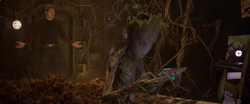 --Done up to here--
Marvel's Jessica Jones: Season 3, Episode 12 minute 41ish to end. Episode 13 beginning to minute 16ish.
24th
Marvel's Jessica Jones: Season 3, Episode 13 minute 16ish to minute 28ish.
25th
Marvel's Jessica Jones: Season 3, Episode 13 minute 28ish to minute 36ish.
26th
Marvel's Jessica Jones: Season 3, Episode 13 minute 36ish to minute 42ish.
27th
Marvel's Jessica Jones: Season 3, Episode 13 minute 42ish to end.
August
17th
Marvel's The Punisher: Season 2, Episode 13 minute 53ish to end.
To Add
Add New York Bulletin stuff.
References
↑ It is stated in Speak of the Devil, The Path of the Righteous, and The Devil You Know that Wilson Fisk was 12 when he killed his father. With the kill dated to November 6, 1973 (see 1970s references), he would have been born between November 7, 1960 and November 6, 1961. So, approximating using the midpoint, around May 1961.
↑ Using Meredith Salenger's age at the time of filming No Good Deed, working back from the setting, Lily Ellison would have been born around January 1970. However, using Chris Carfizzi's age at the time of filming No Good Deed, working back from the setting, Jason Ellison would have been born around April 1975. Jason says Mitchell and Lily Ellison renewed their wedding vows when he was 8, but, using these ages, Lily would have only been around 13. So, Lily Ellison must have been born earlier than January 1970, and Jason later than April 1975. Adjusting so that Lily was at least 18, it can be calculated that Lily was born around January 1968 and Jason late January 1977, with the vows renewed around January 28, 1986, just after Lily turned 18 and before Jason turned 9. The details of the calculation may be found here.
↑ James Hiroyuki Liao was approximately 41.8 at the time of filming The Fury of Iron Fist. Working back from the October 3, 2017 setting (see 2017 references), Albert would have been born around November 1975.
↑ Using Jay Ali's age at the time of filming Daredevil: Season 3, working back from the setting, Ray Nadeem would have been born around December 1980.
↑ Using Wilson Bethel's age at the time of filming Daredevil: Season 3, working back from the setting, Benjamin Poindexter would have been born around November 1983.
↑ Using Deborah Ann Woll's ages at the times of filming Daredevil: Seasons 1 and 2, The Defenders: Season 1, The Punisher: Season 1, Daredevil: Season 3, and The Punisher: Season 2 and working back from the settings, Karen Page would have been born around February 1985. This partially informs the dating of the flashback events of Karen to March 2004 (see 2000s references), with it said to be her gap year, but at the same time other evidence also places it in March 2004, thus suggesting Page graduated high school in Spring 2003, making her most likely born between September 1984 and August 1985, so also around early 1985. On Marvel Television Live Auction Lot #368: Karen Page's New York Bulletin Press Badge and News Agency Identification, it is shown that Page is supposed to be "31" (even though the ID says male, it is intended to be hers) during the main events of Daredevil: Season 2 in October-November 2015 (see 2015 references), so likely born around the first half of 1984. Overall, a calculation gives approximately October 1984 for Page's date of birth.
↑ In The Fury of Iron Fist, Albert says, "When I was 12 years old, I almost joined the Hatchets." With Albert's date of birth approximated to November 1975 (see 1970s references), specifically November 28, 1975, the middle of his time as a 12-year-old (as an approximation for this event) would have been roughly May 29, 1987.
↑ In Heart of the Dragon, the credits say the flashback Danny Rand and Davos are "13 year old Danny" and "13 year old Davos". Similarly, in A Duel of Iron, they are credited as "12 Year Old Danny" and "12 Year Old Davos". This means that Rand and Davos overlap in age. In The Fury of Iron Fist, Davos calls Rand "little brother", so he is older. With Rand born on April 1, 1991 (see other references), this means Davos was born between April 2, 1990 and April 1, 1991. With Sacha Dhawan's ages at the times of filming Iron Fist: Season 1 and Season 2, working back from the settings, his age would suggest Davos being born closer to 1983, so this would imply that Davos was born closer to April 2, 1990 than April 1, 1991. It can be calculated that he was born roughly around August 1990.
↑ 10.0 10.1 In The Perfect Game, flashbacks are shown of Benjamin Poindexter. Cameron Mann, who plays the youngest Poindexter, was born April 5, 2006, making him around 11.8 years old at the time of filming. With Poindexter's date of birth approximated to November 1983 (see 1980s references), it would make his scenes approximately August 1995. Marvel Television Live Auction Lot #327: Dr. Mercer's Empathy Notes on Young Benjamin 'Dex' Poindexter shows that Poindexter's first session was on March 20th. The closest March 20th, therefore, is March 20, 1995, placing those flashbacks in March 1995, and the following listed appointments from Lot #327 March-May 1995, with Marvel Television Live Auction Lot #376: Wilson Fisk's Files on Benjamin 'Dex' Poindexter listing appointments that can then be dated to October-December 1995.
↑ Cite error: Invalid <ref> tag; no text was provided for refs named DD305
↑ 12.0 12.1 In Please, flashbacks are shown of young Matt Murdock, played by Skylar Gaertner as in Daredevil: Season 1. Gaertner was approximately 13.4 years old during filming for Please. With Murdock's date of birth approximated to early January 1985 (see 1980s references), this would then place the flashbacks around approximately mid-June 1998. However, Murdock says his "confirmation is in the spring", implying it is winter, and this matches the weather shown (with the scene filmed around December). It can be taken to be the same time of year as when the episode was filmed. With the episode filmed around December 4, 2017, it can be assumed it is approximately the closest December 4th to mid-June 1998: December 4, 1998.
↑ On Marvel Television Live Auction Lot #886: Mary Walker's Classified Papers, it says Walker "served 8 years in various locals" before being "captured and held in isolation". With Walker's capture dated to January 21, 2010 (see 2010 references), 8 years prior can be seen as exactly 8 years prior, approximately January 21, 2002, or more generally "2010 - 8 = 2002", so using mid-2002, July 2, 2002, as an approximation. Putting more weight in the specific than general, a weighted calculation gives the beginning of her service as approximately March 16, 2002.
↑ Based on Jessica Henwick's ages at the times of filming Iron Fist: Season 1, The Defenders: Season 1, Wig Out, and Iron Fist: Season 2, and working back from the respective settings, it can be calculated that Colleen Wing was born around approximately March 28, 1992. In War Without End, Wing recognizes a story her mother used to tell her before she moved to the U.S., so she must have been at least 3 years old at the time of moving country. Marvel Television Live Auction Lot #673: Chikara Dojo Bulletin Board indicates Wing was in New York teaching by at least January 19, 2014. Therefore, the window during which she must have moved is March 28, 1995-January 19, 2014. Approximating with the midpoint of this window, Wing can be estimated to have moved around August 23, 2004.
↑ 17.0 17.1 17.2 17.3 In A Duel of Iron, Walker says she was freed after "22 months". On Marvel Television Live Auction Lot #886: Mary Walker's Classified Papers, it says Walker "served 8 years in various locals" before being "captured and held in isolation". Taking Alice Eve's age at the time of filming and working back from the setting, Mary Walker would have been born around September 1981. Given that she then could have joined the army no earlier than September 1998, the earliest she could have been kidnapped then would be January 1, 2006 (and calling it "8 years" in the general sense of "2006 - 1998 = 8") making the middle of her imprisonment roughly early December 2006 at the earliest. In Citadel on the Edge of Vengeance, it is said that Walker's escape was "years ago", making it roughly late 2015 at the latest, so the middle of her imprisonment roughly January 2015 at the latest. Using the mid-point of this window to approximate, the middle of her imprisonment can therefore be calculated to be roughly December 21, 2010, making her imprisonment roughly January 21, 2010-November 21, 2011. The specifics of the calculation can be found here.
↑ In No Good Deed, a couple state, on October 24, 2017 (see other references), that they booked their Presidential Hotel room "months ago". This could refer to any time from late 2016 to August 2017, but a calculation would suggest they booked around roughly March 26, 2017.
↑ In A New Napkin, Felix Manning states, on October 31, 2017 (see other references), that Fisk has been "planning the ceremony for months". This could refer to any time from late 2016 to early September 2017, but a calculation would suggest he began planning around roughly March 29, 2017.
↑ Cite error: Invalid <ref> tag; no text was provided for refs named IF2.2FDD3_Late_2017_Placement
↑ 24.00 24.01 24.02 24.03 24.04 24.05 24.06 24.07 24.08 24.09 24.10 24.11 24.12 24.13 24.14 24.15 24.16 24.17 Iron Fist: 2.07: Morning of the Mindstorm
↑ In No Good Deed, Karen Page says, "A week ago, he tells his family that he regrets the sale and announces his intention to buy the hotel back," and Ellison responds, "And 2 days later, Kazemi gets attacked." This implies he was attacked 5 days ago, with Ellison knowing that the attack was 2 days after the event she was referring to just from it being said to be "a week ago". However, the attack is definitively only 2 days prior to the discussion, so it must be taken that Ellison in fact knows when Kazemi made this statement, to then know that it was 2 days before the attack - and Page is rounding up to "a week" from just 4 days.
↑ 26.00 26.01 26.02 26.03 26.04 26.05 26.06 26.07 26.08 26.09 26.10 26.11 26.12 26.13 26.14 26.15 26.16 26.17 26.18 26.19 26.20 26.21 26.22 26.23 26.24 26.25 26.26 26.27 26.28 26.29 Iron Fist: 2.10: A Duel of Iron
↑ 27.00 27.01 27.02 27.03 27.04 27.05 27.06 27.07 27.08 27.09 27.10 27.11 27.12 27.13 27.14 27.15 27.16 27.17 27.18 27.19 27.20 27.21 27.22 27.23 27.24 27.25 27.26 27.27 27.28 27.29 27.30 27.31 27.32 27.33 27.34 27.35 27.36 27.37 27.38 27.39 27.40 27.41 27.42 27.43 Daredevil: 3.06: The Devil You Know
↑ Cite error: Invalid <ref> tag; no text was provided for refs named AoS5_Fitz_June_30th-November_25th
↑ Cite error: Invalid <ref> tag; no text was provided for refs named AoS5_Ballblaster_Hooligan
↑ In Rewind, Fitz has written a letter to the editor of the fictional fanzine Ballblaster Hooligan, for Liverpool fans, in which he refers to the manager having "arrived 3 years ago". In the real world, Jürgen Klopp took over in October 2015, which would suggest that this is now 2018. However, there is a wealth of evidence placing the end of Season 4 in May 2017, and this is less than 6 months (later in the episode it is said to have been 6 months) after. The episode Rewind itself confirms that the episode is set in 2017, cutting to "2091", "74 years later". It can be assumed that either they are referring to it being the 3rd soccer season since he took over or simply that the Liverpool managers were different/at different times in the MCU.
↑ Cite error: Invalid <ref> tag; no text was provided for refs named AoS505
↑ 32.00 32.01 32.02 32.03 32.04 32.05 32.06 32.07 32.08 32.09 32.10 32.11 32.12 32.13 32.14 32.15 32.16 32.17 32.18 32.19 32.20 32.21 32.22 32.23 32.24 32.25 Daredevil: 3.07: Aftermath
↑ 33.00 33.01 33.02 33.03 33.04 33.05 33.06 33.07 33.08 33.09 33.10 33.11 33.12 33.13 33.14 33.15 33.16 33.17 33.18 33.19 33.20 33.21 33.22 33.23 33.24 33.25 33.26 33.27 33.28 33.29 33.30 33.31 Daredevil: 3.08: Upstairs/Downstairs
↑ 35.00 35.01 35.02 35.03 35.04 35.05 35.06 35.07 35.08 35.09 35.10 35.11 35.12 35.13 35.14 35.15 35.16 35.17 35.18 35.19 35.20 35.21 35.22 35.23 35.24 35.25 35.26 35.27 35.28 35.29 35.30 35.31 35.32 35.33 35.34 Daredevil: 3.09: Revelations
↑ 36.00 36.01 36.02 36.03 36.04 36.05 36.06 36.07 36.08 36.09 36.10 36.11 36.12 36.13 36.14 36.15 Daredevil: 3.10: Karen
↑ 37.00 37.01 37.02 37.03 37.04 37.05 37.06 37.07 37.08 37.09 37.10 37.11 37.12 37.13 37.14 37.15 37.16 37.17 37.18 37.19 37.20 37.21 37.22 37.23 37.24 37.25 37.26 37.27 37.28 37.29 37.30 37.31 37.32 37.33 37.34 37.35 37.36 Daredevil: 3.11: Reunion
↑ 38.00 38.01 38.02 38.03 38.04 38.05 38.06 38.07 38.08 38.09 38.10 38.11 38.12 38.13 38.14 38.15 38.16 38.17 38.18 38.19 38.20 38.21 38.22 38.23 38.24 38.25 38.26 38.27 38.28 38.29 38.30 38.31 38.32 38.33 38.34 38.35 Daredevil: 3.12: One Last Shot
↑ 39.00 39.01 39.02 39.03 39.04 39.05 39.06 39.07 39.08 39.09 39.10 39.11 39.12 39.13 39.14 39.15 39.16 39.17 39.18 39.19 39.20 39.21 39.22 39.23 39.24 39.25 39.26 39.27 39.28 39.29 39.30 39.31 39.32 39.33 39.34 39.35 39.36 39.37 39.38 39.39 39.40 39.41 39.42 39.43 39.44 39.45 39.46 Daredevil: 3.13: A New Napkin
↑ Cite error: Invalid <ref> tag; no text was provided for refs named TP105
↑ 42.00 42.01 42.02 42.03 42.04 42.05 42.06 42.07 42.08 42.09 42.10 42.11 42.12 42.13 42.14 42.15 42.16 42.17 Jessica Jones: 3.02: AKA You're Welcome
↑ 43.00 43.01 43.02 43.03 43.04 43.05 43.06 43.07 43.08 43.09 43.10 43.11 43.12 43.13 43.14 43.15 43.16 43.17 43.18 43.19 Jessica Jones: 3.01: AKA The Perfect Burger
↑ 44.000 44.001 44.002 44.003 44.004 44.005 44.006 44.007 44.008 44.009 44.010 44.011 44.012 44.013 44.014 44.015 44.016 44.017 44.018 44.019 44.020 44.021 44.022 44.023 44.024 44.025 44.026 44.027 44.028 44.029 44.030 44.031 44.032 44.033 44.034 44.035 44.036 44.037 44.038 44.039 44.040 44.041 44.042 44.043 44.044 44.045 44.046 44.047 44.048 44.049 44.050 44.051 44.052 44.053 44.054 44.055 44.056 44.057 44.058 44.059 44.060 44.061 44.062 44.063 44.064 44.065 44.066 44.067 44.068 44.069 44.070 44.071 44.072 44.073 44.074 44.075 44.076 44.077 44.078 44.079 44.080 44.081 44.082 44.083 44.084 44.085 44.086 44.087 44.088 44.089 44.090 44.091 44.092 44.093 44.094 44.095 44.096 44.097 44.098 44.099 44.100 44.101 44.102 44.103 44.104 44.105 44.106 44.107 44.108 44.109 44.110 44.111 44.112 44.113 44.114 44.115 44.116 44.117 44.118 44.119 44.120 44.121 44.122 44.123 44.124 44.125 44.126 44.127 44.128 44.129 44.130 44.131 44.132 44.133 44.134 44.135 44.136 44.137 44.138 44.139 44.140 44.141 44.142 44.143 44.144 44.145 44.146 44.147 44.148 44.149 44.150 44.151 44.152 44.153 44.154 44.155 44.156 44.157 44.158 44.159 44.160 44.161 44.162 44.163 44.164 44.165 44.166 44.167 44.168 44.169 44.170 44.171 44.172 44.173 44.174 44.175 44.176 44.177 44.178 44.179 44.180 44.181 44.182 44.183 44.184 44.185 44.186 44.187 44.188 44.189 44.190 44.191 44.192 44.193 44.194 44.195 44.196 44.197 44.198 44.199 44.200 44.201 44.202 44.203 44.204 44.205 44.206 44.207 44.208 44.209 44.210 44.211 44.212 44.213 44.214 44.215 44.216 44.217 44.218 44.219 44.220 44.221 44.222 44.223 44.224 44.225 44.226 44.227 44.228 44.229 44.230 44.231 44.232 44.233 44.234 44.235 44.236 44.237 44.238 44.239 44.240 44.241 44.242 44.243 44.244 44.245 44.246 44.247 44.248 44.249 44.250 44.251 44.252 44.253 44.254 44.255 44.256 44.257 44.258 44.259 44.260 44.261 44.262 44.263 44.264 44.265 44.266 44.267 44.268 44.269 44.270 44.271 44.272 44.273 44.274 44.275 44.276 44.277 44.278 44.279 44.280 In Fight or Flight, Restless by Ryan Innes plays on the radio, indicating it is set after April 13, 2018, when the song was released. In One Bad Day, it is shown that events following the duel at the Central Park carousel in Memento Mori, dated to December 13, 2016, are "one year ago" (with Madani also saying this in the episode), suggesting late 2017, or, if the flashback scene is early January 2017, then early 2018. Then, during the robbery scene, a calendar is shown with days/dates and holidays aligning exactly with May 2018 (also fitting Restless). It is stated to be Friday, making it Friday 4th, 11th, 18th, or 25th, with the flashback presumably early January 2017. The current boxes and files employees are shown to be using are also shown to say "2018", further affirming the year. In My Brother's Keeper, a banner is up for an event on "APRIL 18-20", but can be assumed to have just been left up afterward. In Flustercluck, 2 days later, a phone calendar is shown saying it is the 13th, placing the robbery on Friday, May 11, 2018. The Abyss contains confirmation that it is after the events of A New Napkin, dated to November 2017 (see 2017 references). It also shows an ID valid "01/18"-"01/20", again further affirming that it is 2018, not 2017. It is also still sunny after 19:19, so between approximately March 18th and September 14th, fitting with the May setting. Brett Mahoney also says it is Tuesday, 2 days after the phone indicated it was the 13th, fitting with it being Tuesday, May 15, 2018. So, the season's main events can be placed from April 28 (27 including the flashbacks comprising the majority of Roadhouse Blues), 2018 to May 17, 2018.
Jeph Loeb stated that all Marvel Television released between April 2018 and April 2019 is set before the Snap of Avengers: Infinity War (1, 2). The placement of The Punisher: Season 2 does end up contributing to the Snap being as late as its May 31, 2018 placement (see other references), but, simultaneously, an approximate May 31, 2018 placement for the Snap is suggested regardless, so the main events of The Punisher: Season 2 finishing by May 17, 2018 fit accordingly. The only issue is the "three months later" epilogue scene of The Whirlwind, which would occur in August 2018, after the Snap. However, this is not enough to contradict the clear April-May 2018 placement of the main events (nor push the Snap to August, with plenty of evidence placing it in the first half of 2018 - see other references). It must be assumed that Frank Castle and Dinah Madani survived the Snap. The scene itself provides no contradiction to the event of the Snap, and can comfortably be set after.
↑ 45.00 45.01 45.02 45.03 45.04 45.05 45.06 45.07 45.08 45.09 45.10 45.11 45.12 45.13 45.14 45.15 45.16 45.17 45.18 45.19 45.20 45.21 45.22 45.23 45.24 45.25 45.26 45.27 45.28 45.29 45.30 45.31 45.32 45.33 45.34 The Punisher: 2.01: Roadhouse Blues
↑ 46.000 46.001 46.002 46.003 46.004 46.005 46.006 46.007 46.008 46.009 46.010 46.011 46.012 46.013 46.014 46.015 46.016 46.017 46.018 46.019 46.020 46.021 46.022 46.023 46.024 46.025 46.026 46.027 46.028 46.029 46.030 46.031 46.032 46.033 46.034 46.035 46.036 46.037 46.038 46.039 46.040 46.041 46.042 46.043 46.044 46.045 46.046 46.047 46.048 46.049 46.050 46.051 46.052 46.053 46.054 46.055 46.056 46.057 46.058 46.059 46.060 46.061 46.062 46.063 46.064 46.065 46.066 46.067 46.068 46.069 46.070 46.071 46.072 46.073 46.074 46.075 46.076 46.077 46.078 46.079 46.080 46.081 46.082 46.083 46.084 46.085 46.086 46.087 46.088 46.089 46.090 46.091 46.092 46.093 46.094 46.095 46.096 46.097 46.098 46.099 46.100 46.101 46.102 46.103 46.104 46.105 46.106 46.107 46.108 46.109 46.110 46.111 46.112 46.113 46.114 46.115 46.116 46.117 46.118 46.119 Ant-Man and the Wasp
↑ 47.00 47.01 47.02 47.03 47.04 47.05 47.06 47.07 47.08 47.09 47.10 47.11 47.12 47.13 47.14 47.15 47.16 47.17 47.18 47.19 47.20 47.21 47.22 47.23 47.24 47.25 47.26 The Punisher: 2.02: Fight or Flight
↑ 48.000 48.001 48.002 48.003 48.004 48.005 48.006 48.007 48.008 48.009 48.010 48.011 48.012 48.013 48.014 48.015 48.016 48.017 48.018 48.019 48.020 48.021 48.022 48.023 48.024 48.025 48.026 48.027 48.028 48.029 48.030 48.031 48.032 48.033 48.034 48.035 48.036 48.037 48.038 48.039 48.040 48.041 48.042 48.043 48.044 48.045 48.046 48.047 48.048 48.049 48.050 48.051 48.052 48.053 48.054 48.055 48.056 48.057 48.058 48.059 48.060 48.061 48.062 48.063 48.064 48.065 48.066 48.067 48.068 48.069 48.070 48.071 48.072 48.073 48.074 48.075 48.076 48.077 48.078 48.079 48.080 48.081 48.082 48.083 48.084 48.085 48.086 48.087 48.088 48.089 48.090 48.091 48.092 48.093 48.094 48.095 48.096 48.097 48.098 48.099 48.100 48.101 48.102 48.103 48.104 48.105 48.106 48.107 48.108 48.109 48.110 48.111 48.112 48.113 48.114 48.115 48.116 48.117 48.118 48.119 48.120 48.121 48.122 48.123 48.124 48.125 48.126 48.127 48.128 48.129 48.130 48.131 48.132 48.133 48.134 48.135 48.136 48.137 48.138 48.139 48.140 48.141 48.142 48.143 48.144 48.145 48.146 48.147 48.148 48.149 48.150 48.151 48.152 48.153 48.154 48.155 48.156 48.157 48.158 48.159 48.160 48.161 48.162 48.163 48.164 48.165 48.166 48.167 48.168 48.169 48.170 48.171 48.172 48.173 48.174 48.175 48.176 48.177 48.178 48.179 48.180 48.181 48.182 48.183 48.184 48.185 48.186 48.187 48.188 48.189 48.190 48.191 48.192 48.193 48.194 48.195 48.196 48.197 48.198 48.199 48.200 48.201 48.202 48.203 48.204 48.205 48.206 48.207 48.208 48.209 48.210 48.211 48.212 48.213 48.214 48.215 48.216 48.217 48.218 48.219 48.220 48.221 48.222 48.223 48.224 48.225 48.226 48.227 48.228 48.229 48.230 48.231 48.232 48.233 48.234 48.235 48.236 48.237 48.238 48.239 48.240 48.241 48.242 48.243 48.244 48.245 48.246 48.247 48.248 48.249 48.250 48.251 48.252 48.253 48.254 48.255 48.256 48.257 48.258 Reference omitted for sake of ease.
↑ 50.00 50.01 50.02 50.03 50.04 50.05 50.06 50.07 50.08 50.09 50.10 50.11 50.12 50.13 50.14 50.15 50.16 50.17 50.18 50.19 50.20 50.21 50.22 50.23 50.24 50.25 50.26 50.27 50.28 50.29 The Punisher: 2.03: Trouble the Water
↑ Cite error: Invalid <ref> tag; no text was provided for refs named JJ304
↑ Cite error: Invalid <ref> tag; no text was provided for refs named JJ303
↑ 53.00 53.01 53.02 53.03 53.04 53.05 53.06 53.07 53.08 53.09 53.10 53.11 53.12 53.13 53.14 53.15 53.16 53.17 53.18 53.19 53.20 53.21 53.22 53.23 The Punisher: 2.04: Scar Tissue
↑ 54.00 54.01 54.02 54.03 54.04 54.05 54.06 54.07 54.08 54.09 54.10 54.11 54.12 54.13 54.14 54.15 54.16 54.17 54.18 54.19 54.20 54.21 54.22 54.23 54.24 54.25 54.26 54.27 54.28 54.29 54.30 The Punisher: 2.05: One-Eyed Jacks
↑ 55.00 55.01 55.02 55.03 55.04 55.05 55.06 55.07 55.08 55.09 55.10 55.11 55.12 55.13 55.14 55.15 55.16 55.17 55.18 55.19 55.20 55.21 55.22 55.23 55.24 55.25 55.26 55.27 55.28 The Punisher: 2.06: Nakazat
↑ 56.0 56.1 56.2 56.3 In Ant-Man and the Wasp, a montage after Scott Lang is released from house arrest on May 2, 2018 (see other references) includes four scenes before the mid-credits scene set on May 31, 2018 (see other references). Firstly, Scott goes to Maggie Lang's house and hugs Cassie. While this can be interpreted as the first thing he does after release, he has changed clothes and asks Cassie "You ready?", implying he is picking her up. On Sunday, April 29, 2018, when Cassie says, "I had a fun weekend, Daddy," Scott replies, "Me too, Peanut. Just wait till next weekend." So, this should not be until the weekend after Scott's release, making it Saturday, May 5, 2018.
Following this is Luis securing the Karapetyan deal. With news from the San Francisco chase playing and the group being busy receiving calls, it appears to be shortly after May 2, 2018. While the trio missed their Karapetyan meeting on May 2nd, Karapetyan would presumably not wait too long to get in contact. Since Kurt is arranging a meeting for "Monday", this would suggest it is not currently Sunday or Monday. Tuesday, May 8, 2018 is too far from the main events of the film, so the other option, to be taken, is Saturday, May 5, 2018, hours after Scott picks up Cassie. He is in the same clothes. Presumably she is just not with him at that moment.
Hank Pym and Janet van Dyne then go to the beach, then Hope van Dyne sits with Scott and Cassie in a car to watch Them!. These can be distributed between May 5th and May 31st, making the Them! scene approximately May 22nd. However, this is not a weekend, and Scott seems to only have Cassie on weekends. The closest weekend day is May 20th. Then, placing the beach scene halfway between May 5th daytime and May 20th evening would put it around the morning of May 13th.
↑ 57.00 57.01 57.02 57.03 57.04 57.05 57.06 57.07 57.08 57.09 57.10 57.11 57.12 57.13 57.14 57.15 57.16 57.17 57.18 57.19 57.20 57.21 57.22 57.23 57.24 57.25 57.26 57.27 57.28 The Punisher: 2.07: One Bad Day
↑ 58.00 58.01 58.02 58.03 58.04 58.05 58.06 58.07 58.08 58.09 58.10 58.11 58.12 58.13 58.14 58.15 58.16 58.17 58.18 58.19 58.20 58.21 58.22 58.23 58.24 58.25 58.26 58.27 The Punisher: 2.08: My Brother's Keeper
↑ Cite error: Invalid <ref> tag; no text was provided for refs named TP209
↑ Cite error: Invalid <ref> tag; no text was provided for refs named TP210
↑ 61.00 61.01 61.02 61.03 61.04 61.05 61.06 61.07 61.08 61.09 61.10 61.11 61.12 61.13 61.14 61.15 61.16 61.17 61.18 61.19 61.20 61.21 61.22 61.23 61.24 61.25 61.26 61.27 61.28 61.29 Agents of S.H.I.E.L.D.: 5.14: The Devil Complex
↑ 62.00 62.01 62.02 62.03 62.04 62.05 62.06 62.07 62.08 62.09 62.10 62.11 62.12 62.13 62.14 Agents of S.H.I.E.L.D.: 5.15: Rise and Shine
↑ 63.00 63.01 63.02 63.03 63.04 63.05 63.06 63.07 63.08 63.09 63.10 63.11 63.12 63.13 63.14 63.15 63.16 63.17 63.18 63.19 63.20 63.21 63.22 63.23 63.24 63.25 63.26 63.27 63.28 63.29 63.30 63.31 Agents of S.H.I.E.L.D.: 5.16: Inside Voices
↑ 64.00 64.01 64.02 64.03 64.04 64.05 64.06 64.07 64.08 64.09 64.10 64.11 64.12 64.13 64.14 64.15 64.16 64.17 64.18 64.19 64.20 64.21 64.22 64.23 64.24 64.25 64.26 64.27 64.28 64.29 64.30 64.31 Agents of S.H.I.E.L.D.: 5.17: The Honeymoon
↑ 65.00 65.01 65.02 65.03 65.04 65.05 65.06 65.07 65.08 65.09 65.10 65.11 65.12 65.13 65.14 65.15 65.16 65.17 65.18 65.19 65.20 65.21 65.22 65.23 65.24 65.25 65.26 65.27 65.28 65.29 65.30 65.31 65.32 Agents of S.H.I.E.L.D.: 5.18: All Roads Lead...
↑ Cite error: Invalid <ref> tag; no text was provided for refs named JJ312
↑ 67.0 67.1 James Gunn confirmed that the Guardians of the Galaxy Vol. 2 Groot mid-credits scene is years after the film, shortly before Avengers: Infinity War. It has been placed 1 week before the start of Avengers: Infinity War.
↑ In Avengers: Infinity War, Thor says on Wednesday, May 30, 2018 that Xandar was attacked "last week". The middle of the previous week would be Wednesday, 23, 2018.
↑ Cite error: Invalid <ref> tag; no text was provided for refs named AIW
Community content is available under
CC-BY-SA
unless otherwise noted.