"I only ask that you take this matter seriously."
"The only matter I do not take seriously, boy, is you. Your politics bore me. Your demeanor is that of a pouty child. And apparently, you alienated my favorite daughter, Gamora. I shall honor our agreement, Kree, if you bring me the Orb. But return to me again empty handed... And I will bathe the starways in your blood."
What can I say about myself? I'm a big fan of the Marvel Cinematic Universe and I like to think that I know everything about it but the truth is, I don't. So that's why i'm here, to learn more about it and to edit pages so that others can learn as much as I did from this wikia.
Favorite characters
Superheroes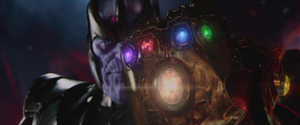 Villains
Favorite movies, One-Shots, TV series & comics
Movies
One-Shots
TV Series
Comic
Most anticipated upcoming movie & TV series
Movies
TV series
Community content is available under
CC-BY-SA
unless otherwise noted.