Jurassic World: Dominion Dominates Fandom Wikis - The Loop
Play Sound
The United States Department of Damage Control, also known by its acronym DODC or simply Damage Control, is a federal executive department responsible for dealing with enhanced conflicts. Initially a subsidiary of S.H.I.E.L.D., Damage Control specialized in cleaning up the post-battle damage caused by agents. As a response to the Chitauri Invasion, Damage Control was made into an executive branch of the United States government in 2012, and in a joint venture with Stark Industries, was tasked with collecting powerful and alien technology.
By 2024, the Department of Damage Control had transitioned into a federal law enforcement agency tasked with apprehending enhanced individuals along with seizing dangerous and alien artifacts.
History
S.H.I.E.L.D.
The Damage Control team was present both at the highway and Stark Industries Headquarters in Los Angeles to contain and repair all damage done by the battle between Iron Man and Iron Monger. Stark and James Rhodes were later encountered Phil Coulson at a secret S.H.I.E.L.D. base. Coulson told them that Stark's fight against Stane was good but he needs to learn how to become a real fighter, before showing Damage Control at work.[1]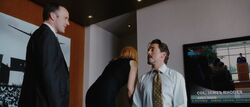 The following day, before Stark's press conference, a news ticker-tape on KNKV News mentioned that Damage Control Officials were expected to issue a report on the Duel of Los Angeles within the following days.[2]
Under New Management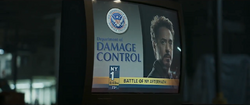 In 2012, following the Battle of New York, Damage Control was transferred from S.H.I.E.L.D. and made into an executive department of the United States government. Officially designed as the United States Department of Damage Control, the department, in a joint venture with Stark Industries, began the collection and salvage of all alien materials present.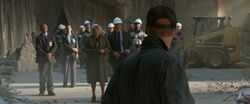 Under Executive Order 396-B, all clean up would fall under Damage Control's jurisdiction. This caused companies such as Bestman Salvage to lose their contracts.[3][4]
Watchdogs in Naperville
Damage Control was called by S.H.I.E.L.D. to clean up an attack executed by the Watchdogs in the Mackenzie Residence in Naperville, Illinois.[5]
Triskelion Mess
By 2016, the Department of Damage Control was still cleaning up the destroyed Helicarrier and Triskelion rubble in Washington, D.C..[6]
Robbery at Queens Community Bank
In 2016, due to the confrontation between the Criminal Avengers and Spider-Man, the Queens Community Bank and Delmar's Deli-Grocery were seriously damaged. Damage Control was assigned to clean up the aftermath of the incident. Anne Marie Hoag and Foster arrived at the scene to supervise the cleanup.[4]
Spider-Man Investigation
Interrogating Peter Parker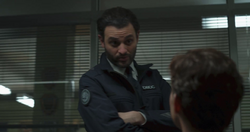 In 2024, following the revelation that Peter Parker was Spider-Man, Damage Control units, led by P. Cleary, arrived at the Parker Residence. They, along with the New York City Police Department, arrested Parker and brought him to the police station. As Parker was handcuffed to an interrogation table, he told Cleary that they could ask Nick Fury for evidence that he did not kill Quentin Beck, but Cleary told him that Fury had been in space for the past year. He then proceeded to tell Parker that despite his pleas of being innocent, the drones that killed Beck were under Parker's name. Other Damage Control agents then brought May Parker, Michelle Jones, and Ned Leeds into the station for questioning. Cleary interrogated all of them, stating that they all would need a lawyer.[7]
Battle at Happy Hogan's Condominium
That November, after being informed of Peter Parker's whereabouts by J. Jonah Jameson, Damage Control units arrived at a condominium complex in Long Island and were told Parker was inside. However, they soon witnessed the Lizard, who was from another universe within the Multiverse, break out of a F.E.A.S.T. truck parked out front nearby and were startled upon seeing it, unsure of what it was. They then watched as Doctor Octopus was thrown out of the condominium and escaped.
Shortly, the complex was destroyed after explosives were set off and despite having little to go on, agents began to infiltrate the area and spotted Parker in the wreckage. Parker yelled at them to call an ambulance, but they didn't hear him. Fortunately, Happy Hogan arrived in time and separated Parker from the agents by driving in between them with his car. Hogan was then forced out of the car and got handcuffed. While being taken into custody, Hogan yelled at Parker to run. Agents filed past him and fired their guns, with one able to shoot Parker in the shoulder. Emotionally distraught and angry, Parker fled the scene.[7]
Ms. Marvel Investigation
Learning about Ms. Marvel
In 2025, Sadie Deever and P. Cleary were at Damage Control Headquarters when they saw a video of Ms. Marvel demonstrating powers at the New Jersey AvengerCon. Concerned, Cleary told Deever to apprehend the enhanced individual in.[8]
Interrogating Zoe Zimmer
P. Cleary and Sadie Deever called Zoe Zimmer inside the Headquarters for an interrogation about what happened as she had been rescued and seen firsthand the powers. When Cleary realized that Zimmer wouldn't be helpful for their cause, he concocted a theory that she had been responsible for the incident by using her friend or sister to do so. Deever then entered the room and pressed her more, discovering that Ms. Marvel was South Asian. Following this, Cleary told Deever to investigate every temple, community center and mosque, while reminding her to exercise caution as the FBI monitored the mosques.[9]
Sadie Deever and other agents used the Stark Industries Combat Drones to locate Ms. Marvel in Jersey City. They ambushed her in an alleyway, although she used her hard light to leap above them. One of the agents used the Stark Sonic Cannon to destroy her hard light platform, but they were unable to apprehend her as she had been rescued by an unknown party.[9]
To be added
Members
Appearances
In chronological order:
Trivia
Behind the Scenes
References
External Links