Jurassic World: Dominion Dominates Fandom Wikis - The Loop
Play Sound
The United States Armed Forces are the military forces of the United States of America. They mainly consist of the Army, Navy, Marine Corps, Air Force, and Coast Guard.
History
When the USA entered World War II in 1941, the US Armed Forces had to fight on two fronts in Europe and North Africa, and in the Pacific. To improve their chances to win the war, the Strategic Scientific Reserve, the Allied secret science agency, began to work on Project Rebirth, which resulted in the creation of Captain America.
In 1943, on the battlefields of Europe, the US Army had to face many advanced and deadly weapons developed by HYDRA led by Johann Schmidt.[1]
James Barnes' Orders
The 107th Infantry Regiment was ordered to be shipped out for England to aid the other regiments in taking Italy. Serving on the front lines of World War II, was Roger's best friend, Bucky Barnes and his unit, which included Dum Dum Dugan and Gabe Jones. The 107th were ambushed by the Wehrmacht troops at Azzano on the Italian Front, taking heavy casualties until another German unit then appeared and used an extremely powerful tank which proceeded to easily kill the remaining Nazis who fled. However, the tank turns on the 107th and inflict even more devastating casualties with Barnes and his unit being captured by HYDRA. Only 34 of the soldiers from the regiment were only able to make it back behind friendly lines.
In October 1943, Barnes and the other Allied POWs, including Jacques Dernier and James Montgomery Falsworth, were imprisoned in a Austrian HYDRA Weapons Facility being used as human laborers for the organizations war machine including parts of the Valkyrie. When Barnes became too weak to continue, he was taken to serve as a test subject for Arnim Zola's super soldier experiments and received Zola'seated version of the Super Soldier Serum. Fortunately, Captain America arrives just in time to liberate the prisoners and escape after destroying the factory. The freed prisoners battled HYDRA forces, seizing many weapons and vehicles to clear their way out. The officer in charge, Johann Schmidt observed the ensuing chaos on the security monitors and activated an alarm signal in the whole facility, before realizing that Captain America also infiltrated the base. In order to avoid the facility being captured, Schmidt activate the self-destruct sequence.
Rogers eventually found Barnes in a laboratory, where a map showing other HYDRA facilities was displayed. Rogers memorized the map and began searching an exit with Barnes just before the self-destruct mechanisms started to explode. As the two tried to find a way out, they came across Schmidt and Zola, where Schmidt taunted Rogers about their no longer human nature after being subjected to Abraham Erskine's Super Soldier Serum.
In 1944, on the order of John McGinnis, a US Army Air Forces plane flew over the Soviet positions around the German town of Finow, releasing the gas called the Midnight Oil in hopes of helping the Soviets crush the German resistance. However, the gas turned the Soviet soldiers into raving beasts, and most of them killed each other. That incident later became known as the Battle of Finow.[2]
Captain America's Leadership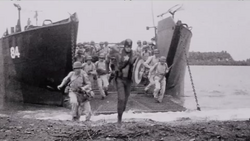 On June 6 of that year, members of the US 1st Infantry, along with Captain America and forces from the British Armed Forces (including a Canadian division), stormed the beaches of Normandy on the coast of Nazi-occupied France. The American units secured Omaha Beach and Utah Beach, while the British/Canadians secured Gold Beach, Juno Beach, and Sword Beach. Veterans from the landings on Omaha Beach would later reminisce with Captain America, who served on Utah Beach, during a party at Avengers Tower.
Once the beachhead at Normandy was established, American units penetrated deep into Europe, fighting against the Nazis and HYDRA alongside Captain America in battles such as the Battle of the Bulge, eventually advancing all the way into Germany.
In early 1945, the Strategic Scientific Reserve had managed to crack HYDRA's encryption codes and, coupled with other intelligence, allowed the SSR to confirm Arnim Zola's presence on board a Schnellzug EB912 traveling through the Central Eastern Alps along the Danube River. The Howling Commandos, led by Captain America, were tasked with the capture of Zola. Having calculated where the armored train would be, the commandos set up a zip-line from the cliff to the mountainside on which the tracks ran, allowing them to travel safely over a deep valley. One by one, Captain America, Bucky Barnes, and Gabe Jones slid over the valley and landed on top of the train as it passed by, with the other Howling Commandos stayed behind, acting as overwatch for the now-in-progress mission.
During the operation, swarms of HYDRA guards began pouring out of the pilot and into the middle cars of the train. Barnes and Rogers engaged them in a tense firefight, trading shots from behind cover. Unfortunately, the duo was separated by mechanical doors as their enemies emerged. Rogers managed to kill his one assailant; a soldier wielding HYDRA Cannons, and used it to blast open the first of the doors, allowing him to manually open the second, but another HYDRA soldier attacked Rogers and Barnes. Barnes was unable to kill his enemy, who fired another pulse of energy. This blast sent Barnes flying out of the train, plummeting into the icy river in the valley below to his "death". However, Jones successfully infiltrated the pilot cart and arrested Zola.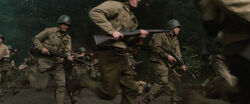 Thanks to Captain America, the Howling Commandos, the 107th Infantry Regiment, and the Strategic Scientific Reserve, HYDRA was destroyed in 1945, and the US Armed Forces, along with their allies, triumphantly defeated every member of the Axis Powers, winning the war.[1]
Months after Captain America's supposedly death during the Attack on HYDRA Headquarters, SSR Agent Peggy Carter leads the Howling Commandos and elements of the Army Rangers to attack HYDRA Research Facility Number 4 where former HYDRA commanding operative, Werner Reinhardt was evacuating all of the numerous mysterious artifacts that HYDRA collected over the years. Reinhardt and his men were arrested, but Reinhardt warned Carter that if one of HYDRA's heads was cut off, two more would grow in its place. Carter promised to keep cutting them off.
Under Carter's orders, the SSR troops collected and tagged all the artifacts including a Kree corpse.
Investigating Zero Matter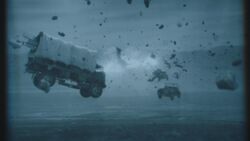 In the aftermath of World War II, the United States of America became engaged in a Cold War with the Soviet Union. In cooperation with the Army, Isodyne Energy tested an Atomic Bomb. The explosion created a mysterious anomaly that sucked everything close to it, including a military team that was witnessing the event and all their supplies and vehicles. When the portal vanished, the only thing left behind was a cluster of what became known as Zero Matter.[3]
Theft of Howard Stark's Weapons
At that time, Howard Stark was involved in developing weapons for the United States Armed Forces. In the early days of the new period of tension, the Leviathan and the SSR began operating in the United States, stealing many of Stark's most dangerous inventions. While federal law enforcement and intelligence agencies investigated Stark, members of the 107th Infantry Regiment and Howling Commandos, along with Peggy Carter and Jack Thompson, were dispatched to investigate the source of an intercepted Leviathan transmission. They were first deployed into Communist Poland, before making their way through Soviet Lithuania into Belarus at Ashmyany. They encountered resistance from both the students of the academy, and from Red Army troops attached to the facility.[4]
Tensions in Cuba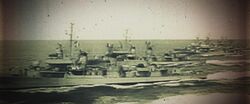 As the Cold War progressed, the Armed Forces found themselves active in various other theaters across the world. In the 1950s, it was involved in the Korean War, while in 1962, the US Navy blockaded the island of Cuba in response to the Soviet placement of missiles there.
Through the 1960s and 1970s, the United States Armed Forces were also engaged in the Vietnam War, were major figureheads of the modern day, such as Thaddeus Ross, would gain much of their experience.[5] Unbeknownst to the Armed Forces was the fact that the former Nazi deep science and intelligence agency, HYDRA, had infiltrated the American intelligence agency known as S.H.I.E.L.D. S.H.I.E.L.D. had inadvertently provided the Armed Forces with false, half-true, or misleading intelligence as a result of its infiltration, and as such had manipulated the many major events in which the military had been involved.[6]
21st Century
The Hulk Incident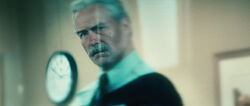 After World War II, the US Army continued to work on the Super Soldier Serum, trying to recreate the formula developed by Abraham Erskine. The project was led by general Thaddeus Ross, who employed Dr. Bruce Banner to recreate the serum. However, in an accident involving Gamma Radiation, Banner was transformed into Hulk.[7]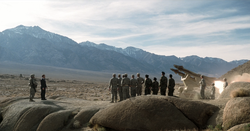 Over the years after World War II, the US armed forces have undergone drastic changes in their military equipment and weapons thanks to Stark Industries who provides the latest and most advanced technology it can offer.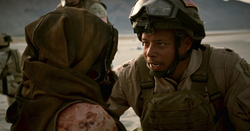 During the Global War on Terrorism, the US Armed Forces invaded Afghanistan. In 2009, the CEO of Stark Industries Tony Stark came to Afghanistan to demonstrate the Jericho missile to the US and Afghan military officers. After the demonstration, he was kidnapped by the terrorist group known as the Ten Rings. The military searched for him for some time, until he was found alone in the desert.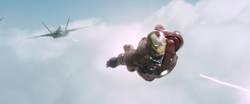 Sometime later, an unidentified flying object was spotted by the Air Force in the province of Kunar. The two F-22 Raptors tried to shoot it down by order of Major Allen, but the object, actually a man in an armored suit, accidentally damaged one of the planes. The man saved the pilot from the damaged plane, and Lieutenant-Colonel James Rhodes later told to the reporters at the press-conference that the plane crashed during the training exercise. It was later revealed that the man inside the suit was Tony Stark himself, who became publicly known as Iron Man.[8]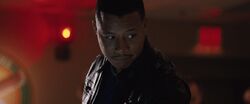 A few months later, S.H.I.E.L.D. director Nick Fury sent a team of U.S. Navy SEALs to board a ship controlled by the Ten Rings in the port of Aden. However, Iron Man suddenly appeared and attacked the terrorists. Though the Seals were outnumbered by the terrorists, Iron Man had no problems with killing all the terrorists and saving the Seals.[9]
Armors and Tribunals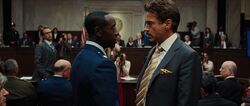 Several months after Tony Stark revealed to the world that he was Iron Man, Senator Stern and other members of the Senate Armed Forces Committee directed the United States Marshals Service to serve Stark a subpoena, requiring him to attend a hearing in Washington, D.C.
The purpose for this hearing was to discuss whether or not the Armed Forces had the right to forcibly deprive Stark of his suits, and reverse-engineer them for their own use. One of the witnesses called before the Committee was Lieutenant Colonel James Rhodes of the U.S. Air Force. Despite Stern's attempt to lead Rhodes into speaking negatively about Stark, Rhodes ended up speaking in Stark's favor.[10]
Military's War Machine
Later, when Tony Stark got drunk at his birthday party, James Rhodes commandeered the Mark II Iron Man armor to stop Stark, who was putting his party guests at risk. After an indecisive brawl, Rhodes flew to Edwards Air Force Base where the Mark II was upgraded into the "JRXL-1000 Variable Threat Response Battle Suit".[10]
Following Bruce Banner's transformation into Hulk, General Thaddeus Ross was given command of a special unit assembled to hunt the green giant. The Army followed Banner to Rio de Janeiro, Brazil, but Banner escaped after a fierce fight.[7]
Emil Blonsky's Upgrades
General Ross has permission to allow Blonsky to be volunteered as an experimental test subject for the Army's imperfect version of the Super Soldier Serum in order to capture Banner.
Unknown to Ross, however, what Blonsky truly desired was to gain Hulk's powers to have the power of life and death for himself. General Ross explained that he would receive a small dose of a replicated variant of the Super Soldier Serum, originally created by Doctor Abraham Erskine for Project Rebirth and, if anything went wrong, he would be pulled from the mission. Blonsky received the injections, including an extremely painful injection into his bone marrow, coming out with his strength, speed, and agility heightened to remarkable levels.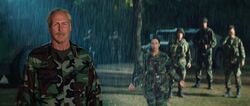 Back in the United States of America, General Thaddeus Ross had ordered the injection of one of his men, Captain Emil Blonsky, with an experimental version of the Super Soldier Serum. Shortly after, Ross and his forces, super-powered Blonsky included, attacked Bruce Banner at Culver University, but failed once again.[7]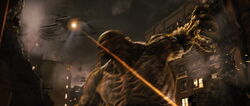 Shortly after, Emil Blonsky managed to recover very quickly from the wounds suffered in the battle with the Hulk, because of the Super Soldier Serum. General Thaddeus Ross managed to track Bruce Banner's accomplice Samuel Sterns and had his lab taken in custody by the Army. Ross later managed to capture bot Banner and his own daughter Elizabeth Ross.
However, unknown to Ross, Blonsky went to Sterns' lab and forced him to inject him with Banner's DNA, which transformed him into a Hulk-like monster, Abomination. For stopping Blonsky, Ross reluctantly accepted Banner's help and had Hulk fight Abomination. At the end of the battle, Ross took Blonsky in custody, while Banner disappeared once again.[7]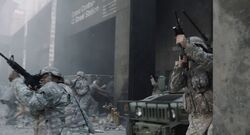 In 2012, the United States Army was sent to defend New York City from the Chitauri during the Battle of New York. The New York National Guard aided the Avengers in repelling the invasion with little initial success before the attackers were ultimately defeated by the Avengers.[11]
The Mandarin's Threat
In 2012, a series of bombings occurred around the United States of America, some of which occurred in military bases. A man calling himself the Mandarin began appearing in video broadcasts, claiming responsibility for those terrorist attacks. The Pentagon immediately ordered the massive hunt for the Mandarin and his Ten Rings organization, but the terrorists proved to be undetectable.
Colonel James Rhodes's War Machine Armor was repainted and rebranded the Iron Patriot, but even Rhodes could not find the phantom terrorist. As it later turned out, the "bombings" were actually the results of failed experiments with Extremis, which were being conducted by the scientist Aldrich Killian, who intended to kill President Matthew Ellis and take over the United States.
When Killian's right-hand man Eric Savin commandeered the Iron Patriot Armor from Rhodes, it was easy for him to infiltrate Air Force One so he could kidnap President Matthew Ellis. A few high ranking officers on board the plane tried to stop him, but he easily defeated them.[12]
End of S.H.I.E.L.D.
Black Widow's Confessions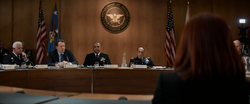 When HYDRA took over Project Insight, they planned to use S.H.I.E.L.D.'s Helicarriers to eliminate many officers of the United States Armed Forces. With Arnim Zola's algorithm, they predicted that all those officers would pose a threat to HYDRA's plans in the future. However, HYDRA's infiltration of S.H.I.E.L.D. was exposed through the efforts of Steve Rogers, HYDRA's oldest enemy.
After the destruction of Project Insight and the disbandment of S.H.I.E.L.D., Natasha Romanoff was called to appear before a Senate subcommittee to explain the reasons for revealing all of S.H.I.E.L.D.'s secrets to the world. When General S. Scudder of the U.S. Army proclaimed that she should be in prison because of her previous crimes, she replied that people like her make the world a dangerous place, but they also make it safer.[13]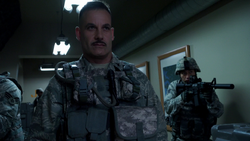 With the existence of HYDRA exposed to the world, both HYDRA and the United States Armed Forces started a race to get their hands on as much of S.H.I.E.L.D.'s bases and equipment as they could. Colonel Glenn Talbot of the U.S. Air Force contacted the Hub, demanding to speak to whoever was in charge, and found Phil Coulson. As Coulson attempted to assure him that the situation was under control, Talbot insisted that he would arrive with Peacekeepers.[14] Later, after being informed by Maria Hill about the location of the Providence, the United States Army detachment commanded by Talbot led a raid on the base.[15]
Buying the Deathloks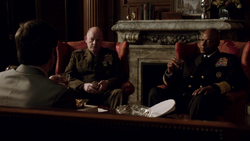 Representatives from the United States Armed Forces met with Ian Quinn who offered them one thousand Deathlok Soldiers to help in the war on terror since, as he explained, S.H.I.E.L.D. was now defunct and HYDRA grew unpredictably fast.[16]
A few days later, a group of high ranking officers led by General Jacobs and Admiral Jolnes visited the Cybertek Manufacturing Facility in New Mexico. During the tour, gunfire was heard and Quinn told them that it was a drill. When John Garrett, Deathlok, and Grant Ward entered, Garrett and General Jacobs began to argue and Garrett killed him with his own rib. Later, alerted by Antoine Triplett, the U.S. Marines led a raid on the facility. The battle ended with a complete victory for the U.S. forces.[17]
Glenn Talbot's Crusade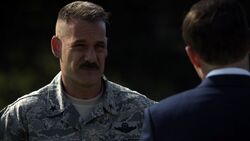 Glenn Talbot received a promotion to Brigadier General for infiltrating Providence and became the Armed Forces' television representative, doing interviews with George Stephanopoulos. In his interview, he bragged about ending both HYDRA and S.H.I.E.L.D.; when in reality, all he caused was for both to hide. Both organizations learned from him that he was in charge of a storage facility that housed S.H.I.E.L.D. paraphernalia. HYDRA operative Carl Creel used that information to obtain the Obelisk; Phil Coulson used it to send a team to get a Quinjet.[18]
Talbot had soldiers drop Lance Hunter in a field when he was captured during the Quinjet mission. Talbot put Hunter in a helicopter and told him that he had a senator who wanted Coulson arrested. Hunter knew he was in the helicopter as an intimidation factor, but he was more concerned about the death of his friend Isabelle Hartley and agreed to help Talbot for two million dollars and a proper burial for her. Talbot gave him two days.
At the appointed time, Talbot met Coulson with his troops. Coulson gave Talbot Carl Creel and asked him not to allow him to escape again. Before he could capture Coulson, Talbot was surprised when the Bus came out of cloak with its guns aimed. Coulson then left in a cloaked Quinjet.[19]
After Coulson returned from a mission in Miami, he called Talbot to let him know that HYDRA had an agent who impersonated him there. Talbot was concerned with trying to trace the call. [20]
At the wedding of Navy officer Pete Leitner, HYDRA performed an experiment attempting to duplicate the powers of the Obelisk. The wait staff would only allow the guests, some of whom were Naval officers, to only drink laced champagne. Few of the officers died; most were hospitalized, to the disappointment of Daniel Whitehall. Dr. Lingenfelter, HYDRA Laboratories top scientist, hoped to appease Whitehall by saying that those who died were enemies of HYDRA. The Navy put the area on lockdown and Phil Coulson's Navy contact was unable to give S.H.I.E.L.D. access to investigate. [21]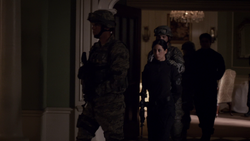 A few days after the supposed S.H.I.E.L.D. attack at the United Nations Headquarters, Talbot led a group of troops to the S.H.I.E.L.D. Safe House in Bruges, Belgium. Once there, Melinda May and her team handed over the custody of the captured HYDRA team led by Marcus Scarlotti to Talbot and his men. At the same time, another military unit managed to capture another HYDRA member Julien Beckers at the Belgian border. Before he departed, Talbot gave his condolences to Melinda May for losing six agents, unofficially ending the Armed Force's hunt for S.H.I.E.L.D. agents.[22]
Search for the City
Cole did quarterly inspections of Kaena Point Air Force Base in Oahu, Hawaii and the base had a new relay commander named Darren. S.H.I.E.L.D. Director Coulson used this knowledge to cause an Electromagnetic Pulse to blackout the base. Then his agents infiltrated a satellite relaying station in Laura Creek, Australia that was backup for Kaena Point and easier to get inside. Leo Fitz placed a transceiver there which Skye used to hack twenty-six satellites, ultimately finding their query, a city that matched the Words of Creation.[23]
In order to get access into Glenn Talbot's Air Force Facility without proper security clearance, Agent 33 had disguised herself as Carla Talbot, claiming to have forgotten her ID card. As soon as she entered, she disguised herself as Major Meredith Tredwyck, and entered the control room, where she disabled the cameras in the facility. At the gate, Grant Ward caught Senior Airman Campbell off guard, and quickly killed him to get access into the base.
However,. Talbot realised the ruse from Agent 33's deception and locks down the entire base, assembling the base's female personnel in the control room to questioned them. He asked Captain Anderson if he was correct in saying his son went to school with her daughter. Anderson, who did not have a daughter, told him that he was incorrect. He asked Lieutenant Olsney when the last time he got her name right was and she said never. Talbot came to Major Tredwyck, the last person in the line-up, and expected her to be "the winner". In attempt to remove the mask, Talbot grabbed Tredwyck's face and started to pull it. After a few seconds Tredwyck asked him to stop and Talbot, now realizing she was not the infiltrator, apologized to her. Since Talbot figured out none of the women was Agent 33, they were allowed to leave.
Meanwhile, Agent 33 killed Staff Sergeant Brookton to disguise herself as a man and met up with Ward at the gate. The couple headed to Sunil Bakshi's cell. Bakshi was relieved to see her, believing she was still loyal to Daniel Whitehall and HYDRA. He soon realized she was not, and attempted to trigger her brainwashing, but Agent 33 knocked him unconscious and got Bakshi out of the facility with Ward. The real Carla arrived and met Talbot in the hall. Talbot pulled his sidearm and ordered her on the ground until he realized it was his wife.
Briefed by Agent Orange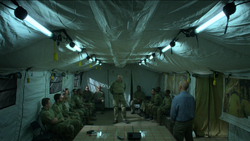 During the fall of the Taliban government, multiple terrorist organizations would emerge to challenge the coalition-led government in Kabul, leading to the longest war in American history. CIA Agent William Rawlins joined forces with Major Ray Schoonover to create covert military operation, known as Operation Cerberus in order to eliminate terrorists in Afghanistan. Rawlins and Schoonover recruited a group of soldiers from the various elite teams and founded Cerberus Squad who were stationed in Kandahar.
However, none of them didn't know, that operation was not illegal and unsanctioned by United States Congress. For several months, the squad eliminated multiple terrorist groups. One of their targets was Ahmad Zubair of the Afghan National Police, who learned about operation during his investigation. Zubair was kidnapped by the squad and interrogated by Rawlins. When he made sure that Zubair was only one who knew about them, he ordered Frank Castle to execute Zubair and bury him outside of the city.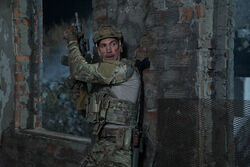 As operation progressed, Afghan terrorists and insurgent groups caught onto the squad's tactics and feed false information about the high-ranked terrorist leader. Rawlins received information and planned an attack on the compound without air support. Mission turned out to the ambush, several soldiers were killed or injured, like Schoonover who lost his arm. The rest of the squad were saved by Castle who eliminated all hostiles and cleared a path to the evacuation point by himself.
Following the failure of the squad, Rawlins shut down the operation. Survived soldiers were demobilized and returned to United States of America. Schoonover later was promoted in rank to Colonel despite the failure of the mission.[24]
Stationed in Sokovia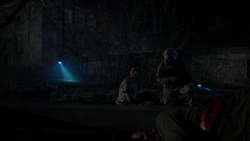 Special Operations unit were sent to Sokovia for a mission. While they were stationed, they were attacked by Sokovian Armed Forces, who killed several soldiers and captured survivors, including Sergeant Mary Walker. They were incarcerated into the Sokovian prison and the rest of them was executed. 22 months later, Walker managed to escape by massacring all Sokovian soldiers on her way. She was found by a group of US soldiers who returned her to the United States.[25]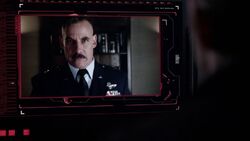 In the wake of Gideon Malick giving up vital intel to Phil Coulson, havin becoming disillusioned about Hive and his motivations, Glenn Talbot was able to launch a full-scale assault against HYDRA. The United States Air Force were called upon to aid the Advanced Threat Containment Unit. The military campaign was successful and lead to the capture of seventeen HYDRA bases and hideouts around the world, as well as any equipment they could confiscate from the bases.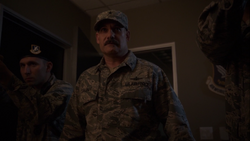 Though many HYDRA operatives were killed or incarcerated, several others had escaped the assault and continued to operate, albeit in smaller isolated cells.[26] Talbot also learnt that General Fischer was a HYDRA sleeper agent, and led a team of soldiers to arrest him, finding him speaking with General Hale. Once Hale was out of danger, Fischer took a Cyanide Pill and committed suicide, while Talbot reassured Hale that they would not be seeing HYDRA again following this attack against them. However, Talbot was unaware that Hale was also secretly a HYDRA sleeper agent.[27]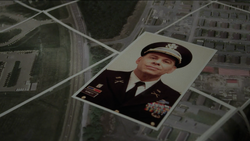 Morty Bennett who was in charge of the Fort Bryon, was targeted by the Punisher and Micro, in order to expose the Operation Cerberus. Arriving at the facility, Castle managed to infiltrate inside, avoiding all soldiers patrolling the area. While Lieberman watched over the area through his Drone, Castle attacked Bennett threating to kill him. Lieberman then started to hacking Bennett's phone, however, Castle was ambushed by Anvil unit, led by Billy Russo.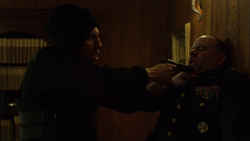 Castle managed to take down all hostiles and escaped from Bennett's apartment. The whole facility raised the alarm, searching the perimeter for an intruder. Castle avoided the soldiers, searching him and went through the underground tunnel. However, the soldier halted Castle, holding him at the gunpoint. Castle refused to surrender and shot the soldier in the shoulder, knowing that he will survive, and left the facility.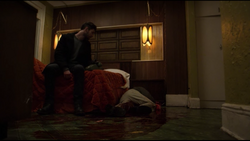 As soon as Castle escaped, Russo helped Bennett to cover the incident at the facility and then escorted him to CIA Safe House. Understanding that Bennett was Castle's current target, Rawlins ordered Russo to hide Bennett at the disclose location. However, he secretly ordered Russo to execute Bennett what Russo also had committed.[28]
To be added
Capture of Leo Fitz
To be added
Capture of Glenn Talbot
To be added
To be added
Electro's Arrival
In November 2024, a United States military installation in New York, miles outside of New York City, was targeted by the universe-displaced Electro, who was transported from within the Multiverse to the main universe.[29]
Members
Facilities
Paraphernalia
Weapons
The US Armed Forces have state-of-the-art high-tech weaponry at their disposal. Many of them were manufactured by Stark Industries, Hammer Industries and other weapons companies.
Vehicles
United States Army
Humvee: Can be seen mounted with M2 Browning machine guns during the battles of Culver University and New York, alongside the Stark Industries Sonic Cannon LRAD at Culver. Both the M1025 and M998 variants are seen in the Army's possession.
AH-64 Apache: Used when General Ross orders gunship support at the Battle of Culver University.
CH-53 Sea Stallion: Normally used by branches of the United States Armed Forces other than the Army, one has been requisitioned for use by Strategic Operations Command Center and can be seen in a hangar.
Oshkosh Striker: Used by General Ross when tracking Bruce Banner.
Omni International V-150-S: Used by Strategic Operations Command Center at the Battle of Culver University
IAV Stryker: Can be seen in a hangar owned by the US Army.
M109A6 Paladin: Self-propelled artillery. A photograph of an M109A6 from Forwarding Operating Base Marez in Mosul, Iraq was reviewed by Ultron during the AI's assessment of humanity's past.
M36 'Jackson': Used during World War II. One of these tanks was in Colonel Chester Phillips' base in Italy during Steve Rogers' performance as Captain America.
M4 A4 'Sherman V': Used during World War II. One of these tanks was in Colonel Chester Phillips' base in Italy during Steve Rogers' performance as Captain America.
United States Air Force
Boeing C-17 Globemaster III: Used to transport Tony Stark to California after his escape from Ten Rings captivity in Afghanistan.
F-15C Eagle: Used by Air Force pilots Carol Danvers and Maria Rambeau.

E-3 Sentry: An AWACS (Airborne Warning and Control System) was being operated by the United States Air Force in the airspace over Gulmira, Afghanistan during the battle there.
RQ-4 Global Hawk: One of these drones was seen at a United States Air Force hangar shortly after Tony Stark's return from Afghanistan. Another was conducting ISR in the area over Gulmira, Afghanistan during the battle there.
F-16 Fighting Falcon: Tony Stark is seen posing with USAF F-16 Fighting Falcons in a promotional photograph that was shown at the Apogee Awards where Tony Stark was awarded.
HH-60 Pave Hawk - Used to deploy Lieutenant Colonel James Rhodes and USAF Pararescue jumpers to recover Tony Stark in the Afghan desert after he escaped Ten Rings custody.
B-2 Spirit: A stealth bomber in service with the United States Air Force. One was stationed at Edwards AFB when Lieutenant Colonel James Rhodes arrived with the confiscated Mark II Iron Man armor.
B1-B Lancer: A supersonic strategic heavy bomber in service with the United States Air Force. One was stationed at Edwards AFB when Lieutenant Colonel James Rhodes arrived with the confiscated Mark II Iron Man armor.
B-52H Stratofortress: A strategic bomber in service with the United States Air Force. One was stationed at Edwards AFB when Lieutenant Colonel James Rhodes arrived with the confiscated Mark II Iron Man armor.
Chevrolet Tahoe: Used for transport at Edwards AFB when Lieutenant Colonel James Rhodes arrived with the confiscated Mark II Iron Man armor.
Humvee: Airmen were driving several M1025 variants in a convoy while transporting Tony Stark back to Bagram Air Base when they were attacked by heavily-armed Ten Rings insurgents.
Air Force One: The call sign of any United States Air Force aircraft that is carrying the President of the United States. However, the term is most often used to refer to a specific Boeing VC-25 aircraft dedicated to Presidential transport. This aircraft was in use during the Mandarin bombings and terror campaign to carry President Matthew Ellis to safety. However, an Extremis-enhanced supersoldier, Eric Savin, hijacked the plane and nearly killed everyone on board. Most people were saved by the sudden arrival of the remotely-controlled Mark XLII Iron Man armor, though the VC-25 was destroyed.
Bell 412: This helicopter was used to transport Royal Marines Commando Emil Blonsky to meet with General Thaddeus Ross.
C-130 Hercules: Transport aircraft seen in service with United States Air Force during the military's hunt for Bruce Banner.
V-22 Osprey: Tiltrotor aircraft capable of both transportation and close air support. These were mentioned by General Thaddeus Ross during a conversation he had with Emil Blonsky. Also operated by the Marine Corps.
Gearing-class destroyer: In service during the Cold War. Several destroyers of this class assisted with the US Navy's blockade of Cuba during the Cuban Missile Crisis in 1962.
United States Marine Corps
F/A-18 Hornet: Tony Stark is seen posing with USMC F/A-18 Hornets in a promotional photograph that was shown at the Apogee Awards where Tony Stark was awarded.
CH-46 Sea Knight: A recently-retired helicopter still in service with several NATO countries and allies. It was still in use by the USMC at the time of Tony Stark's abduction in Afghanistan as it could be seen at Bagram Air Base.
CH-53E Super Stallion: A heavy-lift cargo helicopter; it is the largest and heaviest helicopter in service with the military. A USMC-operated Super Stallion could be seen at Bagram Air Base in Afghanistan at the time of Tony Stark's abduction.
V-22 Osprey: Tiltrotor aircraft capable of both transportation and close air support. These were mentioned by General Thaddeus Ross during a conversation he had with Emil Blonsky. Also operated by the Air Force.
Appearances
Appearances for United States Armed Forces
In chronological order:
Behind the Scenes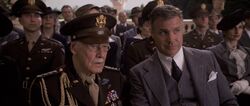 References
External Links