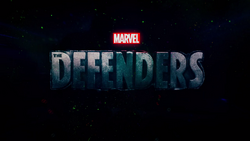 A list of trivia related to The Defenders.
References to the Marvel Cinematic Universe
Rerecentes to the Marvel Comics
To be added
Production
One of the trailers shows black and white security camera footage of the four Defenders in an elevator with a time stamp in the top right corner. When Jessica Jones disables the camera, the time code says 8:18:20:17 in hours, minutes, seconds and milliseconds. This is a reference to the release date of the show on August 18th, 2017.