Doctor Strange in The Multiverse o Madness - The Loop
Play Sound
The Daily Bugle is a series of videos produced by Sony Pictures Studios, based on the Marvel Comics organization of the same name. The YouTube videos were released during October-November 2019 as part of the viral marketing for Spider-Man: Far From Home, while the TikTok videos were released during November 2021-January 2022 as part of the viral marketing for Spider-Man: No Way Home. In 2022, the TikTok account expanded to release videos to Sony's Spider-Man Universe films, starting in March 2022 as part of the viral marketing for Morbius.
Additionally, a promotional website was released to promote the web series alongside related social media accounts. The website archives articles, footage and other such documentation from The Daily Bugle.
Cast
YouTube Videos
TikTok Videos
Videos
YouTube Videos
EXCLUSIVE Mysterio Final Moments Full Story Credit The Daily Bugle J. Jonah Jameson

TheDailyBugle.net: EXCLUSIVE Footage From Tower Bridge Attack

TheDailyBugle.net EXCLUSIVE! Spider-Man is a Menace!

TheDailyBugle.net: EXCLUSIVE Spider-Man Unmasked Full Story Credit The Daily Bugle J. Jonah Jameson

TheDailyBugle.net: EXCLUSIVE Coney Island re-opened years after devastating crash

TheDailyBugle.net: EXCLUSIVE London Attack — Tower Bridge Bill Blues

TheDailyBugle.net- EXCLUSIVE - Web of Lies!

TheDailyBugle.net- EXCLUSIVE - Sticky Street Job

TheDailyBugle.net- EXCLUSIVE - Spider Sycophant

TheDailyBugle.net - Spider-Menace Tip Line

TheDailyBugle.net- EXCLUSIVE - "Savies" A New Menace Emerges

TheDailyBugle.net- EXCLUSIVE - The Spider-Menace Strikes Again!
TikTok Videos
Hi TikTok 👋 Welcome to The Daily Bugle! Follow us for breaking news on Spider-Man you can't get anywhere else.[1]
Betty Brant announces the latest social media account for The Daily Bugle and reveals that she will be contributing as their intern.
Tell us you hate Spider-Man without telling us… (even if you don't actually hate him).[2]
When asked to discuss the negatives of Spider-Man, Betty Brant instead defends him, claiming that Peter Parker is her friend and is actually a very nice person. Her opinion is cut short and replaced with footage of J. Jonah Jameson ranting.
Join us as an intern of The Daily Bugle, no experience required! Get our reporter pack from our 🔗 in bio.[3]
Betty Brant invites all viewers to contribute their own opinions and posts about Spider-Man.
Lightning and sand storms in NYC? ⚡️🌪️ Find out who's behind it all in our latest report![4]
Betty Brant reports on intense thunderstorms and sandstorms appearing in New York, speculating that it could mean the result of supervillains returning. However, she receives word from J. Jonah Jameson that she is to report that Spider-Man is responsible.
Do YOU have what it takes to become a reporter for The Daily Bugle? Duet this and show us if you can handle this #TeleprompterChallenge![5]
Betty Brant asks viewers if they have what it takes to be a reporter, offering the challenge to read from a teleprompter while Brant acknowledges what the person is saying.
Website
Articles
THE TRUE HERO!
Spider-Man is accused of being a fraud and a criminal while Mysterio is praised as a hero. Highlighting J. Jonah Jameson as a trustworthy representative, The Daily Bugle urges the public to follow their updates and thanks their fans.

NIGHT MONKEY: FOREIGN HERO OR YET ANOTHER MASKED MENACE?
While praising Mysterio, attention is drawn to a vigilante dressed in black. Ned Leeds gives a statement, claiming that he witnessed the heroics of Night Monkey firsthand and that he is certain that it is not Spider-Man. It is pointed out by The Daily Bugle that if more people attempt to emulate Spider-Man, this could end up being an issue.

THE SEARCH FOR MORRIS BENCH!
Morris Bench is accused of having a connection to the Hydro-Man attack and evading capture. The Daily Bugle claims that the US Government is covering up the story.

SPIDER-MAN FIRES FIRST SHOT IN MOB WAR!
Spider-Man is accused of putting civilian lives at risk by confronting the Manfredi family in a public place as well as being disrespectful towards the NYPD officers that arrived to assist.

RAID ON AREA FIFTY-FAIL
A mockery is made of the group that attempted to raid Area 51, following an internet trend. The Daily Bugle then claims that superheroes are the problem that the world should be focusing on instead, accusing these heroes of doing nothing to prevent crime and the possession of unauthorized technology.

SHOCKING VIDEO RAISES DARK QUESTIONS ABOUT LONDON ATTACK!
Amateur footage from Flash Thompson is shown as a reaction to the Elemental Fusion's attack in London. The mention of drones at the scene of the crime raises further questions about the event and about Spider-Man's link to it.

FOLLOW-UP WITH HIGH SCHOOL INFLUENCER "FLASH" ON LONDON ATTACK
Flash Thompson is interviewed about the attack of the Elementals, where he claimed that Spider-Man arrived after seeing his own social media posts. The Daily Bugle admits that they could not uncover further details about the Elemental attacks with Thompson's quotes or video footage and then refers to Spider-Man's recent attack on the Manfredi Crime Family, questioning his motive for travelling to Europe.

THE QUEEN ASKS: "WITHER MYSTERIO?"
Mysterio is declared missing after the Elemental attacks, something that has greatly disappointed Queen Elizabeth who intended to invite Mysterio and Spider-Man over to thank them in person. The Daily Bugle berates Spider-Man again and expresses hope that Mysterio will reappear soon.

A TRUE HERO: THE MAGNIFICENT MYSTERIO
Doctored footage from Mysterio shows Spider-Man as a terrorist, using drones to attack civilians and Mysterio himself. The Daily Bugle praises Mysterio and expresses hatred towards Spider-Man for his supposed villainy. With his disappearance after the events of the video, Mysterio is assumed dead.

BOMBSHELL EXCLUSIVE: SPIDER-MAN UNMASKED!
Continuing with footage from Mysterio, Peter Parker is revealed to be the true identity of Spider-Man. The Daily Bugle thanks Mysterio once again for his supposed invaluable and heroic contributions to the world, threatening Spider-Man with the inevitable wrath of the American public.

CONEY ISLAND TO SPIDER-MAN: BUG OFF, WEBHEAD!
The Daily Bugle reports on the re-opening of Coney Island, referring to the reconstruction and clean-up after a plane crashed there in a previous incident. While locals have blamed Adrian Toomes for the entire issue, The Daily Bugle continues to blame Spider-Man, indirectly referring to their footage from Mysterio and then directly referring to Spider-Man's identity being revealed as Peter Parker to back up their negative feelings towards him.

DON'T BE FOOLED
The Daily Bugle urges followers to only trust their official social media and website links.

PRIME MINISTER TO PRESIDENT: PAY UP!
The Daily Bugle reports that the United States of America is expected to pay for the damages caused to the Tower Bridge in London after the attack was blamed on Spider-Man; much to the embarrassment of the current presidential administration.

HOLIDAY CLOSURE & WEBSITE MAINTENANCE
The Daily Bugle announces a holiday hiatus while they maintain the website.

WEB OF LIES
The Daily Bugle claims that New York residents demand Peter Parker's birth certificate and that the reveal of Spider-Man's true identity has only raised more questions.

STICKY STREET JOB!
The Daily Bugle complains about the mess left behind by Spider-Man's webbing.

SPIDER SYCOPHANT REVEALED
Using a promotional video from Flash Thompson as reference, The Daily Bugle complains about the student and about Midtown School of Science and Technology being an untrustworthy school.

SPIDER-MENACE TIP LINE
The Daily Bugle asks their audience to report any news, evidence or secrets about Spider-Man to them.

SAVIES! THE NEW SELFIES
The Daily Bugle reports on a new concerning trend of people trying to purposely put themselves in danger in order to try and take selfie photos with superheroes. The new photos have been deemed "savies" and are being used by social media users to gain attention.

SPIDER-MENACE STRIKES AGAIN
J. Jonah Jameson interviews Nelson Burke, an eyewitness who has been brought in to describe his account of Spider-Man's supposed destructive escapades. When Burke adds further information about a man who initially caused the damage to the power lines in the area and Spider-Man's assistance in fixing the damage, Jameson cuts him off and threatens the Daily Bugle team that set up the interview.
Blip Blog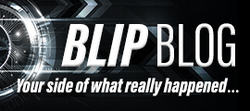 Interviews:
Conspiracy Corner

Newspaper Outlet
To be added
Trivia
References
External Links