Doctor Strange in The Multiverse o Madness - The Loop
Play Sound
"Thanos is coming. He's coming."
Thanos is a genocidal warlord from Titan, whose main objective was to bring stability to the universe by wiping out half of all life at every level. Thanos and his Black Order set about on a ferocious crusade to obtain the Stones. However, in 2018, when Thanos arrived on Earth, he became infected by the Quantum Virus and was transformed into a zombie.
Biography
Quest for the Stones
In 2018, Thanos and the Black Order, in the Sanctuary II, intercepted the Statesman carrying the Asgardian refugees. Thanos subdued Thor and defeated Hulk. However, Hulk was sent via the Bifrost Bridge to Earth. Thanos then destroyed the Statesman.[1]
Turned into a Zombie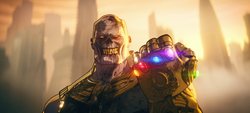 Once he obtained five Infinity Stones in the Infinity Gauntlet, Thanos used the Space Stone to create a portal and travelled to Earth to Wakanda. Upon arriving in the small isolationist landlocked country, Thanos was attacked by zombies and became infected himself. He then made his way to the Golden City and waited there for the last Infinity Stone.[1]
Powers and Abilities
Powers
Titan Physiology/Zombie Physiology: Thanos possessed much of the same physical constitution and abilities from his extinct species. Later, Thanos was infected with an encephalopathic virus that overloaded his brain's limbic system, turning him into a zombie.

Superhuman Strength: To be added
Superhuman Durability: To be added
Superhuman Speed: To be added
Superhuman Agility: To be added
Superhuman Stamina: To be added
Superhuman Reflexes: To be added
Regenerative Healing Factor: To be added
Longevity: To be added
Infection: Like any zombies, Thanos is capable of spreading encephalopathic virus to others by biting or scratching which would turn them into zombies.
Equipment
Relationships
Gallery
References
External Links