"Please be reasonable. Both men are dead. It was a tragedy. All Ms. McIver is asking for is her fair share of her late husband's estate."
―Terence Rogers
Terence Rogers is a lawyer and the legal counsel for Gwen McIver who tried to claim her rights for Harlem's Paradise and Bushmaster Rum.
Biography
Terence Rogers was hired by Gwen McIver when she organized negotiations over the ownership of Harlem's Paradise and Bushmaster Rum with the Stokes Crime Family. On the other hand, Mama Mabel and Pistol Pete brought Benjamin Donovan to represent him. As Mama Mabel was arguing with McIver, Rogers had stated that both Buggy Stokes and Quincy McIver and the only thing McIver wanted was her fair share of her late husband's estate.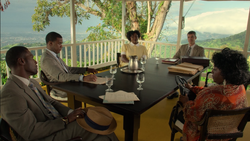 Donovan replied that his clients owed her nothing, but Rogers showed them a napkin that Buggy and Quincy used as their agreement, acknowledging a fifty percent split on everything, from the rum company to the club, and both Mabel and Pete were at Smalls Paradise where they signed it. Rogers acknowledged them that McIver would win in open court and offered them to give her half of Quincy's and continuing profits and continuing profits of Harlem's Paradise, however, Mabel and Pete only laughed in their faces.[1]
Relationships
Allies
Enemies
References
Community content is available under
CC-BY-SA
unless otherwise noted.