"You have to trust me. Trust me. This is not what Mom would want."
Sunjina Nadeer was the mother of Ellen and Vijay Nadeer.
Biography
Early Life
Sunjina Nadeer married an architect and had two children, Ellen and Vijay. 
Death
On May 4, 2012, Sunjina's family was celebrating her birthday in New York City when the city was attacked by an horde of alien beings. During the invasion, as a result of the Chitauri fighting off against the Avengers, an explosion decimated the building where the Nadeers were celebrating, killing Sunjina instantly.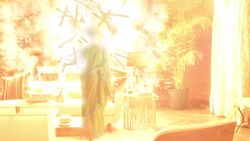 Her death would greatly affect Ellen, who in the years after her death would have a distrust for Inhumans, believing them to be aliens, as were the Chitauri that had killed Sunjina.[1]
Relationships
Family
Enemies
References
Community content is available under
CC-BY-SA
unless otherwise noted.