We're Getting Mutants in the MCU - The Loop
Play Sound
"Can't you just be a friendly... neighborhood Spider-Man?"
"But I'm ready for more than that now!"
―Iron Man and Spider-Man
Spider-Man: Homecoming is a 2017 superhero film, based on the Marvel Comics superhero of the same name. A reboot of the Spider-Man franchise, the film is a sequel to Captain America: Civil War. It is the sixteenth film in the Marvel Cinematic Universe, and the fourth installment of Phase Three. The film was released on July 5, 2017 internationally and on July 7, 2017 in the United States.
The film is directed by Jon Watts and stars Tom Holland as Peter Parker/Spider-Man, Michael Keaton as Adrian Toomes/Vulture, Jon Favreau as Happy Hogan, Gwyneth Paltrow as Pepper Potts, Zendaya as Michelle Jones, Donald Glover as Aaron Davis, Jacob Batalon as Ned Leeds, Laura Harrier as Liz Toomes, Tony Revolori as Flash Thompson, Bokeem Woodbine as Herman Schultz/Shocker, Tyne Daly as Anne Marie Hoag, with Marisa Tomei as May Parker, and Robert Downey, Jr. as Tony Stark/Iron Man.
The film spawned two sequels: Spider-Man: Far From Home in 2019 and Spider-Man: No Way Home in 2021, while a fourth film is currently in development.
Synopsis
A young Peter Parker/Spider-Man, who made his sensational debut in Captain America: Civil War, begins to navigate his newfound identity as the web-slinging superhero in Spider-Man: Homecoming. Thrilled by his experience with the Avengers, Peter returns home, where he lives with his Aunt May, under the watchful eye of his new mentor Tony Stark. Peter tries to fall back into his normal daily routine – distracted by thoughts of proving himself to be more than just your friendly neighborhood Spider-Man – but when the Vulture emerges as a new villain, everything that Peter holds most important will be threatened.
Plot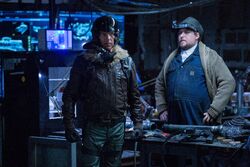 Following the Battle of New York, Tony Stark and the federal government orders the United States Department of Damage Control to clean the aftermath of the battle, driving salvage company owner Adrian Toomes out of business. Toomes convinces his crew to not surrender the Chitauri technology already scavenged from the battle and use it to further a criminal agenda. 4 years later, the crew are making big on exotic weapons deals, and Toomes begins wearing a winged harness that gives him the ability to fly.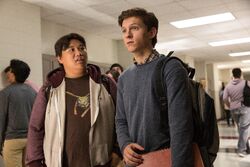 Sometime later, Peter Parker is recruited by Stark to help in the Clash of the Avengers in Berlin, but Parker resumes his studies after Stark tells him he is not yet ready to become an Avenger. 2 months later, over the objections of his aunt, May Parker, Parker quits his school's decathlon team in order to spend more time focusing on his "Stark Industries Internship", which is a cover for his crimefighting activities as Spider-Man. One night, after preventing Toomes' associates from robbing an ATM, Parker returns to his Queens apartment, where his best friend, Ned Leeds, discovers his secret identity. The next day, Leeds pesters Parker all day about his abilities as Spider-Man. During gym class that day, Leeds accidentally says Parker knows Spider-Man after hearing a conversation with Parker's love interest Liz Allan and her friends. That night, Parker is forced to go to Liz's party.
While changing into Spider-Man, Parker comes across Toomes' associates Herman Schultz and Jackson Brice selling Chitauri weaponry to local gangster Aaron Davis. Parker nearly drowns while intervening, but is rescued by Stark, who is monitoring the Spider-Man suit he gave Parker and warns him against involvement with the dangerous criminals. Later, angry with Brice for jeopardizing the operation, Toomes accidentally kills him with one of their weapons, and gives his gauntlet to Shultz.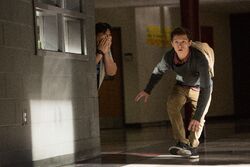 Retrieving a Chitauri weapon left behind by Brice, Parker works with Ned to remove the power core. A tracking device leads Schultz to Midtown School of Science and Technology, but Parker and Leeds manage to evade him. After planting his own tracking device on Schultz and learning that it leads to Maryland, Parker rejoins the decathlon team and accompanies them to Washington, D.C. for Nationals. Working with Leeds, Parker disables the tracker implanted in his Spider-Man Suit and unlocks all its secret features, including the built-in AI that Parker later names Karen.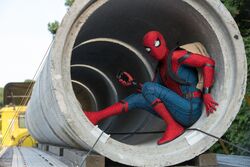 He later tries to stop Toomes from stealing weapons from Damage Control truck but ends up being overpowered and trapped inside the truck, causing him to miss Nationals. When he discovers that the Chitauri Energy Core is unstable, Parker tracks Leeds to the Washington Monument, arriving just as the core explodes and traps Leeds in an elevator. Evading local authorities, Parker manages to save Leeds and his fellow classmates, including Liz, before the elevator plummets.
Returning to New York City, Parker persuades Davis to reveal Toomes' whereabouts. Confronting Toomes and his associates at the Staten Island Ferry, Parker captures the group's new buyer Mac Gargan, but botches an FBI operation which was attempting to arrest everyone involved in the weapon sales. Toomes avoids after Parker's attempts to shut down a malfunctioning weapon causes it to overload and tear the ferry in half. Stark, who had arranged for the FBI to apprehend Toomes, helps Parker save the passengers.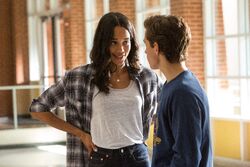 Afterwards, Stark admonishes him for his recklessness, reminding him he almost killed dozens of people as well as himself. Deciding Parker can no longer be trusted, Stark demands the suit back. Peter is left very upset, deciding afterwards to distance himself from Spider-Man and instead begins concentrating on his personal life. To that end, he finally makes a date with Liz and arranges to take her to the upcoming homecoming dance. Meanwhile, most of Toomes' workers decide to leave the operation now they know Stark is on their trail. With most of their Chitauri technology gone, Toomes decides to make one final hit which will set him and his few remaining associates up for life.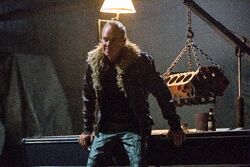 On the night of the dance, Parker goes to Liz's house to pick her up only to get the shock of his life when he learns that Liz's father is none other than Toomes. Parker only just manages to maintain his composure, however during the car ride to the dance Toomes learns that Peter went missing whenever Spider-Man was around and deduces his secret. When Liz is out of the way, Toomes tells Parker he'll let him live since he saved Liz in Washington, but warns he'll show no mercy if he continues to interfere with his plans. During the dance, Parker realizes Toomes is planning to hijack the Stark Cargo Plane transporting weaponry from Avengers Tower to the team's new headquarters. Although unsure if he can defeat Toomes without Stark's advanced tech, Parker realizes he cannot abandon his duties and leaves the dance, dons his homemade Spider-Man suit and races to Toomes' lair to confront him.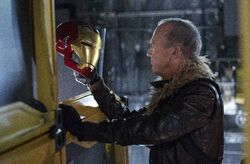 Parker is first ambushed by Schultz but defeats him with the help of Leeds. He then confronts Toomes in the lair, who attempts to persuade him to his side. When Parker refuses, Toomes destroys the building's support beams and leaves him to die under the rubble. Parker overcomes his self-doubt and escapes, before intercepting Toomes onboard the now-damaged plane and steering it towards the beach near Coney Island. The two engage in a confrontation that ends with Parker saving Toomes' life from his own unstable equipment and leaving him for the New York City Police Department.
Sometime later, Parker learns that Liz is moving away and Michelle Jones will be replacing her as president of the decathlon team. After receiving a call from Happy Hogan, Parker was asked to visit the Avengers' facility. Later, Stark offers Parker an even more advanced suit and an invitation to join the Avengers. Parker declines Stark's invitation in favor of remaining a 'friendly neighborhood' Spider-Man and inspires Stark to bring an engagement ring to a press conference where Pepper Potts is present. Upon returning home, Parker discovers that Stark has returned his upgraded suit and puts it on, and looks toward the window. Meanwhile, May is standing behind him the whole time and then cusses in astonishment.
In prison, an incarcerated Gargan approaches Toomes inside the prison and explains that several criminals are banding together to exact vengeance against Spider-Man. When pressured by Gargan about Spider-Man's identity, Toomes denies any knowledge.
In the past, Captain America takes part in a public service announcement centering on the importance of patience, and explains how patience can be the key to victory but can also lead to something disappointing after waiting so long. Tired, he then asks how many more announcements he has to make.
Cast
Appearances
Locations
Events
Items
Vehicles
Sentient Species
Creatures
Organizations
Mentioned
Production
According to Kevin Feige, Spider-Man: Homecoming was set to begin production in June 2016. "We literally just crossed the halfway mark of Captain America: Civil War last week, it's day 42 or 43 of 80. We start filming Doctor Strange in London in November. We start shooting Guardians of the Galaxy Vol. 2 in February-March [2016]. We start filming Thor: Ragnarok and Spider-Man around the same time, around June of next year."[1]
On April 12, 2016, the movie's title was officially confirmed to be "Spider-Man: Homecoming". On April 13, it was reported that Michael Keaton was in negotiations for the role of an unknown villain, but he dropped out of the project one week later.[2]
Later in the month, The Hollywood Reporter confirmed that Robert Downey, Jr. will reprise his role as Tony Stark/Iron Man in Spider-Man: Homecoming.[3]
On May 20, 2016, Keaton was reportedly back in talk and entered in final negotiations.[4]
On June 14, 2016, It was reported that Donald Glover had been cast in an unknown role.[5]
On June 16, 2016, The Hollywood Reporter reported that Logan Marshall-Green was in talk for the role of a villain.[6] The same day, Deadline reported that Martin Starr also joined the cast.[7]
On July 23, 2016, at San Diego Comic-Con, a number of roles were confirmed including Michael Keaton as the Vulture and Tony Revolori as Flash Thompson. They also unveiled the first piece of footage, showing Peter in high school.[8]
On September 23, 2016, Tom Holland officially wrapped his scenes in Atlanta and moved to New York City.[9]
On October 3, 2016, the principal photography of the movie wrapped production.[10]
Videos
Trailers
Other
Music
References
External Links