"You've got to decide whether you're going to step up or not. Stark chose you. He made you an Avenger. I need that. The world needs that. Maybe Stark was wrong."
―Talos to Spider-Man
Spider-Man: Far From Home is a 2019 superhero film based on the Marvel Comics superhero of the same name. It is a sequel to Spider-Man: Homecoming and Avengers: Endgame. The film is the twenty-third installment in the Marvel Cinematic Universe, the eleventh and final installment of Phase Three, and the concluding installment of the Infinity Saga. It was released in the United States on July 2, 2019.
The film is directed by Jon Watts, and stars Tom Holland as Peter Parker/Spider-Man, Samuel L. Jackson as Talos and Nick Fury, Zendaya as Michelle Jones, Cobie Smulders as Soren, Jon Favreau as Happy Hogan, J.B. Smoove as Julius Dell, Jacob Batalon as Ned Leeds, Martin Starr as Roger Harrington, with Marisa Tomei as May Parker and Jake Gyllenhaal as Quentin Beck/Mysterio.
Synopsis
Peter Parker returns in Spider-Man: Far From Home, the next chapter of the Spider-Man: Homecoming series! Our friendly neighborhood Super Hero decides to join his best friends Ned, MJ, and the rest of the gang on a European vacation. However, Peter's plan to leave super heroics behind for a few weeks are quickly scrapped when he begrudgingly agrees to help Nick Fury uncover the mystery of several elemental creature attacks, creating havoc across the continent![1]
Plot
Eight months after the Blip, in 2024, Nick Fury and Maria Hill arrive in the aftermath of what is supposedly a violent cyclone, which has destroyed the small village of Ixtenco, Mexico. The cyclone runs rampant again, in the form of an unidentified creature, but a mysterious third party, Quentin Beck arrives and dismantles it with Fury and Hill's help. A week later, an air-based creature wreaks havoc in Morocco, but Beck, Fury, and Hill defeat it as well.
In New York City, Peter Parker yearns to gain the admiration of Michelle Jones, who he has a crush on. He competes for her affections with Brad Davis. Parker takes the opportunity to win her over when Midtown Tech organizes a school trip to Europe for the students who were killed in the Snap. All the while, Parker is met with an overabundance of stress after Tony Stark's death, juggling with the responsibilities of being Spider-Man. Fury attempts to contact Parker during a charity event as Spider-Man with his Aunt May, but he dismisses it and redirects it to Happy Hogan.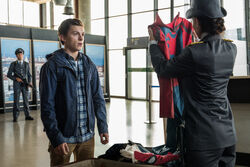 Parker's attempts to bond with Jones on the airplane ride to Italy proved futile. Parker's wingman and best friend Ned Leeds becomes infatuated with Betty Brant, and the two announce they are dating when they arrive in Venice. While the class is sight-seeing, a water-based creature emerges out of the Grand Canal and runs rampant. Parker attempts to stop it to no avail, until the armored Beck arrives, and destroys it after luring it out of the canal.
The night of the attack, Fury meets Parker in person and introduces him to Beck. Beck explains that the creatures are Elementals from an alternate dimension of Earth, which have emerged to their dimension in the Blip: A tragic warrior who had lost his family, Beck is determined to defeat them, and reveals that the final Elemental, Fire, is due to make an appearance in Prague. To accommodate Parker's request to keep his identity as Spider-Man a secret without arousing suspicion, Fury rearranges the school trip's location from Paris to Prague, through the trip's chaperones, Roger Harrington and Julius Dell.
In Austria, Parker is provided with a new stealth suit and a new and advanced AI named E.D.I.T.H., embedded in a pair of sunglasses, as a final gift from Stark. When Davis attempts to sabotage Parker's chances with Jones, he inadvertently authorizes an orbital drone strike at their tour bus, but Parker stops it before it opens fire. Arriving at Prague, Fury reprimands Parker for endangering his classmates with the drone strike. After being consoled by Beck, Parker dons the stealth suit and helps Beck combat the Fire Elemental once it erupts during the city's Carnival of Lights.
Leeds and Brant, who had snuck out of the school's planned trip to the State Opera House to the carnival, are put in danger to the Fire Elemental, but Parker saves them. After Beck sacrifices himself to destroy the Fire Elemental and emerges scathed but alive, Parker bequeaths the E.D.I.T.H. glasses to Beck for his heroism over drinks at a bar.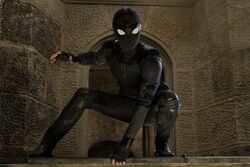 Parker and Jones make time for each other on the Charles Bridge. Jones exclaims that she suspects Peter of being Spider-Man, and submits a piece of tech with webbing as proof. When the tech - an advanced projector - activates to reveal an incomplete illusion of a scripted fight sequence with Mysterio, they realize that Beck had been manipulating the Elemental crises himself, and is a fraud. Meanwhile, Beck, who has grown callous out of his need for attention, reveals his grand plan to his subordinates, who were disgraced employees of Stark Industries, to launch an "Avengers-level threat" in London.
In Berlin, Parker attempts to expose Beck's plan to Fury and Hill, but Beck, knowing Peter has figured out his deception, intercepts him first. He torments him with various illusions, before tricking him into the path of a train. Beck has his subordinates reroute the Midtown Tech class trip to London, intending to kill Leeds, Brant, and Jones, as they can also expose his plans. Parker wakes up in a holding cell in the Netherlands, and calls for Hogan to rescue him. En route to London, Parker develops a new Spider-Man suit.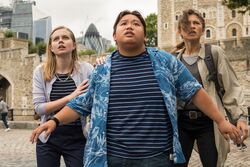 Parker skydives into London just as Beck launches his attack with the Elemental Fusion. Parker battles a swarm of Beck's drones and destroys the Elemental Fusion illusion. Parker confronts Beck in the Tower Bridge, where he reclaims the E.D.I.T.H. glasses and calls off the attack, saving his classmates in the process. Beck, who had accidentally been caught in the crossfire of one his attack drones in the battle, succumbs to his wounds and apparently dies. Parker and Jones embrace and kiss amid the ruins of the bridge.
One of Beck's accomplices, William Ginter Riva, recovers all of Beck's drone files after the battle. Returning to New York, Leeds reveals that he and Brant have ended their short-lived relationship, whereas Hogan and May are just starting one. While taking Jones on a date as Spider-Man across the city, altered footage of the Battle of London is broadcast on several billboards in the city, incriminating Spider-Man for the attacks. Much to Parker's horror, J. Jonah Jameson of The Daily Bugle broadcasts a confession tape from Beck, that ousts Spider-Man's identity as Peter Parker to the world.
In a post-credit scene, Fury and Hill are revealed to be Talos and Soren, who has been impersonating Nick Fury and Maria Hill on Earth at Fury's behest. Talos issues a rendezvous of the Elemental attacks to the real Fury, who is on his own "vacation" on a Skrull spaceship. Fury informs the Skrulls that he needs to go "back to work".
Cast
Appearances
Locations
Events
Items
Vehicles
Sentient Species
Creatures
Organizations
Mentioned
Production
On June 26, 2016, Sony Pictures Studios chairman Tom Rothman announced that Sony Pictures and Marvel Studios were committed to making more Spider-Man films after Spider-Man: Homecoming.[3]
On July 27, 2016, Kevin Feige announced plans for future Spider-Man films to follow the model of the Harry Potter film series.[4]
On October 16, 2016, Tom Holland announced that there were discussions for a sequel to Homecoming.[5]
On December 10, 2016, following the release of the Official Trailer and International Trailer for Spider-Man: Homecoming, Sony Pictures Studios announced that a sequel to the film, titled Spider-Man: Homecoming 2, was slated for release on July 5, 2019.[6]
On June 14, 2017, during an interview with AlloCiné, Tom Holland announced that Sony Pictures and Marvel Studios were making a trilogy of Spider-Man films, with two more films informally titled Spider-Man 2 and Spider-Man 3, as opposed to the Homecoming 2 title that Sony had announced in December 2016.[7]
On June 26, 2017, Collider reported that Sony Pictures and Marvel Studios were both keen on having Jon Watts return to direct the film.[8]
On July 19, 2017, The Hollywood Reporter announced that Jon Watts entered negotiations to return to direct the film.[9]
On August 30, 2017, The Hollywood Reporter announced that Chris McKenna and Erik Sommers would return to write the script.[10]
On December 9, 2017, Kevin Feige confirmed that Watts was hired to return to direct the film.[11]
On May 21, 2018, Variety reported that Jake Gyllenhaal entered negotiations to portray the film's main villain, Mysterio,[12] while The Hollywood Reporter confirmed that Chris McKenna and Erik Sommers were returning to write.[13]
On June 23, 2018, Tom Holland announced on his Instagram that the film's title was Spider-Man: Far From Home.[14]
On July 2, 2018, principal photography on the film started and was expected to conclude in December.[15][16]
On August 7, 2018, it was confirmed that Samuel L. Jackson and Cobie Smulders would reprise their roles as Nick Fury and Maria Hill, respectively.[17]
On October 16, 2018, principal photography on the film wrapped production.[18]
On April 17, 2019, the film was pushed up from its initial July 5, 2019 release date to July 2, 2019.[19]
On June 8, 2019, post-production on the film wrapped.[20]
Videos
Trailers
Other
Music
References
External Links
Community content is available under
CC-BY-SA
unless otherwise noted.