Boba Fett Returns - The Loop
Play Sound
"Law enforcement is in a frenzy looking for Luke Cage. There have been numerous false sightings, with some people wearing hoodies with holes, as a sign of solidarity with an outlaw some people still perceive to be a hero."
Soliloquy of Chaos is the twelfth episode of the first season of the Netflix exclusive television series Luke Cage.
Synopsis
Misty digs deeper for the truth as the neighborhood's power players throw the city into confusion.
Plot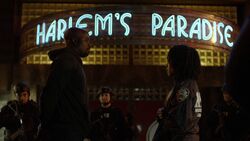 Following the incident at Harlem's Paradise, Luke Cage is getting arrested by the NYPD. While being transported to the precinct, Cage easily breakes his shackles and escapes from the police convoy. Cage tries to run away from the police officers, armed by the Judas Bullets, but ends up being cornered by John Polsky. Polsky, being an old acquitance of Pop and believing people's stories about Cage's heroism, decides to let him go, so he could take Diamondback down.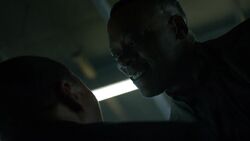 As the news of Cage's escape reach the public, Diamondback meets with Turk Barrett to resume his weapon trafficking business. Diamondback tells Zip that Shades made a mistake of doubting him and states that Shades needs to be taken care of, since he will be bailed out of the custody soon. Meanwhile, the Colon Crime Family concludes that Diamondback became too much of a threat and he needs to be taken out. Domingo Colon remininsces over the massacre of other crime bosses and decides to kill Diamondback and take Harlem for himself.
At the 29th Precinct Police Station, Misty Knight and Priscilla Ridley talk about Cage's escape but Knight points out that hostages' testimonies prove his innocence. Knight requests to be put in charge of the Cage investigation, but Ridley tells her that the NYPD is given the authorization to shoot Cage on sight. All Knight's attempts to contribute to the investigation are fruitless, as Ridley insists that she should be recovering from her wound.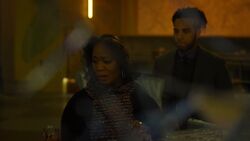 Mariah Dillard tries to figure out her next move, as her life and career were in shambles because of Diamondback. Alex Wesley reassures her that everything can be rebuilt after Diamondback is gone. Wesley offers Dillard his services in her new plan, stating that anyone who is aware of her dealings with Diamondback and Shades are a threat.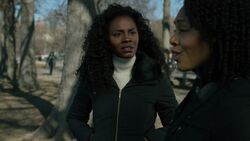 While Ridley unsuccessfully tries to interrogate Shades, Knight is called by Candace Miller who asks for an audience with her outside of the precinct. Miller tells Knight that she trust her because Cage does, and he saved Miller's life, so Miller decided to tell Knight the truth. Meeting with Knight, Miller admits that her previous testimony was a lie and that Cottonmouth was murdered by Dillard who paid Miller to back up her story. Fearing for her life, Miller promises to testify against Dillard in exchange for the safety, so Knight hides at her Soledad Temple's apartment, unaware that Wesley was watching them.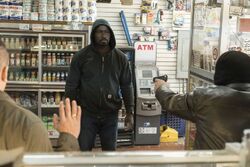 Hiding from the police, Cage prevents the robbery of a store, where he meets Method Man. After having a brief phone call, Cage leaves, and Method Man goes on the Sway's Universe radio show to talk about Cage. The tide of public opinion begins to turn back to Cage, although the NYPD conitinues to chase after him regardless. Cage then returns to Pop's Barber Shop where he meets Bobby Fish who had a run-in with Jake Smith and the NYPD. Cage tells Fish that he cannot run away and leave Harlem on Diamondback's mercy, so he needs to find him via other prominent figures in the city.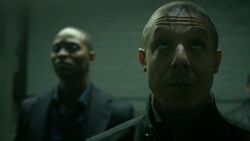 With the help of a lawyer, Shades ends up being freed from the police custody, and gets picked up by Zip and his men. Zip then attempts to kill Shades, however, he overpowers Zip and kills all of his men instead. Shades then forces Zip to reveal that Diamondback was the one who ordered him to be killed, since he started questioning his superior, before Shades kills Zip.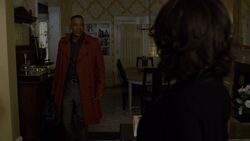 Wesley updates Dillard on the Miller situation, telling her that he had been watching Miller but lost her after she went away with Knight. Afterwards, she is approached by Diamondback who informs her that Shades is gone and Dillard must pick a side she stays on. Diamondback provides Dillard with money for her projects as a sign of their cooperation, to ensure her loyalty. Although Diamondback intends to leave after he is done with Cage, he makes it clear that their partnership will not end easily.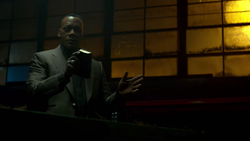 Cage confronts Barrett on the streets, as he was the one who informed Tone about Chico Diaz, and indirectly caused Pop's death. Cage interrogates Barrett about Diamondback, and he reluctantly tells Cage about his warehouse. At that time, Colon and his men confront Diamondback there and engage in a gunfight. Eventually, Diamondback uses his battlesuit to take out all of Colon's men and triggers a bomb before leaving. Cage manages to arrive before the explosion and get Colon out of there, however, he dies from the wounds anyway.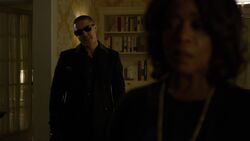 Shades meets with Dillard at her brownstone, revealing himself to be alive, and showing Dillard a bottle she hit Cottonmouth with, that he kept as a leverage. Shades gives the bottle to Dillard, since they were in the same boat, Shades has no need to blackmail her. Shades and Dillard concluded that they only way to take Diamondback down is to ally themelves with Cage, and Shades tells Dillard that he has something Cage needs.
Knight investigates the explosion and the deaths of the Colon family, before she receives a call from Cage. He tells Knight that Diamondback is the one behind all of it, while she informs Cage that the police had found Zip who was murdered by Shades. Cage realizes that his life will forever be hell, unless he finds Diamondback and ends it all.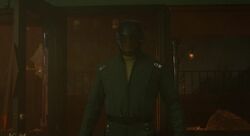 At the barbershop, Cage is approached by Shades and Dillard who offer him a truce, so he would leave them be in exchange for Diamondback's location. Although Cage does not want to ally with them, Shades also offers him an evidence that would help him clear the name of Carl Lucas. Dillard also promises to testify against Diamondback for the murders of Cottonmouth and Damon Boone, but Knight reveals herself listening and attempts to arrest Dillard. However, Diamondback interrupts the conversation by attacking the barbershop, and engages in a fight with Cage.
Cast
Main Cast:
Guest Stars:
Appearances
Locations
Events
Items
Vehicles
To be added
Creatures
Organizations
Mentioned
Music
Awards
This episode was nominated for a Golden Reel Award for TV – Short Form Musical Score.
Trivia
Soliloquy of Chaos is a song from the album Daily Operation of the hip-pop duo Gang Starr.
When Diamondback lectures Zip about Icarus, he mistakenly assumes he is talking about the rapper Icarus Moth who was featured with Kendrick Lamar for his song "Breeze Thru".
In the line of Method Man's freestyle rap "Now we got a hero for hire and he a black one"; hero for hire is a reference to Luke Cage's debut comic: Luke Cage, Hero for Hire.
References
External Links