"I conducted my own investigation because no one listens to me. I got away with it because no one looks at me. Because unless I have your reports, your coffee, or your lunch, I am invisible."
Snafu is the seventh episode of the first season of the television series Agent Carter.
Synopsis
Peggy is cornered and more vulnerable than ever as Leviathan makes their move against her. As the SSR zeroes in on Howard Stark, they may pay the ultimate price as they find their true enemy is closer than they realized.
Plot
In Russia, 1943, Doctor Johann Fennhoff was a different man; he read books like "The Tragic Life of Doctor Faustus" and helped in any way he could with keeping men from feeling pain.
In 1946, the doctor is now called Ivchenko and wants a Howard Stark invention labelled by the Strategic Scientific Reserve as Item 17.
To that end, he has Roger Dooley under his thrall so that he can observe the interrogation of Peggy Carter. Carter is interrogated in three different styles: Daniel Sousa, who uses friendship; Chief Dooley, who uses fatherly disappointment; and Jack Thompson, who cites betrayal from Howard Stark. Ivchenko watches with amazement as Carter calculates each man's speech with an appropriate response. When Thompson questions why he is watching the interviews, Ivchenko chooses to leave than to cause a confrontation.
Ivchenko communicates with Dottie Underwood who is stationed across the street in the dentistry office of Seth Honicky. He tells her to get ready for evacuation by using Morse Code; however, Carter and Edwin Jarvis, who tried to help her with a false confession he forged with Howard Stark's name, catches him signaling. Dooley tells Ivchenko to close the window but, as he does, he sees Thompson and Sousa leading agents across the street. He knows he has to escalate his plans.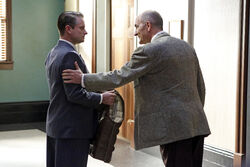 Ivchenko takes control of Dooley and has him clear the lab of Alex Doobin. They find Item 17; as an extra boon, Ivchenko finds a Stark Heat Vest, about which he had heard stories. Dooley allows the manipulator to leave the New York Bell Company uncontested.
Meanwhile, Underwood fights her way pass Sousa and the agents and retrieves Ivchenko in a car. She tells him that they have been discovered; Ivchenko is calm, telling his accomplice that the SSR will be too busy to pursue them. He tells her that Item 17 needs to be tested, so she takes it to a movie theater in a baby carriage that she had earlier purchased and releases its contents. The patrons kill one another.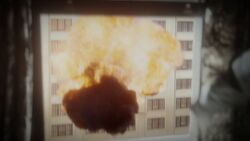 Dooley awakens from the dream that Ivchenko gave him; he is strapped in the Stark Heat Vest with no way of escaping. Roger Dooley jumps from a window as the vest explodes. The pain that Ivchenko has caused the SSR makes him now their number one priority.
Cast
Main Cast:
Guest Stars:
Appearances
Locations
Events
Items
Vehicles
Organizations
Mentioned
Trivia
SNAFU is a military slang acronym meaning "Situation Normal: All Fucked Up."
Some of the movies playing at the movie theater included The "F" Stands for Freedom (a reference to the line uttered by the Ultimate Marvel imprint Captain America: "Do you think this letter on my head stands for France?"), Grey was the Night, and Hot Lead Alley.
Music
Videos
References
External Links