Sheldon is a childhood friend and partner of John McIver.
Biography
Early Life
"We grew up together. Me, John and our bredren, Sheldon."
To be added
Aiding Bushmaster
"What's on the agenda, bredren?"
"Mariah. Until I change your mind."
"Never."
"We going to Harlem?"
"Nah. Better she come to Brooklyn. Or her people dem."
―Sheldon and John McIver
To be added
Chasing Piranha Jones
To be added
Propositioning Tilda Johnson
"He needs a doctor."
"You are a doctor. He needs Nightshade."
"I don't have enough. I swear, I swear, I don't... I don't have enough."
"If he dies, you die."
―Tilda Johnson and Sheldon
To be added
Personality
"Me like fish. So many different ways of filleting it."
―Sheldon
To be added
Abilities
To be added
Equipment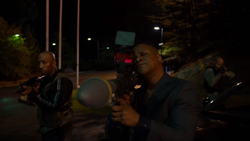 RPG: During an invasion on Rand Enterprises from the Stylers, Sheldon had equipped a rocket-propelled weapon that was made by Hammer Industries. Being one of the products of Mariah Dillard's gun dealings, it's value amidst the user's aiming capabilities allowed them to focus through a red holographic target for accurate precision. While Sheldon was aiming at the research facility, he was able to shoot the rocket out in the sky once the Stylers were alarmed by Luke Cage's presents.
Facilities
Relationships
Family
Allies
Enemies
Behind the Scenes
References
Community content is available under
CC-BY-SA
unless otherwise noted.