Shanghai is the largest city by population in China.
History
Surgery of Tony Stark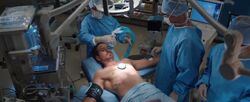 Tony Stark traveled to Shanghai to have surgery, in order to finally remove the shrapnel that penetrated his chest. He contacted Doctor Wu, whom he met during a science conference in 1999.
Doctor Wu and his assistant Wu Jiaqi operated on Stark, with Stark's closest friends Pepper Potts and James Rhodes accompanying him during the process. The surgery was a success, and eliminated the need for the use of the Arc Reactor in Stark's chest.[2]
Escape from HYDRA
The city of Shanghai in China was the intended destination of Raina after spending a while in Vancouver, having fled from the United States due to Daniel Whitehall's threats of killing her if she did not give him the Obelisk.
Raina seduced a man named Chad to afford her travels, attributing her necessity of traveling to having a wandering spirit.[3]
References
External Links
Community content is available under
CC-BY-SA
unless otherwise noted.