Jurassic World: Dominion Dominates Fandom Wikis - The Loop
Play Sound
"She was gone and we needed you. But you chose those damn rings over us. You trained your son to be a killer. Is this what you wanted?"
Shang-Chi and the Legend of the Ten Rings is a 2021 superhero film, based on the Marvel Comics superhero of the same name. It is the twenty-fifth film in the Marvel Cinematic Universe, and the sixth installment of Phase Four. The film was released on September 3, 2021.
The film is directed and co-written by Destin Daniel Cretton and stars Simu Liu as Shang-Chi, Awkwafina as Katy Chen, Meng'er Zhang as Xu Xialing, Fala Chen as Ying Li, Florian Munteanu as Mattias/Razor Fist, Benedict Wong as Wong, Yuen Wah as Guang Bo, with Michelle Yeoh as Ying Nan, with Ben Kingsley as Trevor Slattery, and Tony Leung as Xu Wenwu.
A sequel was revealed to be in development on December 6, 2021.[1]
Synopsis
Shang-Chi must confront the past he thought he left behind when he is drawn into the web of the mysterious Ten Rings organization.[2]
Plot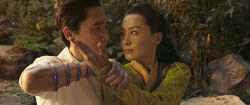 In ancient times, a man named Xu Wenwu discovered ten mystical rings. These artifacts blessed him with immortality and unmatched power, allowing him to become a dominating conqueror. Founding the Ten Rings organization, the terrorist syndicate would spread to nearly every corner of the world over the millennia. Still, Wenwu was not satisfied — having heard of the ancient village of Ta Lo, he sought to enter the realm for its mythical creatures. In 1996, he ventures into a bamboo maze and comes across Ying Li, a woman guarding the entrance to Ta Lo, who decrees that he is unwelcome in their village. Wenwu refuses to back down, leading them to fight. The two lock eyes on multiple instances, and while Li manages to defeat him, they quickly fell for each other. Li retells this story to her young son Shang-Chi, while also giving him a green pendant to find his way back home.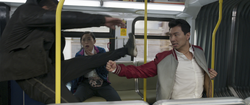 In the present day, Shang-Chi (now going by "Shaun") and his best friend Katy Chen work as hotel valets in San Francisco. This comes as a minor annoyance to their friends Soo and John, along with Chen's parents, as Chen and Shaun are overqualified for their job. One morning, while they ride the bus to work, Shaun is suddenly attacked by men seeking his pendant. As he manages to hold his own against them, Chen is forced to take over the wheel after the bus driver is knocked unconscious. After Shaun throws his attackers off the bus, Razor Fist emerges and attempts to kill him with his machete limb. While Shaun escapes unharmed, the assassin, working for the Ten Rings, has seized his pendant. Recalling a postcard supposedly sent by his sister Xu Xialing, Shaun prepares to depart for Macau. Chen insists on tagging along with him, determined to learn who Shaun truly is.
On the flight, Shaun reveals his true name to Chen and his life before meeting her: After his mother died while he was 7, Wenwu began to train his son to become an assassin. Under the cold supervision of his mentor, the Death Dealer, Shang-Chi learned the many ways to kill a man. Finally, after seven years of training, he was sent on a hit, but he fled to San Francisco instead. After landing in Macau, Shang-Chi and Chen locate the address of the postcard, finding the Golden Daggers Club. However, as Shang-Chi had signed a form when he first entered the building, he unknowingly had placed his name in for a fight on the grand stage.
As Chen spectates, Shang-Chi faces a new opponent — a woman whom he immediately recognizes as Xialing. Shang-Chi refuses to fight and attempts to inform her about their father's impending arrival, but he is knocked out. Xialing, embittered at her brother for abandoning her when he fled for San Francisco, reveals that she was not the one who sent the postcard. The Ten Rings infiltrate the Club searching for Xialing's pendant; Shang-Chi and Chen are left by themselves when Xialing deserts them for the elevator. They attempt to scale the scaffolding outside to reach another elevator, but the terrorists attack them there. Shang-Chi fails to catch Chen when she begins to fall, but Xialing saves her.
Death Dealer appears to snatch Xialing's pendant, prompting Shang-Chi to give chase and fight him. Shang-Chi prepares to kill his mentor, recalling his harsh treatment during his childhood training. However, Shang-Chi is stopped by Wenwu, who has already captured Xialing and Chen. They are taken back to the Ten Rings Headquarters, where Wenwu reveals that his late wife has been calling out for him to come and save her. Recounting that she had left her village to be with him, he believes that the people of Ta Lo have imprisoned her for that decision. Then, using the pendants from both his children, he generates a magical map made of water. The map illustrates a clear path through the bamboo forest to Ta Lo, which only opens before the Qingming Festival.
Wenwu reveals his intention to burn the village of Ta Lo down after rescuing his wife, a plan which alienates his children and Chen into raising their objections. For this, they are thrown into a cell. They eventually meet an imprisoned Trevor Slattery and his Dijiang pet Morris, who reveals there's a way to pass through Ta Lo's forest maze without waiting for the clear path to be revealed. Using an escape route discovered by Xialing, the party infiltrates the garage. After hijacking Razor Fist's car, they fight off the Ten Rings and flee from the compound.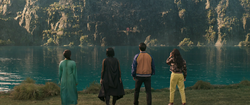 Approaching the forest maze, Chen is guided by Morris and Slattery as she maneuvers through the shifting bamboo to reach Ta Lo. They manage to make it through unscathed. As they drive into Ta Lo's village, they are confronted by the locals, who urge them to turn back. However, Li's sister Ying Nan intervenes, finally meeting her niece and nephew. Nan takes them through the history of the realm: Once a prospering civilization, the emergence of the Dweller-in-Darkness and its army of Soul Eaters devastated Ta Lo to near-destruction. Fortunately, the Great Protector intervened, and the Dweller was sealed off in a cavern, where it would begin to lure people to it by imitating the voices of their loved ones.
Nan suspects that Wenwu had fallen victim to the Dweller's influence. As she trains Shang-Chi in aerokinetic martial arts, Xialing practices with a new rope dart, while Chen learns archery, all in preparation for Wenwu's arrival. One night, Shang-Chi sits alone at the lake and remembers the night of his mother's death: at the hands of his father's rivals, the Iron Gang. He reveals to Chen that he lied about not carrying out the hit against the gang's leader on his first mission. He declares his intention to kill his father for his involvement. The following day, Wenwu and the Ten Rings begin their invasion. Shang-Chi confronts his father, but Wenwu overpowers him and casts Shang-Chi into the lake. Wenwu approaches the barrier and begins to attack it, which releases the Soul Eaters.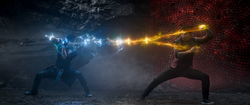 Death Dealer is immediately killed when his soul is taken, prompting Razor Fist to ally the Ten Rings with Ta Lo's guardians to confront the new threat. In the lake, the Great Protector saves Shang-Chi, who arrives at the barrier to confront his father once more. Wenwu loses control of his rings to Shang-Chi during the fight but is spared; Shang-Chi declares that his family needs him. Soon after, the Dweller-in-Darkness emerges from the weakened barrier. Realizing that his sister-in-law was telling the truth, Wenwu saves his son and passes his rings unto him before the Dweller fully steals his soul. The Great Protector is nearly killed by Soul Eaters and the Dweller, but is fortunately saved by Xialing and Chen. With the help of his sister and the Great Protector, Shang-Chi uses the rings to tear the Dweller into pieces, ending the battle.
Although victorious, both the people of Ta Lo and the Ten Rings suffered heavy losses. The surviving combatants, including Nan, the Ten Rings, and Slattery, hold a vigil to honor the dead. Shang-Chi bids goodbye to his father. He and Chen return to San Francisco and tell the story of their adventure to Soo and John, who do not believe them. Wong emerges from a portal and brings Shang-Chi and Chen to Kamar-Taj to discuss the origin of his father's rings making Soo and John realize that they were telling the truth. Carol Danvers and Bruce Banner are contacted for help, but they turn out to be clueless. Upon further examination, the mystical relics are shown to have a beacon transmitting a mysterious message. Meanwhile, Xialing returns to the Ten Rings Headquarters and becomes the new leader of the organization.
Cast
Appearances
Locations
Events
Items
Vehicles
Sentient Species
Creatures
Organizations
Mentioned
Production
In 2001, Stephen Norrington announced that he had agreed to direct a film based on the Marvel Comics character Shang-Chi, describing it as "a real honest-to-goodness martial arts film, rather than a film that simply has martial arts in it."[3]
In 2004, Ang Lee announced that he would be a producer on the film. In 2005, Stan Lee announced that he would executive produce the film for DreamWorks with Yuen Woo-ping set to direct from a screenplay by Bruce McKenna,[4] while Avi Arad stated that he believed a PG-13 adaptation of the character was possible.[5]
In 2006, Marvel Studios announced financing to produce the film, with the film set to be distributed by Paramount Pictures.[6]
On December 3, 2018, Deadline reported that Marvel Studios had hired David Callaham to write a screenplay which would modernize the character to avoid stereotypes while Marvel was looking at a number of Asian and Asian-American directors to helm the film, while also intending for the film to be Marvel's first superhero film with an Asian protagonist.[7]
On March 13, 2019, The Hollywood Reporter reported that Destin Daniel Cretton would direct the film following a shortlist that included Deborah Chow, Justin Tipping, and Alan Yang.[8]
On April 5, 2019, Marvel Studios announced that one of their upcoming films, believed to be this film, would shoot in Sydney and throughout New South Wales.[9] At the end of the month, it was reported that the film would not begin shooting until Eternals was finished shooting.[10]
On June 17, 2019, That Hashtag Show reported that Ludi Lin and Ross Butler were among the actors that Marvel Studios was interested in meeting to discuss the title role and that Marvel Studios was also interested in meeting Donnie Yen for an undisclosed role.[11]
On July 20, 2019, at San Diego Comic-Con 2019, Kevin Feige revealed that the title of the film would be Shang-Chi and the Legend of the Ten Rings and that it was scheduled to hit theaters on February 12, 2021. He also announced that Simu Liu would play the title character, while Tony Leung Chiu-wai and Awkwafina had joined the cast of the film as the real Mandarin and in an undisclosed role, respectively.[12]
On July 26, 2019, it was reported that the film was expected to begin shooting in August 2019 in Sydney.[13]
On October 26, 2019, it was reported that a portion of the film would shoot in the United States, under the working title "Steamboat".[14]
On January 8, 2020, Kevin Feige revealed that the film would begin production soon.[15]
On March 12, 2020, it was reported that first-unit production on the film was suspended as Destin Daniel Cretton had undergone self-isolation and was being tested for COVID-19.[16]
On March 13, 2020, 24 hours after stating that second-unit production on the film would still continue, Walt Disney Studios suspended production on all its live-action projects, including this film, as a result of the COVID-19 pandemic.[17]
On March 17, 2020, Destin Daniel Cretton revealed through his Instagram account that he had tested negative for COVID-19.[18]
On April 3, 2020, it was announced that due to the COVID-19 pandemic, the film had been pushed back from its initial release date to May 7, 2021.[19]
On July 1, 2020, Deadline reported that the film would resume shooting at the end of the month in Sydney.[20]
On August 2, 2020, it was reported that work was being done on a set and that the film would resume shooting in the following days.[21]
On September 23, 2020, it was announced that the film had been pushed back from its May 7, 2021 release date to July 9, 2021.[22]
On October 24, 2020, Destin Daniel Cretton and Simu Liu announced that the film had wrapped production.[23][24]
On December 10, 2020, during Disney's 2020 Investor Day, Kevin Feige revealed the full cast of the film.[2]
On March 23, 2021, it was announced that the film had been pushed back from its July 9, 2021 release date to September 3, 2021.[25]
On March 31, 2021, Deadline reported that Dallas Liu had joined the cast of the film in an undisclosed role.[26]
On April 19, 2021, it was revealed that Dallas Liu would portray a character in the film.[27] It was also revealed that Destin Daniel Cretton and Andrew Lanham had co-written the film's screenplay.[28]
On May 13, 2021, Bob Chapek announced that the film would have a theatrical window of 45 days.[29]
On June 24, 2021, during an episode of NBA Countdown, the film's official trailer was released and it revealed that Benedict Wong would be reprising his Marvel Cinematic Universe role of Wong and that Abomination would appear in the film.[30]
Videos
Trailers
TV Spots
Featurettes
Clips
Other
Music
References
External Links