"I hope I'm not disturbing your family."
"Oh, no, no, no. I have teenagers. They haven't been home on a Friday night in years."
―Karen Page and Ray Schoonover
The Schoonover Residence is the house in New York City owned by Ray Schoonover.
History
Inside his home, Ray Schoonover was visited by Karen Page and he welcomed her in, offering her a cup of coffee. Page explained that she was there because she now wished to do a profile on the real Frank Castle and she believed that Schoonover was the only person who had any good things to say about Castle. Schoonover told her that he was grateful to her for writing the article to prove Castle was not just a murderer.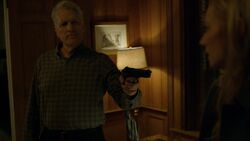 Answering Page's questions, Schoonover told her stories of their time together in the United States Marine Corps. Schoonover was told by Page about an explosion at the docks which Castle was involved with and it was believed that he had been killed. However, as they were speaking, Page accidently noticed a picture of Gosnell, whose corpse had been found at Pier 81 while she was looking for Castle. Realizing that Schoonover was, in fact, the Blacksmith, Page attempted to leave, however, Schoonover took her hostage, threatening her with a gun. Holding Page at the gunpoint, Schoonover forced her to get in her car with him and drive away from his house.[1]
References
Community content is available under
CC-BY-SA
unless otherwise noted.