San Diego is the second largest city in the state of California.
History
Pete and Mariah Leitner celebrated their wedding having invited their family and friends, including Pete's colleagues from the United States Navy, that were members of an anti-HYDRA unit.
Schneider, Pete's best man, gave a speech about how people want to change and become something better, relating it to Pete's decision to join the Navy, especially after an event that happened in Tijuana in 2009. Out of boredom, Cindy, one of the guests, asked the waiter for an strong beverage, but all the waiters, who were secretly HYDRA operatives, only offered champagne.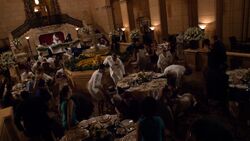 Schneider congratulated the newlyweds, and asked everyone to raise their glasses for a toast to the Leitners. However, as Schneider drank from his glass, his mouth started to petrify with effects similar to those produced in the Obelisk. Other guests suffered the same effects, causing panic in those who did not drink or suffer the effects.
The disguised HYDRA operatives quickly left the scene, contacting Sunil Bakshi at the HYDRA Laboratories to inform him that eight men died, but the rest, despite being sick, had survived the attack. Bakshi considered the results to be disappointing, and ordered the men to return immediately and give a report personally to Daniel Whitehall, who would surely not be pleased for another failure.[1]
Framework Network
With the knowledge of the Darkhold Holden Radcliffe and Aida began perfecting the Framework. Upon completion the code had become so powerful that it had to be processed on devices from all around the world. Part of the data was transmitted to San Diego.[2]
Appearances
In chronological order:
References
External Links
Community content is available under
CC-BY-SA
unless otherwise noted.