The Sambisa Forest is a vast forest area located in northeast Nigeria.
History
Returning home to Wakanda a week after his father's death, T'Challa and Okoye first flew to the Sambisa Forest in Nigeria, hoping to extract Wakandan spy Nakia from her undercover assignment with missing Chibok girls held captive by terrorists.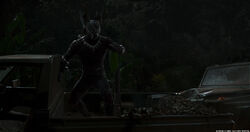 T'Challa droped from the jet, throwing EMP Beads, which attached themselves to the terrorists' cars and disabled them. T'Challa then hid in a tree as the terrorists got out of their vehicles. Leaping from his hiding spot, T'Challa engaged the terrorists, the Panther Habit absorbing all their fire. He took them out with ease, and Nakia stepped out to help in the fight. She prevented T'Challa from killing one of the men, who had been forced to join the terrorists against his will. T'Challa lost focus at seeing his ex-girlfriend again, and a terrorist took advantage of the moment, threatening to shoot one of the girls if T'Challa moved. Okoye, however, took out the final man, having expected T'Challa to freeze and dropped down herself to help.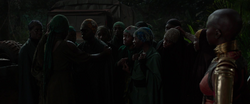 Nakia was frustrated at T'Challa for ruining her assignment, but he informed her of his father's death and the fact that he would be crowned tomorrow, and wanted her to be there. Okoye, meanwhile, freed the Chibok girls and sent them off safely, warning them not to speak of the events that just unfolded.[1]
References
External Links
Community content is available under
CC-BY-SA
unless otherwise noted.