Rusty Peltzer was a mercenary and a friend of Lance Hunter. After Hunter's departure from S.H.I.E.L.D., Peltzer frequently worked with him. When working as a getaway pilot while helping Hunter rescue Leo Fitz from Blue Raven Ridge, he died after crashing his helicopter.
Biography
Exploits with Lance Hunter
Peltzer met Lance Hunter while he was working at a mercenary. He showed Hunter his van rigged with multiple accessories and also lectured Hunter about all the conspiracy theories he believed in, having even installed sophisticated computer systems able to hack into surveillance systems.[1]
Rescuing Fitz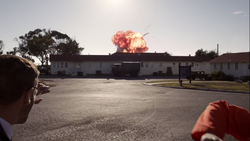 Peltzer was hired by Lance Hunter to help him get his friend Leo Fitz out of the Blue Raven Ridge military facility. Peltzer was supposed to lure the military with an helicopter to enable Fitz and Hunter to escape. However, he failed to properly pilot the helicopter and crashed to his death in the facility. Hunter and Fitz still managed to escape thanks to Peltzer's van.[1]
Abilities
Pilot: Using his skills and experience as a pilot, Peltzer managed to get a helicopter off the ground while helping Lance Hunter rescue Leo Fitz. However, his skills did not help him avoid crashing this very helicopter, which caused Peltzer's death.
Spy: As a convinced conspiracy theorist, Peltzerv acquired many computer hardware to be used so that he could tap into security agencies data as what he thought was a counter-surveillance measure.
Equipment
Surveillance Hardware: To be added
RV: To be added
Relationships
Allies
Enemies
References
Community content is available under
CC-BY-SA
unless otherwise noted.