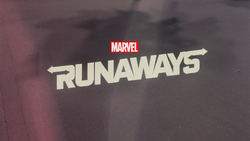 A list of trivia related to Runaways.
References to the Marvel Cinematic Universe
References to Marvel Comics
Characters from Marvel Comics adapted into the show as main cast during its first season are the Runaways (Alex Wilder, Nico Minoru, Karolina Dean, Chase Stein, Gert Yorkes, and Molly Hayes) and the PRIDE (Catherine & Geoffrey Wilder, Tina & Robert Minoru, Leslie & Frank Dean, Dale & Stacey Yorkes, and Janet & Victor Stein).
The character of Molly Hernandez is based on Molly Hayes. The original Molly Hayes was a white mutant and, due to 20th Century Fox owning the rights to the X-Men at the time before Disney bought said former company and by extension the term "mutant", her powers and origins are explained differently. Additionally, the ethnicity of Molly is changed from white to Hispanic including a last name change from Hayes to the Latina derived surname of Hernandez.
The code PRIDE uses when they have an extreme emergency, TSUNAMI, is a reference to the imprint in which the Runaways comic book debuted.
The character of Vaughn Kaye is an easter egg to Runaways creator and original writer, Brian K. Vaughan.
The character of Alphona is an easter egg to Runaways co-creator and original artist, Adrian Alphona.
The name of Atlas Academy is an easter egg to Atlas Comics, the publishing label that evolved into Marvel Comics.
Other Trivia
References
Community content is available under
CC-BY-SA
unless otherwise noted.