Wiki Targeted (Entertainment)
Play Sound
Rowan Hamilton was the CEO of Transia Corporation who was forced by HYDRA to hand over his company to Gideon Malick. Although Hamilton did as instructed, Hive used him in a test, ordering Malick to crush his skull with his own Exoskeleton.
Biography
Hostile Takeover
As CEO of Transia Corporation, Hamilton agreed to meet with Gideon Malick, an influential businessman and prominent figure of HYDRA. Hamilton and his board of advisors met Malick and Hive at the Transia Corporation Building. During the meeting, Rowan was astonished to hear Malick offering to purchase all of Transia Corporation. Distrusting Malick, Hamilton refused.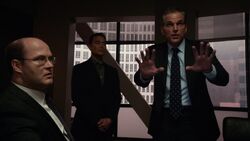 Hive intervened in the talk and had Charles Hinton touching Hamilton, which triggered a vision in which Hamilton saw the deaths of his colleagues, the flesh consumed by Hive's parasites. Afraid by the vision, Hamilton agreed to sign over the company to Malick, but Hive murdered the advisors nonetheless, momentarily sparing Hamilton.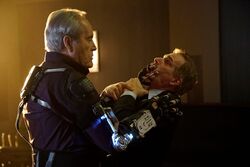 A HYDRA squad then took over the building and brought the Transia Corporation Exoskeleton. Hive instructed Malick to put it on and to experience real power by using the strength provided by the exoskeleton to murder Hamilton. Despite Hamilton's plea, the CEO of Transia Corporation had his skull crushed by Malick.[1]
Facilities
Relationships
Allies
Enemies
Trivia
References