"Is it yours?"
"Oh, God, no. I'd die in the suburbs. No, this charming little chateau belongs to one of my father's many work associates, who's currently off to Monte Carlo, where prostitution is legal."
―Matt Murdock and Elektra
Roscoe Sweeney's Mansion is a cottage in New York City, owned by Roscoe Sweeney.
History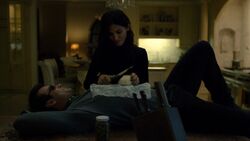 In order to let Matt Murdock to get revenge on Roscoe Sweeney, Elektra brought Murdock to Sweeney's mansion in New York City, saying that it belonged to one of her father's associates. The two broke the glass door and entered the mansion, playing around with Sweeney's belongings. The two had a drink and Elektra began to smash the glasses and they began to kiss, showing how little regard they had for the homeowner and how free they felt in each other's company.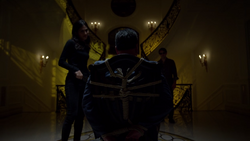 However, Sweeney returned to his mansion where he was subdued by Elektra, knocking him out, to Murdock's great concern. Elektra tied Sweeney to a chair and allowed Murdock to get his revenge for the death of his father. Murdock began to hit Sweeney, while Elektra was encouraging him to kill Sweeney but he refused and then dropped the knife. Murdock called the NYPD to report Sweeney, while Elektra walked out of the mansion, leaving Murdock behind.[1]
References
Community content is available under
CC-BY-SA
unless otherwise noted.