The Robbery of the ReadyQuick Check Cashing was the first criminal endeavor pursued by Jigsaw's Crew, with the intention to steal a recently delivered payload of three hundred thousand dollars. Due to the success of the robbery, despite their getaway gone awry, this prompted the crew to expand their operations and criminal activities across New York City.
Background
After Billy Russo escaped from medical custody and became a citywide fugitive[2], he turned to a motley of various military veterans at McFeeney's, ultimately deciding to pursue a life of crime together, to which Russo was the ringleader.[3] The group was later tipped off a transport amounting to three hundred thousand dollars to the ReadyQuick Check Cashing, and began preparing for the heist by doing practice runs.[1]
One of the crew members, Jake Nelson, was kidnapped by the Punisher and Curtis Hoyle, who sought to apprehend Russo. After being tortured by Castle, Nelson fessed up to the robbery plans. However, as the two arrived to confront Russo, he and the crew already left to commit the robbery.[1]
Robbery
After the transport arrived, two civilians entered the bank, only to be followed by the masked and armed Jigsaw, Bobby and Mike, who swiftly incapacitated the bank's security guard and held the two civilians in line at the counter hostage. When negotiating with Lillian, the bank's manager, about opening the door to the payload, she began bluffing to Russo and the robbers, claiming that the door was set on a timer.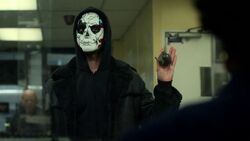 Growing increasingly impatient with Lillian's attitude and resistance to comply with his demands, Russo and the bank robbers attempted to spook her and the staffing behind the counter into opening the door by threatening to use a fragmentation grenade. Despite this, Lillian remained overconfident and began mocking the robbers from behind the counter, even though everyone else was tempting her to open the door, including Anton Reed, who had claimed that the door was insured.
Finally, Reed, who was actually Russo's inside man, who was supposedly in the scenario, a scared staff member, pressed the button to open the door, much to Lillian's confusion and annoyance. The crew proceeded with the robbery, bagged up the three hundred thousand dollars from the bank's vault, and zip tied the remaining clients and staffing, but not before Russo took Reed, claiming him to be their hostage.[1]
Aftermath
As they were leaving the bank, Jigsaw saw Jake Nelson arrived, however, to his shock, "Nelson" was revealed to be the Punisher, which then recrudesced Russo's nightmares and left him in a state of panic. He angrily confronted Castle and engaged in a furious shootout, which escalated when the New York City Police Department arrived. Due to the tense situation, Russo and his crew escaped.[4]
References
Community content is available under
CC-BY-SA
unless otherwise noted.