"I have a family... and they are alive because of you."
Rhomann Dey's Daughter is the daughter of Xandarian Rhomann Dey and his Krylorian wife.
Biography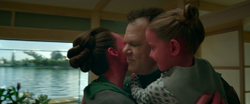 During the Battle of Xandar, she and her mother were evacuating the city when a Necrocraft attempted to dive bomb their location, but was destroyed by Rocket's M-ship before reaching the ground. After the battle, she and her mother greeted Rhomann Dey when he arrived home.[1]
Relationships
Family
Gallery
Trivia
References
External Links
Community content is available under
CC-BY-SA
unless otherwise noted.