The Rescue of Donny Chavez was an attempt by Frank Castle to prevent his co-workers from entombing Donny Chavez in cement.
Background
During their shift at the site one afternoon, Lance and Paulie conversed on searching for another method of earning money to repay the Gnucci's. Paulie, unknowing of Pete Castiglione's presence nearby, mentioned committing a robbery with the boys, in which they stole from the Gnucci and used the money to repay their debts. Afterwards, they discovered Castiglione behind a flat wall piece and began to taunt him for eavesdropping on their conversation.
The two were quickly distracted by the sound of their co-worker Scut being injured by a beam, rushing to his aid. Despite Donny Chavez calling to Castiglione to help, he walked away and returned to work. Later that evening, Lance turned to Chavez to replace Scut in their approaching, telling him not to ask question but adding that it was illegal. He accepted the offer.[1]
Rescue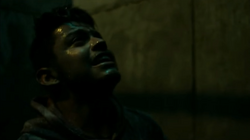 Returning to the construction site, Lance, Paulie, and Leo began to assault Donny Chavez for his mistake at Linello's, plotting to bury him in cement. Despite Chavez's pleas not to kill him and allow him to running away, Lance and the men brought him into the site. In an effort to defend himself, Chavez grabbed a nearby pipe and knocked Leo down but was quickly knocked down by Lance and beat further until he was made limp and tossed into the base where liquid cement had been poured. Behind him, Pete Castiligione demanded that they turned off the cistern. When they did not comply, he vented his rage by engaging them into a one-on-three fight.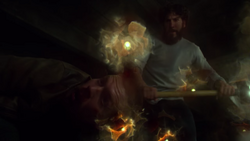 Using his sledge hammer to his advantage, the Punisher managed to beat all three of the men into submission, striking Leo across the face so hard that his neck snapped and he fell into the mixer with Chavez. When Paulie tried to shoot the Punisher, he avoided the shots before taking Lance's gun and shooting Paulie dead before he could get back to his car and escape, as his body was also dumped into the mixer. Finally, the Punisher forced Lance to tell him where he could find Tony Gnucci, before smashing his face in with the hammer and throwing him into the mixer with the bodies of Leo and Paulie.[1]
Aftermath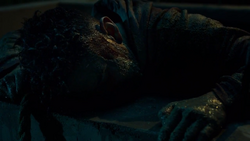 Pete Castiglione cast a rope over one side of the cement pit, Donny Chavez, who used it to climb out. He then took the car and drove to Linello's and took care of the Gnucci Crime Family, which attracted the attention of a figure from his past.[1]
References
Community content is available under
CC-BY-SA
unless otherwise noted.