Special Agent Rahul "Ray" Nadeem was an FBI agent whose attempts to provide a comfortable life for his family had led to him to taking on the case of Wilson Fisk, supplying Fisk with all of his demands in exchange for damning evidence on other crime syndicates. However, as Nadeem's investigations had led him to looking into Benjamin Poindexter's true connection with Fisk, he then discovered that Fisk had already taken over much of the FBI, and forced Nadeem to become an unwilling pawn. In his final efforts to bring down Fisk's criminal empire, Nadeem turned to Nelson and Murdock to give up evidence in court, however as this failed, Nadeem recorded a confession which leaked online, before allowing Poindexter to kill him.
Biography
Early Life
Ray Nadeem was born and raised in New York City in an Indian-American family. As a child, Nadeem was a neighbor of Jack Kem, known by everyone from their block as Jiggy. Kem proved to be a very generous man who supported a lot of his neighbors what made Nadeem see him as his personal hero. However, much to Nadeem's disappointment, Kem turned out to be a criminal who used his neighbors to cover his crimes.[3]
Many years later, Nadeem fell in love with a woman named Seema. With Seema's father's blessing, they married and gave birth to a child named Sami Nadeem.[2] In order to provide for his family, Nadeem joined the FBI New York Crime Division as a Special Agent and was stationed under Tammy Hattley's direct commands. Due to his service within the FBI, Nadeem and his family befriended with several agents, such as Benjamin Poindexter.
Saanvi's Diagnose
Much to his horror, Nadeem was informed by his brother Nihar that his wife Saanvi was diagnosed with cancer. Unfortunately, Saanvi's health coverage was denied for unknown reasons and they had no money to pay for medical treatment. Nadeem financially supported his brother what eventually buried his family in debt. For several months, Nadeem was requesting for promotion at the FBI, however, for some reason, his performance reviews were deferred by Tammy Hattley.[4]
Deferred Reviews
To be added
Protecting Wilson Fisk
Fisk Detail
To be added
Interrogating Karen Page
To be added
Interrogating Foggy Nelson
To be added
Promotion
To be added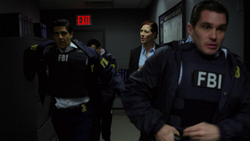 To be added
Realization
To be added
Meeting Daredevil
To be added
Kingpin's Enforcer
Investigating Poindexter
To be added
Forced into Subordination
To be added
Offer with the Crime Syndicates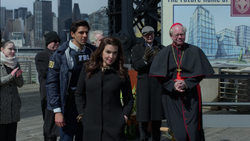 To be added
To be added
Exposing Kingpin's Conspiracy
Betraying Kingpin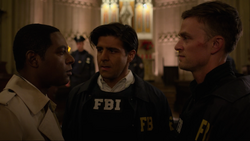 To be added
Allying with Daredevil
To be added
Deal with Blake Tower
To be added
Targeted by Fisk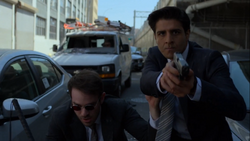 To be added
Testifying Against Fisk
To be added
A Dying Declaration
To be added
Murdered by Poindexter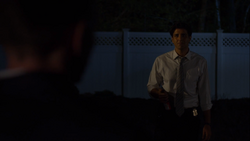 Recording his declaration, Nadeem grabbed the bottle of beer and went to the backyard of his house where he was waiting for whoever Kingpin will send for him. Finally, Nadeem spotted Benjamin Poindexter, armed with a handgun, who told him to enter the house for a proper talk. Poindexter's lie was too unconvincing for Nadeem, so he easily guessed that Poindexter simply wanted to kill him inside the house which would be much easier.
Poindexter ridiculed Nadeem for his decision saying he was in a tough spot and how must have been really hard for him. Nadeem then told Poindexter that as soon as he becomes no longer useful for Fisk, he will be discarded too. Nadeem's words did not convince Poindexter but Nadeem insisted and tried to convince him to turn away from Fisk who manipulated Tammy Hattley and their colleagues within the FBI. Nadeem proposed Poindexter to cut a deal with Blake Tower and testify against Fisk, as the FBI agents.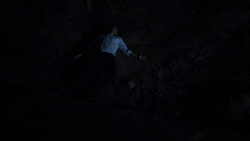 However, Poindexter rejected Nadeem's offer and informed Nadeem that he is more than an FBI agent and that he had never felt more than himself in his whole life. Understanding that he would not be able to convince him, Nadeem told Poindexter that as long as he is alive his family is at risk, while Poindexter continued to offer him once to leave with him. Nadeem told Poindexter that whatever needs to do he will do it where they are standing. Nadeem then pulled a gun and attempted to shoot him, only to be shot and killed by Poindexter who left his body in the hole.[2]
Legacy
Fisk's Downfall
To be added
Personality
To be added
Abilities
Expert Marksman: To be added
Bilingualism: Nadeem fluently speaks his native Hindi and English.
Equipment
Weapons
Glock 17: Nadeem used his handgun for self defense and protection as an FBI agent, working outside of the agency.
Other Equipment
Facilities
Relationships
Appearances
Appearances for Ray Nadeem
In chronological order:
Behind the Scenes
References
Community content is available under
CC-BY-SA
unless otherwise noted.