Doctor Strange in The Multiverse o Madness - The Loop
Play Sound
The Rand Enterprises Private Jet is a private plane owned by Rand Enterprises.
History
After uncovering Hand activity associated with Rand Enterprises, Wendell Rand charted a plane to Anzhou and planned to take his wife Heather and their son Danny with him, not telling them that he was planning to expose the existence of the laboratories. Harold Meachum decided to prevent Wendell from bringing back proof by causing his plane to crash mid-flight. Before plane left the United States, Meachum injected the pilots with a poison he previously obtained from Madame Gao.[1]
En route to China, both pilots succumbed to the poison and lost control of the plane. In the main cabin, the increasing turbulence caused Danny to hit his head. At that moment, the roof of the plane ripped off and caused Heather to be sucked outside, where she fell to her death. The plane crashed into the Himalayan mountain range, instantly killing Wendell but Danny survived. He then found the wreckage of plane with his father's corpse.[2]
Trip to Anzhou
When Radovan Bernivig informed Danny Rand that Madame Gao was in Anzhou, he decided to go after her. Rand declared his intention to Colleen Wing and Claire Temple, and they decided to join him. Rand charted plane to Anzhou and took them. On a plane, Wing listened music while Temple read letter from Luke Cage.
The plane started shaking and Rand was immediately under distress. Temple assured that turbulence wasn't dangerous, Rand retorted that his mother told her the same thing before she was ripped out of the plane. Rand told his friends about the accident. After some struggle, Rand eventually calmed down. Eventually, their plane landed at their destination.[3]
Returning to New York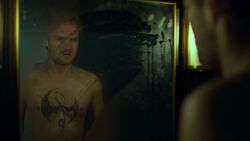 After confrontation with the Hand warrior at Cambodia, Shaft told Rand and Wing that they need to return to New York City. They took the Rand Enterprises plane and during the flight, Rand was haunted by his failure to protect K'un-Lun. The plane reached to New York and Rand and Wing took Rand Enterprises Helicopter to arrive to Manhattan.[4]
Trip to Asia
To be added
Appearances
Appearances for Rand Enterprises Private Jet
In chronological order:
References