Wiki Targeted (Entertainment)
Play Sound
Qajax was a Remorath warrior of the Confederacy who participated in the Siege of the Lighthouse and died after he drank the Odium.
Biography
The Confederacy
Glorious End
With the end of the Siege of the Lighthouse, Qajax regained consciousness in one of the Lighthouse corridors. Spotting Alphonso Mackenzie patrolling, Qajax drank some of his Odium and immediately faced against the S.H.I.E.L.D. agent. Qajax charged at him, unaffected by the Shotgun-Axe's bullets. He managed to hit Mackenzie a few times, but the latter used the blade of the Shotgun-Axe to bring him down. As he was about to kill him, Melinda May stopped him so Qajax would be kept alive for information, so Mackenzie knocked him out.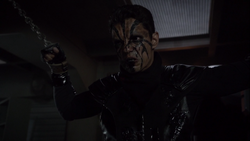 Qajax was tied in chains and was questioned by Mackenzie, May and Jemma Simmons. He did not answer their questions, only promised them that the Confederacy would take revenge then. When asked about the Odium, Qajax said they were not worthy of holding it. He then described it purpose, but suddenly a tantrum hit Qajax, causing him to rave, and when he freed one of his hands from the shackles, he passed away. Simmons later opened Qajax's body to understand more of the Odium's effects.[4]
Powers and Abilities
Powers
Abilities
Relationships
Allies
Enemies
References