Jurassic World: Dominion Dominates Fandom Wikis - The Loop
Play Sound
Proxima Midnight was a member of the Black Order and an adoptive daughter of Thanos.
Biography
Traveling to Another Universe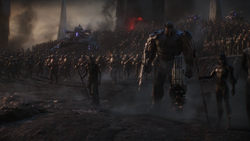 After the Avengers traveled to an an alternate timeline in 2014 in their quest to steal the Orb and the Soul Stone, the 2014 version of Thanos used reverse-engineered Pym Particles and a Quantum Tunnel to transport himself, his weaponry and his allies to the Avengers' timeline in their year of 2023, including Midnight. Upon arriving in the year of 2023, Thanos declared his intentions of using the Infinity Stones to destroy the universe and create a new one on his image.
After Thanos summoned his forces down from the Sanctuary II, Midnight was summoned to the ruins of the Avengers Compound by Thanos, along with the rest of the Black Order and all of Thanos' forces. Following the arrival of the Avengers' allies through portals made by Doctor Strange and the Masters of the Mystic Arts, Midnight, as well as the rest of the Black Order, participated in the charge on their enemies.
As Captain Marvel led a surge to get the Infinity Stones to Luis' Van, Midnight led Thanos' army in defiance. When Iron Man grabbed the six Infinity Stones out of Thanos' hand and snapped his fingers to disintegrate all of his forces, Midnight was among those who were reduced to dust. Midnight cradled around her husband Corvus Glaive, who had been killed by Okoye, as the two of them faded away together.[1]
Powers and Abilities
Powers
Superhuman Strength: To be added
Superhuman Durability: To be added
Superhuman Speed: To be added
Superhuman Agility: To be added
Superhuman Stamina: To be added
Superhuman Reflexes: To be added
Regenerative Healing Factor: To be added
Abilities
Master Combatant: To be added
Spear Mastery: To be added
Master Acrobat: To be added
Equipment
To be added
Relationships
References
External Links