Primed and Ready Fireworks was a firework shop located in Los Angeles. It was accidentally destroyed during the battle between Hellfire and Ghost Rider.
History
JT James' Employment
After the Inhuman JT James was liberated from the influence of Hive after the dark Inhuman's death, he was registered by a relegitimized S.H.I.E.L.D. under the Sokovia Accords and, despite having fire-based powers, given employment at Primed and Ready Fireworks due to his expertise in explosives. The manager, Shaun, had given up smoking, and had taped a cigarette to his desk to remind himself never to restart the habit.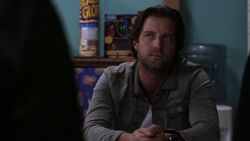 Like Daisy Johnson, James had been emotionally scarred by his experience with Hive; unlike Johnson, who became a vigilante and helped people, James came to hate his own kind and betrayed all Inhumans by giving the Watchdogs access to the tracking watch S.H.I.E.L.D. had given him, allowing them to discover the locations of any Inhuman registered by S.H.I.E.L.D. and murder them. Eventually, Johnson and Jemma Simmons, unaware of James' betrayal, came to the shop to warn him that he was in danger. Johnson shot James' watch off, triggering a warning that his GPS had failed. Seeing an opportunity to lure another Inhuman into a trap - in particular, the one who turned him into what he considered to be an abomination - the treacherous Inhuman lured them to the storage area, claiming there were weapon materials there.[1]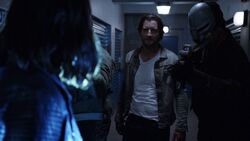 Johnson and Simmons were brought to the storage area, expecting weapons, but when the containers opened they contained Watchdogs, at which point James revealed his betrayal. Johnson let out a shockwave that repelled the Watchdogs, but in the process broke every bone in her arm. The two women were forced to hide in one of the containers, but the treacherous Inhuman realized where they had hidden and blew the door off, preparing to kill them with his chain.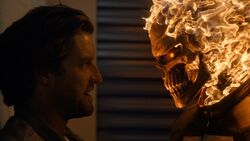 Fortunately, S.H.I.E.L.D. agents Phil Coulson and Alphonso Mackenzie had been alerted to the failure of James' GPS and, with Robbie Reyes in tow, had gone to the shop to check on his welfare, finding the building swarming with Watchdogs. Seeing the treacherous Inhuman about to murder Johnson and Simmons, Reyes grabbed the chain and told Johnson and Simmons to go downstairs and find Coulson. With his chain used against him and a fire-imbued ball only causing Reyes to transform into Ghost Rider, the treacherous Inhuman was quickly brought to the brink of defeat while Simmons and Johnson reunited with Coulson and Mackenzie and informed them of James' betrayal.[1]
Destruction
In a last ditch effort to defeat Ghost Rider, James caused the wall behind him to explode. Unfortunately, the room the two fell in was filled with fireworks, including firecrackers which were accidentally lit. Mackenzie and Coulson immediately recognized the danger and Coulson ordered Mackenzie, Simmons, and Johnson to evacuate. The firecrackers lit other fireworks as they went off, causing a chain of explosions that ultimately destroyed the shop.[1]
Trivia
References
Community content is available under
CC-BY-SA
unless otherwise noted.