The Price Residence was the place of living of the head of ATCU Rosalind Price.
History
Phil Coulson's Visit
While on her way to show the ATCU facility to Phil Coulson, Rosalind Price received a call from the police that her home had been burgled. She reluctantly agreed to return to her house with Coulson and inspected it with the policemen to check whether anything was gone. Meanwhile, Coulson briefly explored the living room to figure out what kind of person Price was.
Coulson later confronted Price about the fight that nothing seemed to have been stolen and accused Price of havign staged the robbery in order to gain his sympathy and avoid showing him the ATCU facility. In return, Price accused S.H.I.E.L.D. to have attempted the robbery as they know she was not at her home. In the end, they settled their argument and left the Price Residence as Price agreed to take Coulson to the ATCU facility.[1]
Over time, Coulson and Price grew closer and became lovers, leading Coulson to frequently come to spend the night in the Price Residence.[2]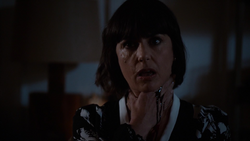 As Phil Coulson and Rosalind Price were enjoying a dinner date at the Price Residence and discussed their recent discovery about HYDRA leader Gideon Malick, Price was suddenly shot in the neck by a sniper. Despite Coulson trying to save her, there was nothing he could do and Price died in his arms. Seconds later, Coulson was called by the assassin: his former colleague and now mortal enemy Grant Ward.
Coulson challenged Ward to come and kill him, but Ward refused, as he already had sent a team HYDRA operatives to do the job. Coulson managed to take down two of them before causing an explosion to distract and kill two other. He then jumped through the window and managed to escape thanks to Alphonso Mackenzie, who had driven a SUV to the Price Residence after being alerted by Coulson.[3]
Presidential Meeting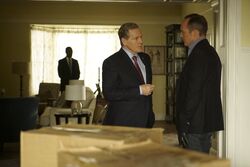 Phil Coulson decided to invite President Matthew Ellis to the Price Residence so that they could discuss the threat of Gideon Malick in the very place where Grant Ward, Malick's associate, had murdered the head of the ATCU Rosalind Price, as well as the Inhuman Outbreak. Ellis told that he would keep S.H.I.E.L.D. as his blackop team serving behind the public face of the ATCU, which would soon have a new Director. However, Ellis could not help S.H.I.E.L.D. with Malick as he was too powerful even for the President.[4]
Appearances
In chronological order:
References
Community content is available under
CC-BY-SA
unless otherwise noted.