Pablo is a member of the Makapu'u Surfers who met and helped Gorgon during his exile on Earth.
Biography
Meeting Gorgon
Along with his fellow Makapu'u Surfers, Pablo used to surf at the Makapu'u Beach. They found Gorgon as he was drowning following his attempt to find his cousin Triton. Gorgon introduced himself and explained why he was here and that soldiers could be chasing him. Pablo and the other surfers agreed to help Gorgon to fight against his opponents.[1]
Led by Gorgon, Pablo and the others surfers prepared an ambush for the Attilan Royal Guards led by Auran. As Auran and her team arrived, Pablo and the others attacked, but they were forced to flee as Mordis joined the battle.[2]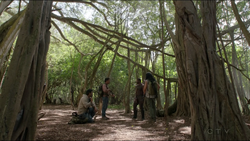 Pablo remained with Gorgon, who told the surfers that he should carry on alone. Gorgon mentioned his cousin Karnak, claiming that he would know what to do next, and Pablo asked Gorgon if he could find or contact him, something Gorgon could not do. Eventually, Gorgon convinced Pablo and the others to leave him fight his opponents on his own.[3]
Equipment
Relationships
Allies
Enemies
References
Community content is available under
CC-BY-SA
unless otherwise noted.