Spider-Man: No Way Home Trailer Dropped - The Loop
Play Sound
The Obedience Disk is a device used by the Grandmaster to force gladiators to compete in his Contest of Champions.
History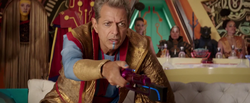 Obedience Disks were used as a means to control those who had been enslaved by the Grandmaster on Sakaar. When Scrapper 142 captured Thor on Sakaar, she put an Obedience Disk on his neck, enabling her to incapacitate the God of Thunder whenever necessary. She used it when Thor tried to get free from the chair he was strapped to. Thor's Obedience Disk was activated again in the end of his duel against Hulk so that the Grandmaster's Champion would remain undefeated.
Thor eventually managed to steal Valkyrie's controller to get rid of his Obedience Disk. Thor kept his disk and the controller. Feeling that Loki would betray him while he intended to leave Sakaar, Thor secretly planted the disk on Loki's back and activated it when Loki tried to turn him over to the Grandmaster; Thor then dropped the controller before leaving.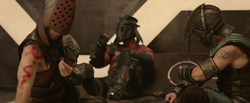 In an attempt to distract the Sakaaran Guards and ensure the Revengers' escape, Valkyrie helped Korg starting the Sakaaran Rebellion and deactivated the obedience disks of the gladiators so that they could fight the Sakaaran Guards. The rebels later found Loki who was still incapacitated by the disk activated by Thor. Korg then deactivated the disk.[1]
Capabilities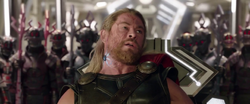 Obedience Disks are deeply embedded in the skin of the beings they are used onto. The disks' attachment system can go through clothes and are even capable of penetrating an Asgardian's otherwise durable skin (such as Thor and Loki).
Obedience Disks are activated by a remote controller, which is also used to detach it from the skin of the person it is attached to. Otherwise, the disk cannot physically be removed. Once activated, an Obedience Disk is capable of producing extreme electrical shocks to the person it is attached to, causing them great pain and incapacitating them, including highly durable beings like Asgardians.
Trivia
References
External Links