She-Hulk Trailer Dropped - The Loop
Play Sound
Netflix, Inc. is an American provider of on-demand Internet streaming media available to viewers in America, Europe (except Crimea), Asia (except China (available for Hong Kong SAR and Macau SAR), North Korea and Syria), Africa and Oceania.[1]
Original Programming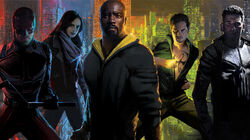 In November 2013, Netflix and Marvel Television announced a five-season deal for four Marvel characters: Daredevil, Jessica Jones, Luke Cage and Iron Fist. The deal involved the broadcast of four 13-episode seasons that culminated in a mini-series called The Defenders. Broadcasting began on April 10, 2015 with Daredevil.
In April 2016, Netflix announced that a sixth series, The Punisher, was in development.
Netflix cancelled all Marvel Cinematic Universe series on their streaming service between October 2018 and February 2019. The shows were removed from their service on March 1st, 2022 after the distribution rights returned to Disney.
Series Posters
Other Marvel Cinematic Universe Productions
In addition to the original Marvel programming, Netflix also streamed all seven seasons of Agents of S.H.I.E.L.D. as part of their service. It also streamed The Avengers for a brief time. As of 2016, Netflix had all exclusive streaming rights to Disney productions, which included the Marvel Cinematic Universe, and previously streamed Captain America: Civil War, Doctor Strange, Guardians of the Galaxy Vol. 2, Thor: Ragnarok, Black Panther, Avengers: Infinity War, and Ant-Man and the Wasp. The deal expired in 2019 when the films and Agents of S.H.I.E.L.D. began streaming on Disney+ in some territories. Netflix also currently streams The Incredible Hulk in some territories.
In April 2021, it was reported that Netflix acquired select Sony Pictures Studios streaming rights starting in 2022, including three Marvel Cinematic Universe films: Spider-Man: Homecoming, Spider-Man: Far From Home and Spider-Man: No Way Home.[2]
Trivia
On January 1, 2016, the Netflix Twitter account was taken over by "Jessica Jones."[3]
References
External Links