Morgan le Fay is a powerful enchantress trapped in the Dark Dimension, the leader of a coven of witches, who had sought to take control over Nico Minoru and the Staff of One in order to conquer the world. She managed to escape from the Dark Dimension after inciting Minoru to use the correct spell as she initiated a plan to merge the Dark Dimension and Earth, which she then intended to rule over with an army of slaves created through the Corvus WizPhones. To that end, le Fay enthralled Robert Minoru and took over Wizard, and repeatedly tried to have the Staff of One given to her by Nico. However, le Fay's plans for a world domination were finally foiled by an alliance between both the Runaways and PRIDE, and le Fay was then banished back to the Dark Dimension by Tina Minoru.
Biography
Early Life
To be added
Personality
To be added
Powers and Abilities
Powers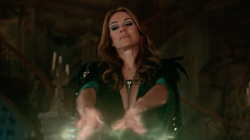 Master Sorceress: Morgan le Fay is an extremely powerful sorceress, able to cast various spells for any number of purposes. Her prowess in sorcery allowed her to gather a whole Coven of witches who were entirely devoted to her cause. Among le Fay's abilities brought by magic was the ability to enthral people to do her bidding, as she did to Robert Minoru or Geoffrey Wilder, a power she intended to extend to the whole world through the use of the Corvus WizPhones. Her powers allowed her to simply deflect attacks from the Fistigons or Karolina Dean's light beams with little effort. Even after she was deprived of a significant part of her powers when the Corvus were down, she single-handedly and effortlessly held her own against the Runaways, including Nico Minoru with the Staff of One, even causing the death of one of them in battle (Gert Yorkes or a future Chase Stein depending on the timeline). However, her magic could still be contained, at least temporarily, with a circle of salt imbued with a more traditional magic than the one le Fay practiced.
Telepathy: Le Fay communicated with Nico Minoru by directly speaking into the latter's mind, without those around Minoru being able to hear le Fay's voice. Le Fay notably used this on several occasions to convince Minoru to give in to the powers provided by the Staff of One, and one final whisper was enough for le Fay to give Minoru the formula of a spell which enabled le Fay to escape from the Dark Dimension.
Illusion Manipulation: By the time she was still trapped in the Dark Dimension, le Fay created an illusion of Robert Minoru she had interacting with Nico Minoru in an attempt to know what had happened to the Staff of One. Prior to that, she had also transformed a photograph in the Minoru Mansion to make Nico believe that Tina Minoru and le Fay had known each other.
Mental Manipulation: While being asked to sign in to a hospital to visit Robert Minoru, le Fay used her magic to make a receptionist forget that she had to sign in. Through her Crow Necklaces, she could also force people to do her bidding without them being unable to resist, thus taking control of Wizard through Minoru and enthralling Geoffrey Wilder as well. Le Fay was also able to manipulate others thanks to the Corvus phones, which continuously emitted a recreation of her voice when activated, so that the users felt compelled to increasingly use them, unknowingly giving power to le Fay.
Healing: Using her dark magic, le Fay was able to fully heal Robert Minoru from a coma he had been plunged into due to the severe injury he had suffered from a confrontation against his daughter. However, the healing was only active as long as le Fay wanted it to be, and as such Minoru promptly began dying again when le Fay withdrew the energy she had given him.
Portal Creation:

Le Fay was able to create a portal to enter the Hostel and arrive in front of the Runaways.
Scrying: Le Fay used mirrors as means of communication between the Dark Dimension and the Earthly Plane, although she could not use them alone to escape from the Dark Dimension. Thus, she was able to communicate with Nico Minoru while she was still trapped in the Dark Dimension. Le Fay was also able to show Nico Minoru a glimpse of Alex Wilder imprisoned in the dimension once she had been liberated by using the surface of a mirror.
Teleportation: Upon sensing that Robert Minoru was touching the Darkhold she possessed, le Fay immediately teleported to his location without even creating a portal, dissapearing and rematerializing in a puff of smoke.
Energy Manipulation: Le Fay was able to easily transform beams of energy from Karolina Dean and Chase Stein's Fistigons into clouds of smoke.
Fire Generation: Le Fay was able to cause several candles to spontaneously ignite.
Telekinesis: Le Fay's powers enabled her to remotely manipulate objects, including living organisms. As such, she was able to draw Robert Minoru to her by dragging him through the Crow Necklace le Fay had him wearing. During the Battle at the Hostel, she easily repelled Molly Hernandez as she attempted to sneak behind her, and violently projected glass shards towards a future Chase Stein to kill him.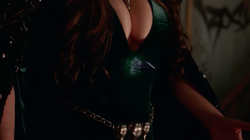 Matter Absorption: Le Fay absorbed Nico Minoru's dagger, made of a combination of a Lightforce dagger imbued with Minoru's magic, into her own body, claiming that it rendered her stronger.
Abilities
To be added
Equipment
Darkhold: Le Fay possessed the Darkhold, an infamous grimoire containing a wide variety of dark spells. She planned on using the knowledge contained in the book to merge the Dark Dimension with Earth. Le Fay was also able to sense whether a stranger touched the Darkhold.
Crow Necklaces: Le Fay used enchanted necklaces representing the skull of a crow to enthral people, who were forced to do le Fay's bidding as long as they wore the necklace. Robert Minoru, Geoffrey Wilder and Molly Hernandez were among those who carried le Fay's necklaces.
Ceremonial Blade: To be added
Facilities
Relationships
Appearances
Appearances for Morgan le Fay
In chronological order:
Trivia
Behind the Scenes
References
External Links
Community content is available under
CC-BY-SA
unless otherwise noted.