Wiki Targeted (Entertainment)
Play Sound
Moke was a United States Army veteran who later became a member of Jigsaw's Crew and enjoyed the perks of being in that crew, taking advantage of the women who attended their parties. Moke's life came to an end when he was attacked by the Punisher who shot him before removing his finger.
Biography
Harassing the Women
Moke was invited along into Valhalla with several other members of Jigsaw's Crew, where they drank and did cocaine together. In a party that was attended by a woman named Lanie, Moke started to harass Lanie after she had tried to leave Moke, with him calling Lanie the merchandise while she demanded that he let her go. However, before anything else could happen, Jigsaw told Moke to treat their guests well, making a clear threat if Moke continued assaulting Lanie. Moke then left Lanie alone fearing being under Jigsaw's supervision, along with Phillip who watched him so he would not start anything.[1]
Killed by the Punisher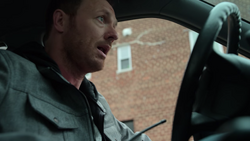 Continuing to work for Jigsaw's Crew, Moke was sent on a mission with some of the other crew members to rain a building. However, while Moke was in his car waiting for his orders, the Punisher came by car and smashed in his window, before he threw Moke out of the car. Moke managed to alert two of Jigsaw's crew members, however, the Punisher killed them easily.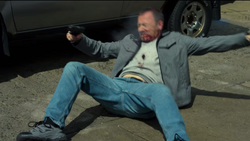 While the Punisher was distracted by shooting down the other two crew members, Moke managed to draw his weapon and shot at him with his handgun, but the Punisher was saved when the bullets hit his Bulletproof Vest. Before Moke could then fire another shot, the Punisher spun around and shot Moke in the chest twice, killing him. The Punisher then looted Moke's corpse of his phone, however, Moke's phone required a password. The Punisher then uses Moke's corpse's fingerprint and found a picture of Lanie wearing a Tipsy Tilly's Bar tshirt.[1]
Postmortem
Punisher's Investigation
When the Punisher arrived at Tipsy Tilly's Bar, he talked to Lanie about Moke and where Jigsaw's crew had held their parties. Before the Punisher left, he put Moke's severed finger on the table and told him that it was a tip, much to the bartender's horror.[1]
Equipment
Weapons
Handgun: Moke used this handgun against Punisher to defend himself, as Castle was trying to kidnap him. He took advantage of a distraction when Punisher shot two incoming men, grabbing the gun and shooting. However, Moke's bullets hit Punisher's Vest, and Castle returned fire, killing him.
Facilities
Valhalla: Moke was at the Valhalla along with several members of Jigsaw's Crew where he ended up harassing Lanie attending their parties.
Relationships
Allies
Enemies
Gallery
References