Mike was a United States Army veteran who later became a member of Jigsaw's Crew, who participated as a gunman in the Robbery of the ReadyQuick Check Cashing. During the start of their escape, they were then unexpectedly confronted by the Punisher. During the exchanging of gunfire, Mike was shot in the head by Castle while protecting Jigsaw.
Biography
Recruited Into The Crew
When Jigsaw decided to make a crew for himself, he turned to various military veterans at McFeeney's, ultimately deciding to pursue a life of crime together, having Mike being recruited into the crew.[1]
Training for the Robbery
Jigsaw had discovered that ReadyQuick Check Cashing was holding three hundred thousand dollars. After discovering this, Jigsaw had started to train his crew in hopes of prepping them to rob ReadyQuick. Jigsaw, along with Jake Nelson and Geno had acted as robbers while the rest of the crew acted as victims of the fake robbery.[2]
Mike, along with Jigsaw and Bobby went into ReadyQuick Check Cashing in order to rob it. Mike was seen restraining the two civilians at ReadyQuick using zipties. Mike was also seen pointing a gun at the civilians he had ziptied, although he never actually shoots them. When Anton Reed opened the door to the cashier's side and the money, Mike brought the civilians and ziptied the others into the room. Mike then went into the cash register and started to take all of the money and put it in his bag. Mike, Bobby, and Jigsaw then left ReadyQuick with Reed restrained.[2]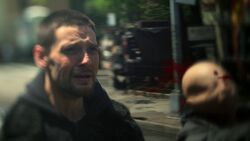 The Punisher confronts Jigsaw, disguising as Jake Nelson in order to stop his crew after Jigsaw, Mike, and Bobby had robbed ReadyQuick. When Jigsaw was having flashbacks of what had happened to him, Mike had came over to Jigsaw in order to help him. When the Punisher started to shoot at Jigsaw's fellow crew members, the Punisher shot Mike in the head, killing him instantly.[2]
Equipment
Weapons
Pistol: Mike was armed with a pistol during the Robbery of the ReadyQuick Check Cashing, using the firearm as a means of crowd control, keeping the civilians and staff in check. Mike also used the pistol during his short-lived gunfight with the Punisher.
Facilities
Jigsaw's Hideout: Mike, along with the rest of Jigsaw's Crew went into one of the warehouses in Queens, in which the gang used to train for other robberies.
Relationships
Allies
Enemies
Gallery
References
Community content is available under
CC-BY-SA
unless otherwise noted.