The Metropolitan Police Department of the District of Columbia, occasionally referred as Metropolitan Police Department, is the sixth-largest municipal police department in the United States of America and is the law enforcement agency for the city of Washington, D.C..
History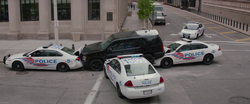 After Nick Fury voiced his suspicions regarding Project Insight, Alexander Pierce ordered his assassination so that Project Insight would go smoothly. A group of HYDRA operatives disguised as members of the Metropolitan Police Department tailed Fury's armored Chevrolet Tahoe, before flanking him at a lone intersection and attacking him.
With considerable difficulty, Fury was able to shake them off, with his U.I. system alerting him that there were no active officers in the vicinity, making him realize that his enemies were truly not law enforcement officials. Despite Fury managing to escape his pursuers, he was intercepted by the Winter Soldier, who attached an explosive to the bottom of the vehicle.[1]
Robbery of Price Residence
To be added[2]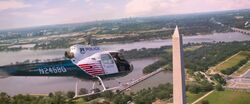 To be added[3]
References
External Links
Community content is available under
CC-BY-SA
unless otherwise noted.